It wasn't easy being Green… Until… Now!
Join sex and relationship expert Reid Mihalko of ReidAboutSex.com as he moderates an amazing lineup of panelists (see below) to discuss EcoSex Practices!
Panel Title: EcoSex Practices
Time: 9:15-10:45 pm
Date: Saturday, June 18th
Location: All events will take place at the new Center for Sex and Culture (CSC) at 1349 Mission Street (between 9th and 10th), San Francisco, CA.
Panelists and Moderator Bios: Below

Read all about the Exosex Symposium II: SexEcology! HERE.
Panelists: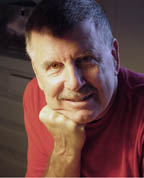 DR. JOSEPH KRAMER: Somatic sexologist Joseph Kramer is director of The New School of Erotic Touch, an online resource to support erotic practice. Joseph believes that most adult sex education classes are scams. Self-proclaimed sex teachers and erotic healers have been getting away with offering expensive spiritual hand jobs and communal group gropes for too long because of the incredible hunger for erotic embodiment in folks today. One of the benefits of this severe recession is that ineffective sex educators who don't have a clue about how people actually learn sex are in economic crises. (Thank you, Darwin.)
Joseph Kramer trains professional Orgasmic Yoga Coaches and Sexological Bodyworkers. His specialty is somatic learning theory—how people learn sex. He teaches communal exploration trainings for embodied men so they can experience and learn how to benefit from erotic trance states using Taoist Erotic Massage. More information at www.eroticpractice.com and www.eroticmassage.com.
DR. SHARON MITCHELL: Dr. Sharon Mitchell spent 25 years in the Adult Entertainment Industry as an actress, appearing in over 2000 movies, as a dancer performing in venues all over the world, and she has produced and directed over 42 movies. Mitchell received her PH.D. in Human Sexuality from the Institute for the Advanced Study of Human Sexuality in San Francisco. California. She then went on to complete her residency in Los Angeles, California at the AIM Healthcare Foundation which she founded and directed for many years. Dr. Mitchell is currently taking time off to enjoy the pleasures and sensuality of gardening at home.
Dr. Sharon Mitchell will be presenting "The Ecstasy of Gardening" on the EcoSex Practices panel.
JENNIFER J. REED: Jennifer J. Reed is a doctoral student and instructor in sociology at the University of Nevada, Las Vegas. She specializes in environment and health as well as sexuality and gender issues. Jennifer is the mother of three beautiful adult children — two born of her womb and one later of her heart — and recently witnessed the amazing birth of her first grandbaby. She worked as an erotic dancer for fifteen years while raising her children. Jennifer is certified in various energy healing techniques after facing her own personal health challenges. She helped found a successful alternative healing arts center for youth and families in Ohio which just expanded to Florida. Jennifer identifies as an ecosexual and is an avid social justice activist. She feels fascinated by how social issues that many take for granted today are actually "socially constructed" rather than "natural" in origin, meaning that they can indeed be changed!
Reed will present "Can the Ecosexual Movement Help to Reintegrate the Human-Environment Rift?" on the Theories of EcoSex Panel.
STEFANIE IRIS WEISS: Stefanie Iris Weiss, MA, is the author of nine books, including her most recent: Eco-Sex: Go Green Between the Sheets and Make Your Love Life Sustainable (Crown Publishing/Ten Speed Press, 2010). The first book about ecosexuality, Eco-Sex explores the day-to-day realities of going green between the sheets, covering everything from green courtship to green sex toys. Stefanie has also written about the quarter-life crisis, women's issues, dating and relationships, health and wellness, the divinatory arts, and more. Find her on the web: ecosex.net, facebook.com/Ecosex, and @EcoSexuality on Twitter.
Stefanie Weiss will present her work at the symposium via Skype just before the EcoSex Practices panel.
Panel moderator: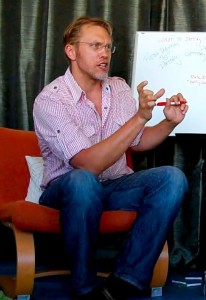 REID MIHALKO: Reid Mihalko of ReidAboutSex.com helps adults create more self-esteem, self-confidence and greater health in their relationships and sex lives, no matter what their self-expression of those happen to be.
From his rated-PG/PG-13 workshops (Cuddle Party, Speed-Flirting) to the rated-R (Iron Slut Sex Educator Showdown) to his explicit, NC-17 rated, Show-N-Tell sex education workshops (where audiences get to watch, take notes, and ask questions), Reid's workshops have been attended by close to 30,000 individuals from myriad walks of life, orientations, relationship styles, countries and religions. Known for his charisma, wit and emphasis on integrity, Reid travels the country teaching, coaching, consulting and collaborating on fulfilling his mission: Create more self-esteem, self-confidence and health for adults in and out of the bedroom.
Reid has been a featured speaker at dozens of conferences on relationships and sexuality and is a sought-after presenter and teacher at colleges and sex positive stores across the country.
Reid has been a writer and producer on a number of films and television projects about sex and relationships, and appears regularly in the media. He has also appeared on the Emmy award-winning talk show Montel, Fox News, VH1's Scott Baio is 45 and Single, Showtime's Penn & Teller's Bulls**t!, Canada's The Sex Files and SexTV, and the short-lived Life & Style, on NPR, Sirius' Maxim Radio and Cosmo Radio, and in Marie Claire, GQ, Details, People, Newsweek and The National Enquirer, as well as media across the globe in thirteen countries and at least seven languages.
Follow Reid twittering as @ReidAboutSex.
Attend the entire weekend…
Conference/Symposium Dates and Times: June 17-19th
Friday, June 17 – 7-9:30PM – Free
Saturday, June 18 – 10:30 AM to 10:45 PM
Sunday, June 19 – 10:00-1:30PM
SexEcology Website: sexecology.org
EcoSex Exhibit and Symposium Facebook Page: http://facebook.com/event.php?eid=101961759894177&ref=ts