Today's Consumer Reports of sex toys are the bloggers and reviewers!
Sex and relationship expert Reid Mihalko of ReidAboutSex.com moderates disccusion panel at AVN's Novelty Expo in Pasadena, CA, July 7-9th!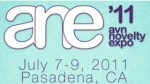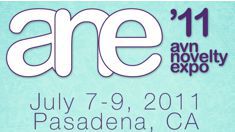 Friday, 9am: The Role Bloggers /Reviewers Play in the Adult Industry

The internet has changed not only the way we interact socially, but how we do business. In a few short years, novelty manufacturers have learned that getting their company name and products in front of bloggers and reviewers can help them get noticed and increase sales. Some of the biggest names in the blogosphere will explain how to work with their kind, and what it could mean for you.
Confirmed panelists: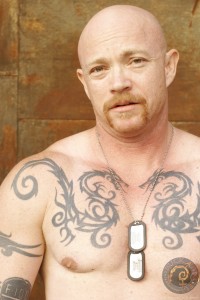 BUCK ANGEL: Buck Angel of BuckAngel.com made history when he received the prestigious Transsexual Performer of the Year award from Adult Video News (AVN) in 2007 for his groundbreaking work as the first female-to-male transsexual in the adult entertainment industry. As the pioneer of an entirely new genre, Buck has received worldwide recognition and continues to be a huge box office hit in diverse markets.
Buck has been featured in nearly every imaginable international media outlet: television, radio, web, and print. He has appeared on The Tyra Banks Show, Spike TV, The Women's Entertainment Network, Howard Stern Show, Much Music, Sirius Radio, Dan Savage, and many others. He's been written about in The Village Voice, Rolling Stone, Time Out, Maxim, New York Times, and other publications around the globe. Armistead Maupin included Buck Angel as a character in his latest book, Michael Tolliver Lives. Renowned British artist Marc Quinn has memorialized Buck Angel by creating a series of life-sized bronze sculptures of Buck's unique nude form.
Buck has recently delved into the creation of adult toys. He has teamed up with Gorilla Glass to create beautiful and artistic yet functional dildos, and Stockroom.com to design a patentable new toy specifically designed by Buck for people with needs similar to his own.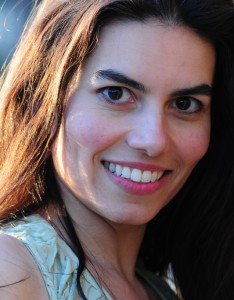 JAIYA: Jaiya is a world-renowned sexologist, author of Red Hot Touch, and the founder of New World Sex Education; a company dedicated to using "real" sex education to help men and women get the sex lives they desire.
Jaiya understands that throughout life sexuality changes and strives to meet her students wherever they are on their personal path to greater pleasure.  She's been through many sexual stages and honestly shares her personal experience from pain to pleasure.  Jaiya is passionate about helping women and men overcome sexual issues, usually stemming from a lack of education, that may hold them back from exquisite sex as their birthright.  She believes that sex isn't just something you do, but something that is part of being human and being alive.
You may have seen Jaiya on the Tyra Banks Show, TLC, CNN or Playboy TV.  She's even shared the stage with self-help guru Tony Robbins. She's an award winning film-maker (Red Hot Touch DVD series and Oral Sex for Couples series), educator and blogger.  Jaiya is  a unique mix of Dr. Ruth, Lady Gaga and a Yogi; through her dynamic teachings she's helping women and men reach their full erotic potential.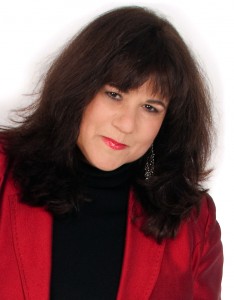 PAMELA MADSEN: Pamela Madsen of BeingShameless.com is a fearless advocate for women's health and integrated sexuality. During her 25-year career, Pamela has leveraged her raw honesty and well-informed wit  to help strip the stigma from infertility, female desire and pleasure, body image and weight.  The willingness to use her personal struggles to have children, discover her innate sexuality and find self-esteem has made Pamela one of the most accessible and relatable figures in the vanguard of women's wellness.
Pamela's trademark openness and humor blew the lid off one of the worst kept secrets of in this country: the power of the erotic core buried inside every woman to transform her life.  With Shameless: How I Ditched The Diet, Got Naked, Found True Pleasure and Still Got Home In Time  To Cook Dinner (Rodale, January 2011),  she wrote a frank, touching and bestselling memoir that has become a rallying cry of thousands of women who find that they've spent lifetimes sublimating their sexuality, often with dire consequences to their physical, emotional and relationship well-being.
Taking the hard-won lessons of her own self-discovery on the road, Pamela meets with women across the country– every day mothers, daughters, wives and girlfriends– inspiring them to find their own paths to becoming women in full. She talks from the heart about connecting to one's true erotic identity and using that life force to relax in their own skin, strengthen their relationships, and seize opportunities they once thought out of reach.  Pamela is their soul sister, the slightly chubby woman next door who's found the secret sauce. And as Sassy and Jane magazines founder Jane Pratt recently said of Pamela, "I want what she's having."
A veteran speaker and educator, Pamela is a renowned blogger, who writes for Psychology Today, The Fertility Advocate and episodically, The Huffington Post.  She's advising members of her gated online community, found at beingshameless.com, how to access the transformative power of pleasure.  She brings it home on the speaker circuit, in face-to-face workshops, one-on-one coaching sessions, women's circles and in book clubs.
During a recent six-week cross-country tour, Pamela spoke to thousands of people at venues as varied as big independent bookstores and  specialized conferences such as The Curvy Revolution. She appeared alongside thought leaders, Marianne Williamson and Maya Angelou among them, at the virtual Women's International Summit For Health.
After her years as the Founder and first Executive Director of The American Fertility Association, Pamela has become a trusted media resource. She's recently appeared on CNN,  AARP Primetime Radio, The Dr. Laura Berman Show, FLOURISH (Dr. Christiane Northrop's radio show), The Jane Pratt Show, Playboy Radio to name a few. She's been featured in Newsweek, Vogue, 60 Minutes and Oprah.
Pamela lives Riverdale, NY with her extraordinarily patient and supportive husband of 30 years and two young adult sons, who learned well from their father.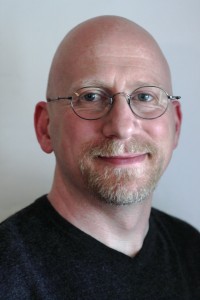 DR. CHARLIE GLICKMAN: Dr. Charlie Glickman is the Education Program Manager at Good Vibrations, where he organizes the in-store workshops, leads staff trainings, writes web content, and edits the online Magazine.
Dr. Glickman is also certified by the American Association of Sexuality Educators, Counselors and Therapists, has served as an adjunct professor at several universities, and teaches workshops on a wide range of sexuality topics.
You can read his blog at CharlieGlickman.com.…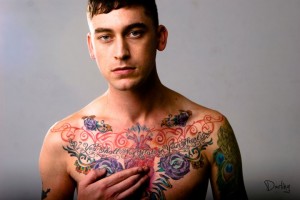 BRANDON B.: Brandon B. is a sex educator, writer, and performer living in New York. He conducts workshops out of various venues including the famous Pleasure Chest in the West Village where he is the manager.
In 2009, Brandon created TheINQUEERY.com; a sex toy and product review site specifically for gay men.
In 2010, he began live readings of erotic pieces from his personal mini-art zine at various venues including a 12-month residency at The Bowery Poetry Club for the queer performance art show Auralfixia.
In 2011, he was a model for the New York Sex Blogger Calendar and presented at the MOMENTUM conference in Washington DC. Recently he became a writer, model, and manager for DarlingHouse.net, currently in beta.
Panel moderator: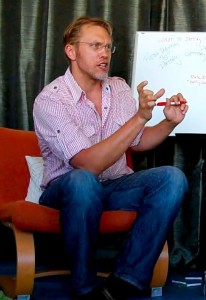 REID MIHALKO: Reid Mihalko of ReidAboutSex.com helps adults create more self-esteem, self-confidence and greater health in their relationships and sex lives, no matter what their self-expression of those happen to be.
From his rated-PG/PG-13 workshops (Cuddle Party, Speed-Flirting) to the rated-R (Iron Slut Sex Educator Showdown) to his explicit, NC-17 rated, Show-N-Tell sex education workshops (where audiences get to watch, take notes, and ask questions), Reid's workshops have been attended by close to 30,000 individuals from myriad walks of life, orientations, relationship styles, countries and religions. Known for his charisma, wit and emphasis on integrity, Reid travels the country teaching, coaching, consulting and collaborating on fulfilling his mission: Create more self-esteem, self-confidence and health for adults in and out of the bedroom.
Reid has been a featured speaker at dozens of conferences on relationships and sexuality and is a sought-after presenter and teacher at colleges and sex positive stores across the country.
Reid has been a writer and producer on a number of films and television projects about sex and relationships, and appears regularly in the media. He has also appeared on the Emmy award-winning talk show Montel, Fox News, VH1's Scott Baio is 45 and Single, Showtime's Penn & Teller's Bulls**t!, Canada's The Sex Files and SexTV, and the short-lived Life & Style, on NPR, Sirius' Maxim Radio and Cosmo Radio, and in Marie Claire, GQ, Details, People, Newsweek and The National Enquirer, as well as media across the globe in thirteen countries and at least seven languages.
Follow Reid twittering as @ReidAboutSex.
Panel Schedule:

Thurs, 9-10am – Marketing on a Shoestring lead by Reid Mihalko
Thurs, 10-11am – What's in Your Sex Toy/Lube? moderated by Jayme Waxman
Fri, 9-10am – The Role Bloggers /Reviewers Play in the Adult Industry moderated by Reid Mihalko
Fri /10-11am – Up Selling Your Customer in a Sex-Positive Way
Important Expo links and info to help…

AVN's ANE: July 7-9th – avnnoveltyexpo.com
ANE11 location: Pasadena Convention Center
300 E Green St., Pasadena, CA, USA
Map and Driving Directions
Reid's Sex Geek Stampede to AVN's Novelty Expo: HERE.
Official #HashTags, etc., to use on Twitter:

#ANE11
#OWards
#OWardsParty

Find Reid during the Expo at Booth 412

Who's appearing on Reid's ANE11 Panels: HEREParties and Networking events you DO NOT want to miss: HERE.
Hotel info: HERE – Rates for the hotel show are $149
The 'O' Awards site: HERE.
RSVP to the 'O' Awards: HERE.
Join the 'O' Awards' After-Party Facebook Invite HERE.
RSVP to the 'O' Awards by emailing Papaya Pam: pam (at) papayatoys.com
Sex Geeks:
Don't miss the networking opportunity of the year!
Join us!