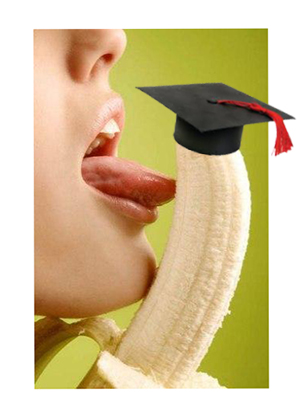 You've learned the basics… Now it's time to get your masters in the advanced tricks, and leave with your PhD in Fellatio!
And Do It Without Ever Leaving Your Home!
If you…
Would like to take your current skills and craft to Jedi levels…
Ask questions and get advanced-level tips and tricks…
Leave your loved ones stammering, "h-h-How did you do THAT?!"
Let "America's favorite sex geek," sex and relationship expert Reid Mihalko of ReidAboutSex.com be your Head Dean (see what he did there?!) and give you your PhD in oral sex so YOU can give and/or receive mind-blowing blowjobs that leave YOU and your lovers feeling satisfied, confident, and glowing with appreciation!
Regardless of your gender, sexual orientation, level of experience, relationship status, or what you're packing beneath your clothes, this class will cover how to show yourself and your lovers how to give and receive more pleasure.
In this advanced tips and tricks class with plenty of room for Q&A, you will learn:
How to leverage the pleasure anatomy of the penis and pelvis from tip to taint!
Reid's best tips and tricks for helping your penis owner not cum to quickly from your amazing skills…
How to "stack the deck in your favor" so your penis cums when you would like it to…
Advanced skills to combine with Reid's easy-to-learn deep throating technique…
Reid's famous "Flying Squirrel" technique, PLUS how to do a Double Blowjob…
Plus a few other graduate level, sexy secrets that will leave you feeling inspired and confident!
If you've been waiting to go back to school, look no further than this humorous and informative workshop that you're guaranteed never to fail out of!
Date: Tuesday, April 21, 2020 Time: 5:30-7:30pm PACIFIC Where: We come to YOU! Happening Virtually – Links emailed upon registration!
Tiered Tickets: HERE!
Curious about booking Reid for a private class? Go HERE!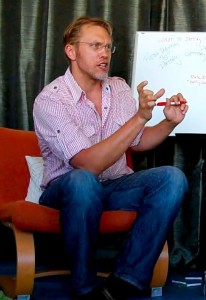 ABOUT REID: America's favorite sex geek, Reid Mihalko of ReidAboutSex.com and Relationship10x.com helps adults and college students create more self-esteem, self-confidence and greater health and accountability in their relationships and sex lives using an inspiring mixture of humor, keen insight, and comprehensive sexual health information.
In early 2018, some very brave people came forward during #MeToo sharing harms that Reid had caused them. Reid stepped down from teaching and initiated a restorative justice-based accountability process to address his misconduct and make amends if and where possible. The formal, year-long process along with Reid's apology and resources were shared publicly and can be found at TinyURL.com/reidaccountability. Going forward, Reid's projects and appearances will include pointing people towards resources and experts on restorative and transformative justice-based accountability processes.
Reid teaches internationally, running workshops and speaking on communication skills, alternative relationship styles, and shame-free sexuality. Whether online, on stage, or at a college or university, Reid shares skills and concepts designed to help everyone be the change they want to see in the bedroom.
Reid's workshops and college lectures have been attended by over 50,000 people from all over the globe. He has appeared in media such as Netflix' Chelsea Does… with Chelsea Handler, Oprah's Our America With Lisa Ling on OWN, the Emmy award-winning talk show Montel, Dr. Phil's The Doctors on CBS, Bravo's Miss Advised, Fox News, in Newsweek, Seventeen, GQ, The Washington Post, and in thirteen countries and at least seven languages
Reid is also founder of Sex Geek Summer Camp, Sex Geek Conservatory, and Sex Geek School for Gifted Sex Geeks, which help sex educators learn valuable business skills that allow them to reach more people with greater ease, transform more lives, and make a better living as sexperts.
Follow Reid on Twitter and Facebook and YouTube and Instagram.