Asking And Giving Consent In A 24/7 BDSM Relationship | Facebook Walk With Reid And Alex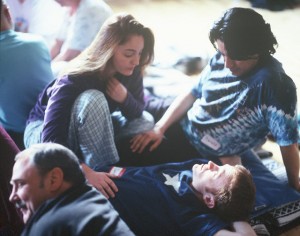 Reid: Hello Facebook! It's Reid Mihalko from https://reidaboutsex.com/
Alex: And I'm Alex S. Morgan from http://www.alexsmorgan.com/
Reid: Wohoh! We're today's very special walk. See…we have to figure out my legs are longer than yours. We have to find the right…we have to find the right place
Alex: We have to find the right place. I'll do a processional.
Reid: Yeah
Alex: We'll figure it out.
Reid: We'll do a processional. Yeah, just kick me if I'm…if I'm walking fast.
Alex: But I'll just grab your ass.
Reid: So as…that works too. As you're signing in, let us know where you're signing in from. We are in Alameda, California right now and it is a beautiful day.
Alex: Yes
Reid: And Alex
Alex: Right in the waterfront.
Reid: Alex and I were at the grocery store and so now we're taking a moment to Facebook live. I have appropriated Alex's time and attention and focus for a few moments and you when I was asking you what…what you wanted to talk about, you said you had a question from a client
Alex: Yes
Reid: that it would be appropriate for this conversation but first let people know who you are and what you do
Alex: Sure
Reid: and I'll try to not…I gonna get the camera right 'coz I think I was herding you into the glass where
Alex:  Not to worry I would have just flown up against it like a bird and split right down.
Reid: Like a tiny, tiny bird.
Alex: So I am a sex coach and a relationship coach with a background in professional BDSM. I worked as a professional switch for just over a decade, I think I get the 12th year mark this year and it has been an absolute blast. It has been an honor to work with people on both a one-to-many scale doing workshops all over the country and in Canada and on a one-to-one and on-to-two scale working with individuals and couples all over the world via Skype and face-to-face here in the Bay area.
Reid: Well thank you for joining us on our little walk today Alex
Alex: It's nothing.
Reid: We've known each other for how many years now?
Alex: Oh goodness. I think it's been about six then
Reid: It's been at least six I think
Alex: Okay
Reid: 'coz I mean we've known each other for a while but I think like the….yeah it's been at least six then. Okay, so back so what was the question you….you wanted to…to talk about on our walk here?
Alex: Sure thing. So yesterday a clients and I were having a dialogue and they had a really fantastic question about consent and agency and BDSM and one of the things that they were wondering about was when you're in a 24/7 BDSM dynamic with somebody or an otherwise persistent kink dynamic where the dominant and sufficient relationship is ongoing where, there's an ongoing since [Inaudible 00:02:35]. Is there a point at which the submissive stops being able to consent in which they stopped being able to or believing that they can't say no?
Reid: Okay, so I'm just so everybody knows I'm driving myself crazy with my with my selfie stick action so we're going to sit in the shade so that I'm not herding. I feel like a little sheep dog trying to herd you in circles or something.
Alex: Maybe that's what it is.
Reid: it could be that.
Alex: Maybe it's your inner puppy.
Reid: It's my….it's my inner collie. Alright so here. We're going to sit here, we're going to get the bridge in the background
Alex: Perfect
Reid: much better much better. Okay, now I'm not driving myself crazy. Okay so the question is, in a 24/7 BDSM relationship like when and, and, and just describe what, what that means for because there's a lot of sex geeks who aren't necessarily kinky so
Alex: totally
Reid: So what's a 24/7 relationship mean?
Alex: So 24/7 is kind of a misleading term because even in a relationship where the power dynamic goes on for outside of a scene, there are typically breaks and periods of time when somebody is off or when they're not necessarily acting from a dominant or submissive frame of mind. So even within a relationship that people refer to as a 24/7 relationship which just means that the power dynamic aspect or the service aspect or even the kink aspect takes place not just within a tightly defined scene but also outside of it in their everyday life and that can be really beautiful and subtle that can look like bringing your dominant practice to bed. It can look like making sure that your submissive is rewarded for taking self-care that they really need to do. It can be this really beautiful and romantic thing and it can also be really flirting with kink and lovely.
Reid: And for those of you, let me…I'll put my, my nerdy twist on it which might ruin the whole thing
Alex: Oh, I doubt it.
Reid: So I'm thinking I'm like ooh like what's an example in in non-kinky life of something that's 24/7, right?
Alex: Yeah
Reid: So when somebody who's a mother or parents right or father like you know when you're a parent and you're at home with your kids you are a parent 24/7 and we could say that a parent never actually stops being a parent 24/7. However, when you drop the kids off at Grandma and Grandpa's or summer camp or whatever not sex geek summer camp by the way. No kid, no children at sex at summer camp but when you drop them off at school while you are still a parent, you have a reprieve.
Alex: Yes.
Reid: So some people in their kink life are having this dynamic of whatever the kink situation is, being there 24/7 but there are there are times when they're taking a break
Alex: Yeah
Reid: Okay and so around consent then how does that work in because were, were, were your client asking from the position of if this is my top and I'm their submissive and we're in a 24/7 relationship, have I just given over my consensual agency?
Alex: They were actually asking from the other point of view and this is part of why I love my clients so much. This is somebody who is more dominantly inclined and who was deeply concerned that they would only be playing with somebody who was able to give full and get full consent.
Reid: And
Alex: And they'd been reading a lot of research that said basically that if somebody believes that they can't say no, that it is abuse and that was pretty an ambiguous.
Reid: Oh, wow.
Alex: And that I…I told them that basically that "yes, I do believe that that holds true even within kink relationships but that there is a big difference between somebody whether they're in a kinky relationship or otherwise who believes that they can't say no, no matter what is happening. Whether they're getting flogged or whether they're being told to go to the grocery store and somebody who is secure in the fact that they can say no whether they're being told to go to the grocery store or being told to take a larger butt plug."
Reid: Got it. Now I'm thinking about butt plugs and we just went and we just went to the grocery store.
Alex: Without butt plugs as far as I know.
Reid: Without butt plugs that we know of.
Alex: Yes
Reid: I mean I think I would know if I had a butt plug in maybe not. So that's interesting, this….so the study was saying if somebody thinks they can't say no then they then they don't have agency from their perspective even if I was encouraging somebody and telling them over and over again they…they can say no.
Alex: Yes and that that is actually that brings me to the next piece which is that my answer to them was basically….it really comes down to making sure that you're really clear as a dominant, that anybody that you play with even when they are in…in subspace that they can say no, that they can that they….that's encouraged that they should absolutely let you what's…know what's going on for them, that's safe wording is not disappointing you that in fact it's doing exactly what you want them to do which is keep you constantly informed of
Reid: Yeah
Alex: their internal state.
Reid: Like being able to reward like even, even setting up reward system
Alex: Yes
Reid: for saying no like we do with cuddle parties or similarly which is like when people say no and even at my play parties, we try to teach and encourage people to when somebody says no to you to thank them for taking care of themselves or whatever phrase works for you because some people think that that phrase like "thank you for taking care of yourself" sounds demeaning so what whatever, whatever the phrases that works for you that encourage people and lets them know that that them saying no or in this instance, them safe wording out is actually a good thing like
Alex: Yes
Reid: reward that behavior because it helps encourage future behaviors like that where you want people to be able to speak up.
Alex: Absolutely, what I do with my own submissive is I specifically thank them for whichever piece that that was hard for them, if it's speaking up about their needs is hard for them I thank them for doing that. If the courage to come to somebody who has a power dynamic with them is hard for them, I thank them for their courage. Whichever piece of that is the most challenging for them is the piece that I thank them for.
Reid: If any of this is resonating for you or it seems helpful, do hit some emoticons
Alex: Yeah
Reid: because we're in that interesting place where, where you seem really quiet out there and I just want to make sure one, that you can hear us but two, that that this is interesting at least 'coz this is our first this our first
Alex: I think it is.
Reid: Facebook Live together?
Alex: Yeah.
Reid: Ooh! Our first
Alex: Hi Katrina.
Reid: you're watching, you're…you're watching our, our
Alex: Hey John.
Reid: Facebook live cherry.
Alex: Oh, there they go.
Reid: There they go. Look at the look at the…it's raining
Alex: Oh, yay!
Reid: emoticons. Okay, now
Alex: Thank you.
Reid: I feel better. Thank you, thank you for handling my insecurities around, around what we're doing.
Alex: They like us! They really like us!
Reid: They like us. They really like us! So, so what do you….what kind of tips do you have for you know people who are dom's, for people who are sub's, for people who switch back and forth like what kind of or even just people who don't know what they are yet who are, who want to explore this like what kind of tips for being able to encourage consent, consent I guess agency check-ins like what…I don't know is there a word or a phrase for that kind of a thing?
Alex: It…there should be. One thing that I one thing that I really like about that is that what you're doing is you're looking not only to make sure the person knows that they still have access to their agency, you're looking to make sure that there's somebody who even in a mutual situation has access to their own sense of agency within themselves which is a piece which is also separate from BDSM. And so one of the things that I really recommend doing is if you are a dominant, if you're a switch, if you're looking to play with somebody or anybody even if it's not a kink situation, look to see how they are with their boundaries, "is this somebody who is comfortable saying no when it comes to their personal space? Is this somebody who is comfortable saying no when it…and speaking up about their boundaries and their physical needs? Is this somebody who's comfortable saying no to somebody who is in a position of authority with them?" And if all of these criteria are going to make for somebody who is able to assert their boundaries during a kink scene. So these… these are all the green lights that you're going to be looking for, for finding a play partner who is able to access their agency in the heat of the moment.
Reid: And…and this is where for me, also me not me not identifying as kinky in the realms where I have friends who are kinky and all capital letters, the idea of assessment like being able to have these conversations because some people like they're like "Reid, God you just talk and talk and talk like can we get to the sex?" And I'm like "well, yes we can get to the sex eventually but I just I'm I want to have this conversation because I'm trying to assess where somebody skill sets are and where their weak areas are and I'm also trying to share where I think my weak areas are and where my strengths are because if we're going to play and…and I don't get a chance to properly assess, I don't know if I can count on somebody to change their mind or if you know for example like let's say we're fucking and…and I'm the one who's doing the penetration and they change their mind, it can be tricky to speak up in the moment because you want your partner or your play partner to have their fun and…and…and finish or complete the thing or whatever." And the reason I know that that's tricky is when I'm being penetrated, it's hard for me to always speak up right away in the moment and then there's some times when I don't know what I need and so I'm not sure if I should call a timeout or if I should stick with what we're doing because then maybe I'll get clarity so if it's if it's difficult for me to in the moment and I don't know you real well yet, it sounds really sticky no pun intended or maybe pun intended it's really sticky for me to just assume you're going to be great at speaking up in the moment no matter what's happening and then there's subspace
Alex: Yeah
Reid: and these other areas that…that I think make things even more tricky.
Alex: Absolutely, subspace it's basically BDSM lingo for the altered state the endorphin rush that comes along with being in a submissive or masochistic headspace. Basically what happens is all of your endorphins starts release through a combination of endorphins from and…and it can…you might be experiencing or pleasure you might be experiencing and from the trans-like state that people will often go into when they are in a deeply submissive headspace with somebody that they trust. It's not something that everybody experiences right away, it's not something that everybody feels comfortable going into with new partners or even at all so if you don't experience this, you're not broken and it doesn't mean that you won't ever experience this also.
Reid: And that's where it also becomes interesting because there have been situations where I or not like I knew I was I was a yes going into it but then like the next day I'm kind of like "huh, how do I feel about what happened?" And now we go down the rabbit hole of like if you want to get really geeky and nuanced like the conversation about consent and like not even regrettable sex but just like I'm thinking more deeply about the thing the next day because I'm processing it
Alex: Yeah
Reid: and what does that mean about what actually happened in the moment and maybe another time we'll do a longer
Alex: Absolutely.
Reid: another talk about…about those kinds of situations which again for me is get to know people and assess where everyone's at. Even if you're having casual hookups, spend
Alex: Especially if you're having casual hookups.
Reid: Especially if you're having casual hookups. I mean it's kind of like what's the quote about if I had five hours to chop down a tree, I'd spend four hours sharpening the ax so if I had five hours to have sex I probably spend four hours having conversation and cuddling.
Alex: It makes the sex better
Reid: and getting to know each other. Yeah. Well, I can only last a few minutes so you know I can shorten it up then I use my ax.
Alex: Hahaha
Reid: Thank you for laughing at my bad jokes. Leave your questions and comments
Alex: Please.
Reid: What you thought about today's video? Where can people find you, Alex?
Alex: http://www.alexsmorgan.com/
Reid: http://www.alexsmorgan.com/ and then you guys know where I am and if you're coming to camp, camp's coming up real quick. We're like fif… we're under 60 days till camp 57 or something like that so go to https://reidaboutsex.com/campFAQ if you're interested in coming to camp and http://www.alexsmorgan.com/ for Alex's stuff. Share this video if you think it was interesting and hit some emoticons on the way out. Alex, Alex S. Morgan thank you for coming on our little walk
Alex: Absolutely, thanks for inviting me.
Reid: and for sitting under the trees under the trees by the bridge with me today. Bye, everyone! We'll see you tomorrow.
Alex: Bye!
Reid: Thanks, Alex.
Alex: Go to camp you will love it.
Reid: Oh, you're the best. Bye!
Alex: Bye!