Kiss Me, I'm a Sex Educator…
It has recently been made painfully obvious to me that my website needs at least a brief history/context of my workshops. Up till now, there's been little to no explanation. PG, PG13, R-rated, NC17… Those are for movies, not workshops, right? Not anymore.
Does this make me the James Cameron of sex education? I have worn a blue dildo on stage as you'll see below in the Month In Review. Very Avatar.
To that end, I gladly raise my pint O' green Guinness to this month's article, which lays out my workshop philosophy, a little bit of the their history, why they're designed the way they are, and how I went from creating the non-threatening Cuddle Party phenomenon to hosting the humorous and informative Iron Slut Sex Educator Showdown!
This Month's article…
O

r…
By Reid Mihalko
Cuddle Parties don't overtly deal with sex. Nor should they. But what should?
In today's touch starved culture, Cuddle Party was (and still is) doing a great job of giving people a snuggle-O-licious laboratory to practice the foundational communication skills that make the world safe for touch and affection. And the world could stand to be more cuddle-friendly.
Skills like asking for what you want, the ability to change one's mind (and communicate it), and being able to say No without feeling guilty are just as important when you're naked between the sheets as when you and your friends are pajama-clad, hug-deep in a puppy pile. And while Cuddle Party is an amazing, interactive experience where people become better communicators of their needs and boundaries and learn how to create more affection and nurturing touch in their lives, I had nowhere of my own to send people who wanted to increase their sexual confidence in a more direct manner.
Let's face it, the communication needs are similar, but spooning isn't the same as forking…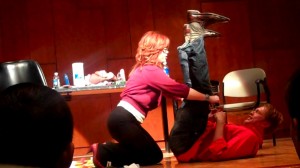 The Month in Review….
February was a busy, busy month!
I traveled home to the East Coast after several long weeks away and lead a slew of workshops in New York City. It was almost Valentine's, which is the "busy season" when you're a sex and relationship educator. Singles Only Cuddle Party? Check. Romance For The Rest of Us workshop? Check…. This year I added a spiritual talk on relationships called Relationships: The Reality and The Illusion, that I co-lead with esteemed yoga teacher and spiritual seeker Paula Tursi.
For Valentine's Day, Cupid sent me back to my old college stomping grounds!
I trekked North up to Providence, Rhode Island, to teach my Sex Educator Showdown with RI's favorite hometown sex educator, Megan Andeloux. It would mark my 20th year re-visit to my Alma Mater, Brown University. Oh, what a blast THAT was, teaching to 225+ Brown students!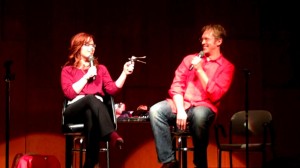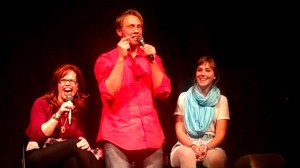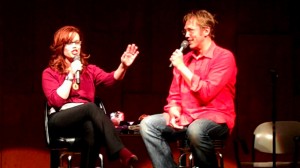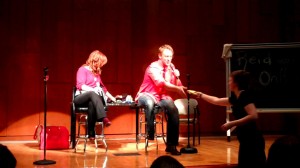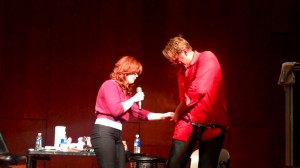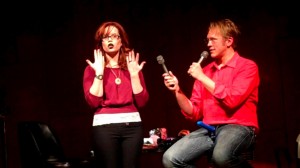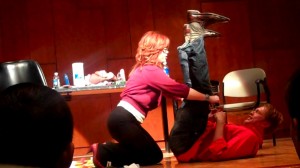 I bolted back down to the Big Apple to teach another well-attended The Ins and Outs of Hand Sex with Amy Jo Goddard at NYC's Sexy Spirits (In September, Richard Anton Diaz, founder of Sexy Spirits, and I will be hosting the 2nd Annual Sacred Sexuality Round-Up in Times Square, so keep an eye out for announcements!).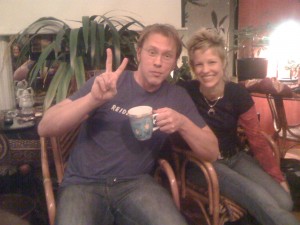 I would pack up my belongings once again and head West to interview the legendary "father of sexological bodywork," Joseph Kramer, at San Francisco's historic Center for Sex and Culture.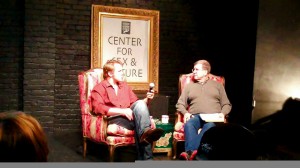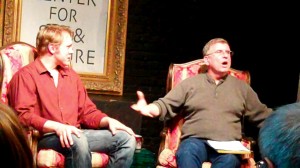 I closed out a busy February co-leading the Foundations of Facilitation weekend intensive with Cuddle Party co-founder Marcia Baczynski. For those of you who missed the FoF in Oakland, I'll be leading Foundations of Facilitation and a slew of other workshops in Chicago this June. Why don'cha join me?!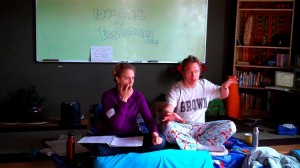 After that, to kick-off March, I had the great pleasure to help one of my favorite community causes, the Burning Man Art Festival's largest queer women's theme camp, Camp Beaverton for Wayward Girls, raise funds for their trek to the desert this September. Not only was it a complete blast, I had so much fun that I gave myself a humongous cold and spent most of the following two weeks triangulating my bed, my computer, and my coffee maker!
Now, nearly fully recovered, the March Newsletter  is out and I'm off to posting all of the amazing workshops I've got scheduled for the next 6-to-8 weeks…
I've got a FREE teleclass on Sex Magic to kick-off Kamala Devi's East Bay visit to my East Bay event space, Fruitopia! Just because some folks can't make it to Oakland for the weekend of events doesn't mean they should be denied Kamala, right? So I created a teleclass anyone could dial-in to or download later.
Kamala Devi, my cohort in my first educational DVD on relationships (see below) will be arriving to the East Bay and going head-to-head with me in my Iron Slut Sex Educator Showdown as well as the East Bay, Ninja-themed launch of our DVD and a day in our Relationship Dojo and Play Party "Lab" working on Jealousy. And following that action-packed weekend, it's off to LA to teach my PG13-rated Tantra for Beginners at the Pleasure Chest store in West Hollywood and take on The Playboy Channel's favorite Tantra educator, the lovely Jaiya Ma in Los Angeles' debut of Iron Slut…
Which brings us to April and a whole 'nother round of fabulosity: a teleclass on chronic pain in the bedroom and a special, Tax Day Iron Slut in Oakland that you will not want to miss!
Yikes! Spring has sprung!
Hope you had a wonderful St. Patty's Day. Kiss a sex educator. I hear it'll bring you luck!
Yours in self-expressed relationships,
REiD
To see what Reid's up to this month and next…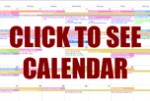 Whatever your reason, if you can't seem to get to where Reid's traveling next… Why not have him send you one of his DVD's?