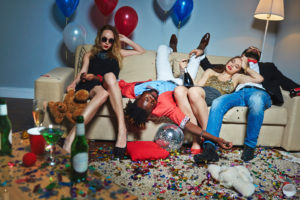 I Wonder What To Bring If I Attend to Play Parties
Cathy: What should I bring when I go to a play Party?
This is Reid Mihalko from http://www.ReidAboutSex.com/
Reid: Cathy Vartuli from http://www.TheIntimacyDojo.com/
What do you bring Cathy?
Cathy: Uhmmm….  I usually …
Reid; Wait a minute! Is a Play party an Orgy?
Cathy: Yes. I was brought up to be very polite. So I almost always ask if I can bring a dish? Or what can I help with? And some people have a food table where people can eat especially when they're nervous or they've had a lot of hot sex they want food.
Reid: Food is generally speaking a good idea Yummy Snacks..
Cathy: Yeah! So … I like to ask if I can bring something. Or I found that if I bring something, some food dish. It's nice to have finger food, Something that can pick up and eat easily and I found those things of protein or warm go over really well or cheese and crackers kind of. You know these people get hungry and grapes are always good because their mouths get dry and people are talking.
Reid: They are fun to feed people groups.
Cathy: Yes
Reid: Some people bring beverages you should check in with your host about alcoholic beverages and what kind are allowed and that every host is different. I like to encourage people to bring things that make them feel comfortable. But not have them checked out. So I tend to not have a hard liquor.
Cathy: but you Let whining there..
Reid: At my parties because, I don't want people, somebody who's nervous, who's sipping their bourbon too quick. Can then get kind of not that you can't get drunk on line. But I want people to be able to celebrate. But not lose control because that's important for me from a perspective of consent and how people are being mindful. So you should ask your hosts if it's okay if you want, if you just love sipping on bourbon. Ask them if hard liquors Okay. Ask them if any liquor is okay. And you know when in doubt peppermint tea is always works. because it's non-alcoholic. It's fun and then it freshens the breath. But then it doesn't over hallucinate. But then you're the person to brought tea and then you left for the host they're like "Oh! My Goodness Cathy was so… To you this peppermint tea that I'm sipping the day after. Isn't Cathy is wonderful?"
Cathy: So yeah I like to bring something like that. I tend to bring my plate I have a toy bag. That I put a bottle of water in. I usually put a tampon in case my period starts. Because loves o do that at play parties in the middle of them your
Reid: Your pee's love play parties. .
Cathy: Yes.. I have a little bottle of mouthwash. A travel size bottles in there. I have a bar of chocolates because you never know when your blood sugars and chocolates.
Reid: chocolates is never bad …
Cathy: well you can feed your partner's your energy starts flagging. So I have a couple toys that I love.
Reid:  I love your smile… You're like hihih
Cathy: You can do it again… It's Okay Honey… I have safer sex condoms, female condoms, gloves lube in there in a little bag that I got. so doesn't get all cross-contaminated. I have an Hitachi Brand of wand that I love and a couple enjoyed toys that are my favorite and the shuffle okay… And I like to wear clothes that I can get up and down in like nothing was constricting or tight because often in play parties you're sitting in the floor or on places.
Reid: And Yeah! Everybody likes your mobility needs and your personal needs about what you would need in your bag. It's totally fine if you don't have a toy bag yet. And be prepared …you know what do you need to stuck the deck in your favor to have a good time. And have On hand so that you feel more comfortable and prepared. And you know, for some people they will have toys. They'll bring toys that they live they don't even plan on using they just like helping other people have fun so, sometimes your toys are for your bringing for other people to use. You know I'm a standard guy with a penis. But I will sometimes bring my Hitachi magic wand. Because I can then ask while I'm playing with somebody. Would you know me to use my Hitachi on you? Again there's no right or wrong and it is fun just as creative exercise to figure out even if you never want to go to a play party. What would you have in a play party bag?
Cathy: Yeah! And I've made a lot of friends putting scrunches in my bag because a lot of women with longer hair, men with longer hair if they're going down on someone. Their hair is in the way and you're like "Oh I mean  … And I thought a little hair brush. Because it's very sensual id just you know just like, if I was in the mood to play I'm like "Hey can I brush your hair? They've asked to push my hair and it's just really fun.
Reid: Yeah! So again Sky is the limit and what can you do to have fun?
Cathy: Is there anything that you would bring.
Reid: I'm going to leave it like this, this is great! I like hearing it from Cathy right now. Again resources http://www.ReidAboutSex.com/playparty and you can get some checklist and things like that yeah!
Cathy: And a little towel be nice to have…
Reid: A little towel… Oh my goodness Alarms are going off. What's happening Cathy? Its Cheat date time for me. Time for carbs!
Cathy: For me.
Reid: Yes, Maybe I put some carbs on, my sex toy bag…
Cathy: Whoa…
Reid: Goodbye Everyone! Leave comments.