Daka/Dakini Tantra Conference East '09
A Conference & Gathering for Sacred Sexuality Healers, Teachers & Practitioners in NY's Catskill Mountains!

| | |
| --- | --- |
| Host: | Sedona Temple's International School for the Temple Arts and Reid Mihalko |
| Type: | |
| Network: | Global |
| Price: | Repeat Attendee Discounts and Discounts for Presenters Online |
| | |
| --- | --- |
| Start Time: | Friday, October 2, 2009 at 10:00am |
| End Time: | Sunday, October 4, 2009 at 7:00pm |
| Location: | Shandelee Lake Inn in the Catskills Mountains! |
| Street: | 31 Shandelee Lake Road |
| City/Town: | Livingston, NY |
| | |
Join Betty Dodson, key note speaker and sex educator legend, and a collection of some of the world's top sacred sexuality teachers and practitioners in the Catskill Mountains for a weekend of learning, community building, networking, and play!
Come meet your spiritual family, open your heart, and pick the minds (and chakras, lol!) of your peers and heroes so you can take your life's work to the next level…
Who's already attending?
sedonatemple.com/2009-fall-dd-conference-new-york.php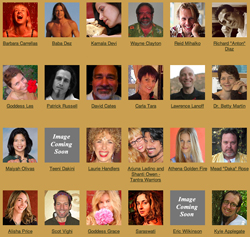 Who is invited?
Please join us if you are:
• Currently working in the sacred sexual healing arts
• In service to the world as a daka/dakini/tantrika
• Beginning to realize that your calling as a sexworker has a more sacred dimension
• Or desiring to incorporate sexuality into your healing work.
Spouses, partners, family members, and support people/friends of practitioners are also welcome. If you are not sure, give us a call and ask. This gathering is a delightful blend of innocence and experience, advanced and beginners, from the worlds of tantra, sexwork, sex education, escorting, bodywork, massage, counseling, therapy and spiritual awakening.
Why should you come?
• Because sacred sexuality enriches our lives.
• Because a career in sexuality is still such a taboo in this society.
• Because it is healing to be with peers who understand the unique pressures and challenges of working in this field.
• Because you are not alone.
• Because we are learning so much emotionally, spiritually, legally, practically, financially, physically, holistically, and it is a blessing to share our wisdom with each other.
• Because it is fun to be with people who can embrace and celebrate life.
What will you learn?
We will hear presentations from some of the most successful teachers and practitioners in our field. There will be a blend of presentations, hands-on demonstrations, and group wisdom circles with open discussions.
We also showcase new books and other educational tools as well as screening new documentaries and short films on Sacred Sexuality, its Teachers and Practitioners
Conference Info:
We will be using a multiple presentation format. The entire conference will meet in the mornings and end in the evenings with a group circle. Evenings will be open for play, socializing, rest and bonding. The actual event schedule will be available on line in a few days before the conference.

FOR A GENERAL OVERVIEW AND TO REGISTER
and to see
LINKS FOR OTHER SACRED SEXUALITY RELATED EVENTS:
http://TinyURL.com/NYCTantraConferences
Please tell your friends and communities, and we hope to see you all in the Catskills!
Namasté,
Baba Dez of Sendona Temple,
The staff at the International School of Temple Arts,
and Reid Mihalko of www.ReidAboutSex.com