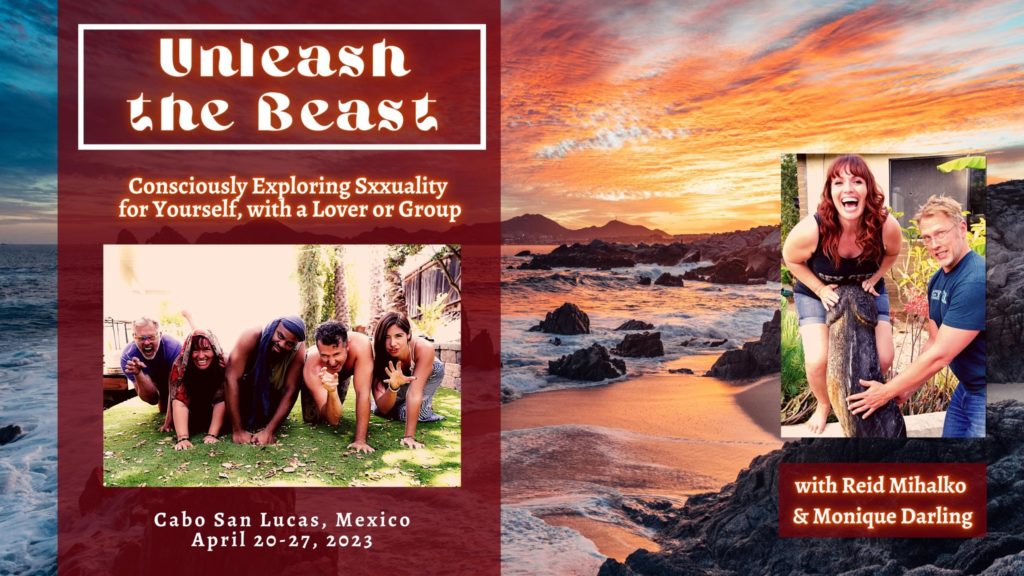 Are You Ready To Unleash the Beast?!
Ready To Uncage Your Inner Primal Animal?
Let Reid Mihalko and Monique Darling take you on a weeklong immersion into the deepest, naughtiest, most wanton, parts of your desire and passion.
Do you contain your wants to keep from upsetting others?
Have you been told that "you're too much"?
Are you great at asking for what you think others will be comfortable with?
Do you find yourself hesitating to express what you wish to try?
Not asking for what you really want… Or not even noticing what you want because you've trained yourself to think and ask only for what others will approve of… Is a form of "settling" that holds you back from being 100% free, kills off authentic self-expression, and brews anger and misery!
And yet most of us do this.
It's a shame that so many of us never learned how to explore our sxxuality with integrity!
It's not fair that so many people will look back on their lives regretting the things they always wanted to explore but never tried or even spoke about with a lover!
And it's not your fault if you never were taught how to speak up. Likely your parents and caregivers didn't know how either.
Far too many people believe that "sxxually evolved" means they have to enjoy ALL sxxual acts. Being a "yes" to what you enjoy and giving yourself permission to be a "no" to what you don't is far more evolved. But with so much poor communication, slut shaming and pressure to perform when it comes to sxx, where does anyone get a chance and a safe space to try adventurous things slowly and deliberately to see what they like? When we do discover things we enjoy, where do we get the opportunity to practice it and become confident and competent in such things?
Luckily, you don't have to live the rest of your life in quiet desperation! You can stop struggling and secretly hoping people will magically guess what you want. You can stop doing all the things you dislike and put an end to the silent resentment that occurs in the bedroom.
You can start asking for (and explore!) all the things you're curious about NOW, whatever your age!
No matter how young or old,
No matter your size, gender, or level of experience…
Whether you are straight, gay, bi, queer…
Single or have a partner, multiple partners…
YOU can unlock your deep desires and taste the smorgasbord of delights and pleasures that are yours to explore so that YOU can figure out what you truly want more of in love and life!
Your power and voice can be yours faster and easier than you think!
You can be as loud, as intense, as hungry, as greedy for sxx and pleasure as you want — And be celebrated for it!
Learn that it's okay to be more sxxual than your partner. Or less sxxual. And discover ways to make your desire work for any relationship.
Unlock the win-win inside of rejection and how truly honoring another person's "No" can create the deeper trust and courage needed to discover unfathomable "F*ck, Yeses!" to desires and experiences you haven't even given yourself permission to dream yet!
If you're ready to dive deep and:
• Discover how to explore sxx and intimacy with the least amount of drama and the most amount of pleasure by unlocking your sxxual self-expression and erotic creativity.
• Unlearn the fallacy that your partner must be equally as excited for you to be able to ask for the sxx you want.
• Overcome the worry that people are always saying yes to things they don't want, and reframe how you and your loved ones can be a yes to what YOU want without it backfiring in your face or used against you later.
Monique and Reid can help you!
You will also learn:
• How to stop holding back during sxx.
• How to replace feelings of shame and unworthiness with explosive, unbridled pleasure and aliveness.
• Ways to overcome slut shaming yourself (or at the very least, turning the volume down on it by turning the volume up on your orgasms!)
• How to trust picking the right people who will say No to the things they're a No to…
• And how to pick the right people to say Hell, Yes! to
So few people know the power of Allowing and Taking when it comes to sxx.
Most of us have only been taught giving and receiving — one person gives the other receives.
In allowing and taking, one person submits, allows their body to be "taken," used for another's pleasure. The allower open heartedly gives the taker permission to really explore what is pleasurable for themselves with the gift of this willing body, this blank canvas…
Too often people find themselves fumbling in the dark, struggling and wondering if they are with the wrong partner, or are maybe deficient in the bedroom. Without these skills and insights; manipulation, resentment, insecurity and frustration run rampant. With your new skills, joy, delight, confidence, and deep pleasure abound!
All too often awkwardness is seen as a sign of unworthiness or failure rather than a natural part of exploring new experiences. Rather than Embracing the Awkward , too many people shut down and withdraw, never reaching the deep knowing that inexperience and clumsiness are often the foreplay unlocking potent intimacy and delicious discoveries. You just have to hang in there long enough and practice often enough for it to become second nature…
Would you like to learn how to talk about and be with your own traumas and lived experiences as they show up during sxx, and how to be with those experiences when they bubble up for those we play with?
Ever wonder if intimacy can be a time of personal and relational growth and deepening understanding?! It can!
And we'll help you untangle "forever" vs "celebrating the moment/experience" so that you can give yourself more freedom to explore and be in the moment. So many people are lost in the expectations and worries about the future, they lose touch with the moment and never obtain the ability to reach the intense pleasures awaiting them in the moments that make up their future.
• During your weeklong experience with us, you'll be offered a taste of powerful experiences.
• You'll have the opportunity to explore what you are a yes to and what you are a no to (and be honored for both!)
• You'll discover ways to more safely explore your desires without having to fall in love and marry every single person you share a deep, powerful experience with (or have them fall in love with you!)
• Explore your authentic sxxuality with integrity, and practice unlocking your deep desires.
All too often people in workshops get a taste of these skills and understandings and are sent home, never getting the time to anchor them or deeply explore the nuances of their inner desires and needs.
If you are hungry to unleash your beast…
If you are curious about self-pleasure, group sxx, and opening up to the things you really want but are afraid to ask for…
If you want to try things to see if you like them and be celebrated for what you like and what you don't like…
And do it all in a safe and caring environment with guides to help you understand and interpret the feelings and insights that come up, this retreat is for you!
**************************************
Logistics:
Click on the link below to see the most current dates and locations and reserve your spot – as well as information on housing, food, and other perks.
Previous training location: Cabo San Lucas, Mexico
RSVP HERE: https://Bit.ly/beast-unleash
***********************************
ABOUT YOUR FACILITATORS: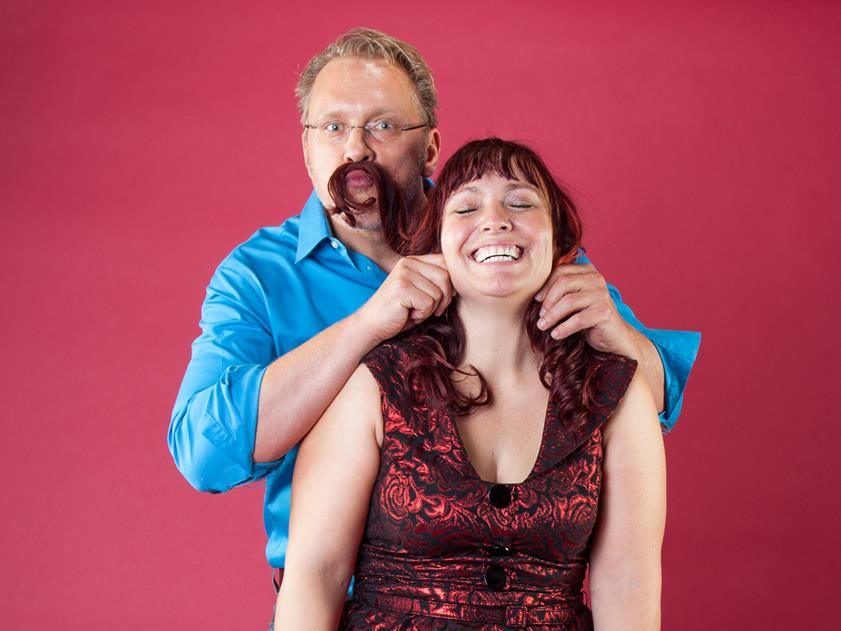 ABOUT REID MIHALKO: As seen on NETFLIX' "Chelsea Does…" alongside Chelsea Handler, Reid Mihalko (he/him) of ReidAboutSex.com is an internationally known sxx and relationship geek who helps adults create more self-esteem, self-confidence, and greater health and accountability in their relationships and sxx lives using an inspiring mixture of humor, personal stories, keen insight, and comprehensive sxxual health information.
In early 2018, some very brave people came forward during #MeToo sharing harms that Reid had caused them. Reid stepped down from teaching and initiated a restorative justice-based accountability process to address his misconduct and make amends if and where possible. The formal, year-long process along with Reid's apology and resources were shared publicly and can be found at TinyURL.com/reidaccountability. Going forward, Reid's projects and appearances will include pointing people towards resources and experts on restorative and transformative justice-based accountability processes.
Reid's workshops and college lectures have been attended by over 60,000 people from all over the globe. He has appeared in media such as Oprah's Our America With Lisa Ling on OWN, NETFLIX, Montel, Dr. Phil's The Doctors on CBS, Bravo's Miss Advised, Fox News, in Newsweek, Seventeen, GQ, The Washington Post, and in thirteen countries and at least seven languages.
Reid is also founder of Sxx Geek Summer Camp, Sxx Geek Conservatory, and Sxx Geek School for Gifted Sxx Geeks, which help sxx educators learn valuable business skills that allow them to reach more people with greater ease, transform more lives, and make a better living as sxxperts.
Follow @ReidAboutSex on Instagram, Facebook and YouTube
Monique Darling, Author of 'Beyond Cuddle Party' and workshop facilitator extraordinaire has led over 2000 workshops in the past 10 years. She is the founder of Everyday Tantra an organization dedicated to empowering people who are questioning the assumptions of how their life should be and to offering tools for self expression that create trust, inner knowing and wisdom to enjoy the life they have.
Monique has taught at colleges across the US including Yale. She has been featured on TLC and The Dr's as well as various radio shows, podcasts and magazines across the globe. She specializes in helping others reclaim their power and natural sensuality by transmuting fear and repression into courage, self-love and freedom. Her primary purpose is helping folks bring out their vulnerability, energetic embodiment and fearless relating.
Learn more about Monique by going to www.Everydaytantra.com