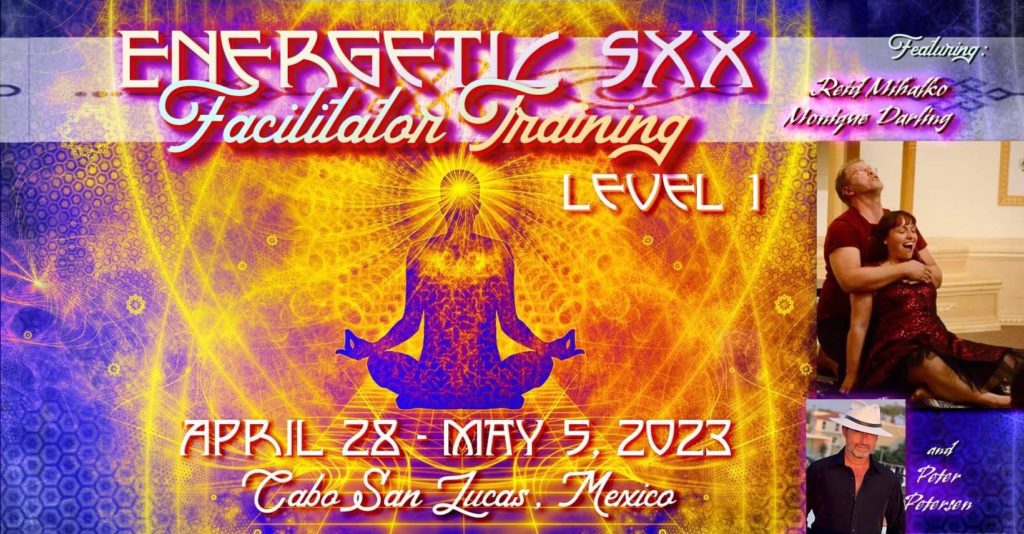 *Are you ready to dive deep into Energy and Play and discover and explore your full power and expression?
*Have you always been in touch with a sixth sense in some way and want to develop that further? The ability to feel, see, taste, touch, experience the world through Energy?
*Do you love Energy Sxx and would love a weeklong immersion in the nuts and bolts, so that you can offer it to your clients, students, and lovers?
*Are you ready to awaken your passion and share it with the world in way that makes an empowered and loving way?
*Are you willing to commit 100% to step into the life you were born to live?
*Are you finally ready to heed the call and join a community of leaders, facilitators and guides doing the work to change world right now?
In this 7-day Facilitator Intensive, Reid Mihalko, Monique Darling and Peter Petersen will be inviting you on an in depth and lovingly guided exploration of energy in and around your body. Walk away with your own level 1 certification to offer Energy Sxx your way!
Drawing on decades of experience of living, teaching, and playing in the multiverse of energetic realms, these three internationally-renown teachers are bringing it all together!
So many of you have been asking for years for a facilitator training based solely on Energetic Sxx, now it's here!!
We are selecting and curating the juiciest, the most divine, the most potent experiences we have learned over our lifetimes into these 7 days.
This week will push you and challenge old beliefs, assumptions and outdated ways of being… If you're not willing to expand your consciousness and taste new experiences, this is not the event for you.
Wherever you are at in your practice, whether you are just getting started and could use a wider range of tools, or you have been facilitating for years and have reached a plateau… Or you are going strong but in danger of settling into a comfort zone, This deep dive will invite you to new levels, to unexplored and unimagined depths.
We are offering real world tools for anyone who is ready to help bring energy Sxx even more into our communities, to those who know it exists and to those who haven't discovered the joy and connection they've been missing their entire life!
Get ready to peel off the layers to experience a new level of sensation and ecstasy, through your birthright of Sxx, Pleasure, Power, and Intimacy. All through the lens of Tantra, Clarity, and just how good you can feel in YOUR body.
Here is a secret…
"The opposite of pleasure is even MORE pleasure"
Each of us has a sophisticated and subtle energetic system that courses through our body.
In Indian and Yogic cultures, it's called Nadis and runs Kundalini energy throughout an energetic Chakra system. In Traditional Chinese Medicine it's energy meridians and Chi flow. In Western Medicine, it's chemistry and our central and peripheral nervous systems which fire electrical impulses and synapses.
Regardless of what belief system you subscribe to, our bodies are giving off signals. These cues and clues can be read and tracked with practice, especially during Sxx! Engaging these subtle and powerful energies, and interacting with them in a focused state, can make for a deeply transformative life.
When sxxual impulses are free flowing in the body, something natural and beautiful happens in our psyche and life pulsates with aliveness. Sxxual energy is a profound whole-body healer and can bring forth delicious feelings of bliss and ecstasy from endorphin release. Bring joy, delight and powerful renewing energy to each cell in your body!
Here are some benefits you will receive through this deep and playful intensive:
*Discover and get practical experience with Real world Energy tools you can practice and play with for the rest of your life… AND be able to offer to clients and workshop attendees all over the world!
*Play with the Aliveness of your body for a lifetime of joy!
*Anchor an ability to transform life into an orgasmic playground way beyond traditional sxx…And help your current and future partners discover this new playground of bliss.
*Deepen your connection to your own energetic field so you can experience life in new delicious ways.
*Dive into Radical Self Love and Acceptance, and see it modeled all around you.
*Strengthen and hone your skills to engage and play solo and one-on-one for deeper and more grounded and ecstatic pleasure.
*Reinforce your abilities and awareness for engaging in group energetic play.
*Fine-tune, understand and speak your boundaries for deeper intimacy and authentic connection that sparks and delights.
*Explore using the energetic body to tune into and help heal your tender little child-parts within so you can sooth and empower them and yourself.
*Release shame and old stories that don't serve you so you can stop getting in your own way and reclaim your destiny.
*Powerfully claim your right to sxxual pleasure and passion… The very soul of you that society tried to strip away!
*Tune into the energy behind Sxx magic and build a solid foundation to springboard off of.
*Use pleasure to reset the central nervous system and release old stuck traumas and fears.
*Explore and anchor communication skills that encourage asking for what you want so you can experience more wonder than you dreamed possible!
*Discover and learn all about "devouring" (using energy as fuel regardless of what you're experiencing) so you feel empowered no matter where you are and what's happening!
*Experience different approaches so you can select the modes best suited for you and your audience:
Meditation, Experiential, FEEL… Integrate and Anchor
**************************************
Logistics:
Click on the link below to see the most current dates and locations and reserve your spot – as well as information on housing, food, and other perks.
Previous training location: Cabo San Lucas, Mexico
RSVP HERE: https://bit.ly/energysxxlevel1
***********************************
Be ready to discover a clear path for tapping into your natural abilities for creating the life you desire where all of you is celebrated.
We will be using our sxxual energy to claim and allow these desires to come alive in the world (the all too often misunderstood and misused sxx magic). Come share YOU and allow the community to help amplify your truth!
Explore your own sensual and sxxual energy. All activities and exercises will be guided and are optional. You can participate solo, with a partner and/or in small groups. All participants are asked to practice with each other, or by oneself, in whatever manner supports each of you best. Many options will be offered to support each individual experience. The entire retreat is clothing optional
Join us as we take you on a journey of embodied experience that can reset your heart, body, mind, soul, and energetic nature.
AND… Walk away with your own level 1 certification to offer Energy Sxx your way!
You will also have time to integrate… to lie in the sun and swim in the sea, connect with other participants and enjoy the beautiful space…returning your body to the state of relaxed bliss that is its true nature.
Check out our other EveryDay Tantra events in Cabo this year!
***********************************
ABOUT YOUR FACILITATORS: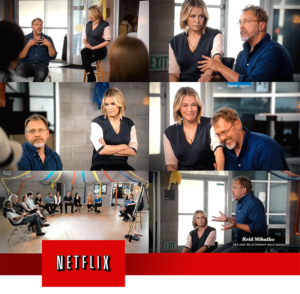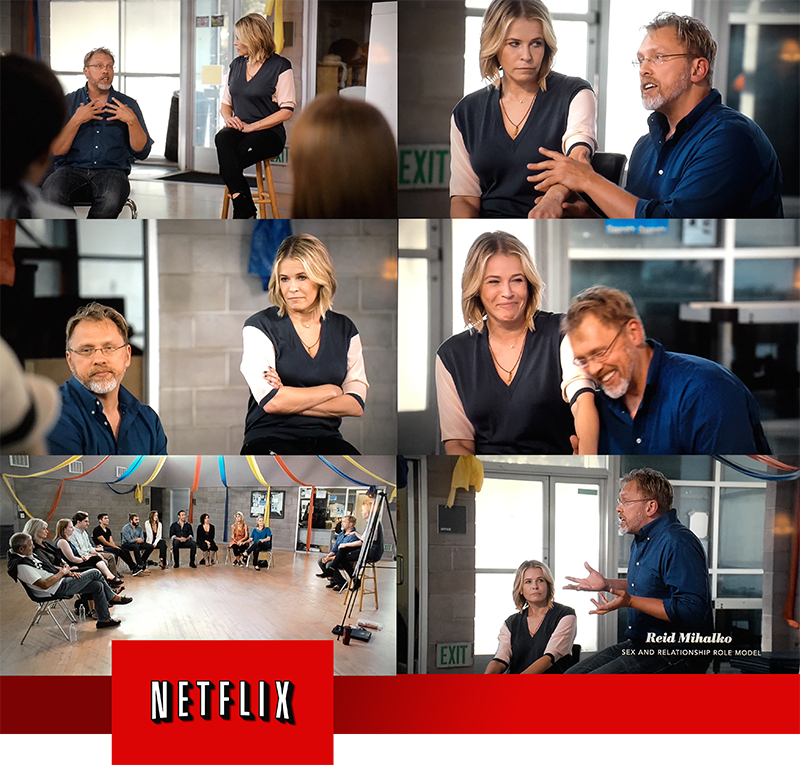 REID MIHALKO: As seen on NETFLIX' "Chelsea Does…" alongside Chelsea Handler, Reid Mihalko (he/him) of ReidAboutSex.com is an internationally known sxx and relationship geek who helps adults create more self-esteem, self-confidence, and greater health and accountability in their relationships and sxx lives using an inspiring mixture of humor, personal stories, keen insight, and comprehensive sxxual health information.
In early 2018, some very brave people came forward during #MeToo sharing harms that Reid had caused them. Reid stepped down from teaching and initiated a restorative justice-based accountability process to address his misconduct and make amends if and where possible. The formal, year-long process along with Reid's apology and resources were shared publicly and can be found at TinyURL.com/reidaccountability. Going forward, Reid's projects and appearances will include pointing people towards resources and experts on restorative and transformative justice-based accountability processes.
Reid's workshops and college lectures have been attended by over 60,000 people from all over the globe. He has appeared in media such as Oprah's Our America With Lisa Ling on OWN, NETFLIX, Montel, Dr. Phil's The Doctors on CBS, Bravo's Miss Advised, Fox News, in Newsweek, Seventeen, GQ, The Washington Post, and in thirteen countries and at least seven languages.
Reid is also founder of Sxx Geek Summer Camp, Sxx Geek Conservatory, and Sxx Geek School for Gifted Sxx Geeks, which help sxx educators learn valuable business skills that allow them to reach more people with greater ease, transform more lives, and make a better living as sxxperts.
Follow @ReidAboutSex on Instagram, Facebook and YouTube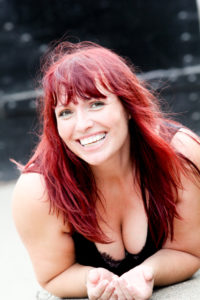 Monique Darling, Author of 'Beyond Cuddle Party' and workshop facilitator extraordinaire has led over 2000 workshops in the past 10 years. She is the founder of Everyday Tantra an organization dedicated to empowering people who are questioning the assumptions of how their life should be and to offering tools for self expression that create trust, inner knowing and wisdom to enjoy the life they have.
Monique has taught at colleges across the US including Yale. She has been featured on TLC and The Dr's as well as various radio shows, podcasts and magazines across the globe. She specializes in helping others reclaim their power and natural sensuality by transmuting fear and repression into courage, self-love and freedom. Her primary purpose is helping folks bring out their vulnerability, energetic embodiment and fearless relating.
Learn more about Monique by going to www.Everydaytantra.com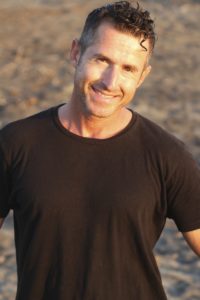 Peter Petersen's three main passions in life are movement, music, and meditation. He has been teaching qigong for 20 years and has been a certified Sheng Zhen Qigong teacher for the last 18. He has taught in health clubs, hospitals, retirement villas, and several different wellness/spa resorts in Mexico and the United States, such as Rancho La Puerta, Mayacamas Ranch, Playa Viva, and Present Moment Retreat. Peter has traveled and taught with Monique Darling for over the last 5 years teaching Tantra and his own style of qigong/dance all over North America, the EU, Asia, and Australia. Helping people to see what is intensely alive in their heart and helping them to export that passion to the world is why Peter loves his job and will do this till his final breath.