With great power comes great responsibility… Radical responsibility!
The Burning Man Arts Festival in Black Rock City, Nevada, is host to some of the most free-spirited, artsy, and sex-positive people on the planet, as well as extreme partying conditions!
Daytime temps on the Playa regularly exceed 100 degrees; 20-70 mph, white-out condition dust storms are commonplace (bring goggles!); and nights often dip near freezing… Such conditions can wreak havoc on the human body (stay hydrated!), not to mention your sex toys!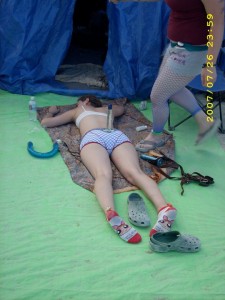 As a safer sex geek who played plenty at BM over my five tours of dusty duty, and as one of the proud founders of Camp Beaverton for Wayward Girls (the playa's largest, queer women's camp and host of the infamous "Strap-On-A-Thon," the largest, women-identified-only play party on the Playa), I've got lots to say when it comes to healthy, fulfilling, safe sex on the playa!
To keep it focused and direct, here are my Reid Recommended Sex Basics for Your Burn, some sexcapade advice from the Beavers in the form of a cautionary tale (see YouTube video below), as well as the content list for my personal Burning Man Sex Gear Toy Bag… May these communication tools, etiquette, tips, and sex gear recommendations serve you well this year when you're bumpin' naughty bits with 50,000 of your closest, dustiest, scantily-cladest, new friends!
What to do…
You can't go wrong following these basic tips and tricks…
Reid Recommended Sex Basics for Your Burn

Always ask permission and get a verbal "yes" before touching someone. (Trust me on this one!)
Use more lube than you think you need because it dries up quick in the high-altitude and heated temps! (Keep a spritzer bottle of H2O on hand to rehydrate your lube and cool your writhing bodies down!)
Have a safer sex conversation

before

the sex begins, so everyone is on the same page — Try The Safer Sex Elevator Speech!
Be sure to have your relationship agreements conversation with your loved ones 

before

you get to the playa!
Use condoms, dental dams and latex gloves on body parts and toys to cut down on STD-risks, dirty fingernails and that ubiquitous playa dust!
Bring non-porous toys you can easily clean! (And spray down with vinegar/H2O to de-alkaline 'em after cleaning – and do the same for your feet and tender bits, while you're at it!)
Stay hydrated, especially if you're a squirter or frequent ejaculator, or just like to play hard!
Baby wipes! Baby wipes! Baby wipes! – I recommends Swipe Lovin' Wipes 'cause they're biodegradable! (They also donated a ton of wipes to help keep the beavers of Camp Beaverton for Wayward Girls happy! Thx, Swipes!)
Always say "Please" and "Thank you" because people being generous with their genitals is a gift, and Burning Man is a gift economy kind'a place!
As the Burning Man saying goes, The playa provides… In this case, the playa provided me with a cautionary tale…
What to pack…
Whether you leave it in your tent or tote it across the playa, a sex toy bag is an excellent way to keep all your toys and safer sex gear easily accessible, organized and clean.
If your bag is too stuffed with salacious goodies to comfortably lug around, consider building your own Art Car, or simply pack yourself a "Safer Sex Day-Pack" of just the bare, erotic essentials in a sealed ziplock and toss it in your Camelback, backpack or Murse! Why? 'Cause the playa provides! And when it does, it pays to be ready!
Reid's Burning Man Sex Gear Toy Bag revealed… 

Here's what I load into my trusty Sex Gear Toy Bag when I head off to the Playa… Customize according to your tastes, desires and proclivities! This is just what I like to bring…

At least 3-dozen, lubed condoms of various sizes within their current expiration dates
8oz plastic bottle water-based lube with snap-shut top (

NOT

strawberry syrup! See video above! LOL!)
3oz or larger, spritzer bottler filled with water to re-hydrate water based lube and cool down tents for daytime sexy-time!
3oz plastic bottle of silicone lube with snap-shut top
Latex and non-latex gloves
Dental dams or Saran-Wrap
Swipes Lovin Wipes or non-antibacterial baby wipes! (These are for body parts)
Antibacterial Wipes (These are for cleaning toys and not body parts 'cause they're not good for your ecosystem)
Strap-on harness (Duct tape and cut-off jeans can work in a pinch – see video)
1 or 2 of my favorite silicone dildos
1 glass buttplug
1 sleeping mask that doubles as a kinky blindfold and a nap-mask for daytime sleeping!
Battery operated vibrator
Extra batteries for the vibe!
Extra headlamp – in case you loose yours or are canoodling past sunset…
Ziplock bags for each of your toys to keep 'em dust-free till you need 'em!
1 Ziplock designated as your "MOOP" trash bag for used condoms, baby wipes, etc.
Breath mints
Ear plugs for those spontaneous sleepovers in a lover's tent!
Extra bottle of 50-SPF sunscreen (be sure you don't mistake this for lube!)