I'm Coming For Ya, Los Angeles! Won't You Join Me?!
Almost a week of workshops, appearances, & fun times from Jan 15-19! And YOU are invited…
_____________________________________________________________________
Attending the Xbiz Awards? I'll be there because I'm a NOMINEE!!
I'm so excited to be a 'Sexpert of the Year' and a 'Best Non-Sex Performance' nominee for the 2016 Xbiz Awards! Woohoo!
Say hello if you'll be attending too! And don't forget to vote for me for your fave Sexpert of the Year HERE!
Voting ends Dec 6th!
DATE: Fri Jan 15th
TIME: TBD
WHERE: JW MARRIOT, 900 West Olympic Blvd, Los Angeles, CA 90015
TIX: Info Here!
---

Join me for my 'Date Your Species' workshop at the 2016 Sexual Health Expo
Are you confused about dating, mating, and relating in the 21st Century?
Unsure how to make a relationship last past a season of Project Runway or Monday Night Football?
Can't tell Mr/Ms. Right from Mr/Ms. Trainwreck?
Have trouble saying Yes and No powerfully?
Dating, marriage and the reasons we stay in relationships have changed a lot since the days of our great grandparents, and sex and relationship expert Reid Mihalko of ReidAboutSex.com knows what you need to do to make the current dating and mating scene less screwed-up: Date your species!
Join us for this humorous, frank and informative workshop where sex and relationship expert Reid Mihalko boils down more than 150,000 conversations he's had about sex and relationships and walks us through his best thinking and advice on making sex, dating, relationships and mating work!
Participants will leave this interactive workshop experience knowing:
How to figure out what species YOU are!
Tools to determine if someone is good or horrible fit for you…
Communication Skills to ask for what they want and how to avoid past relationship mistakes…
A few of Reid's "black belt" relationship tips and tricks!
DATE: Sun Jan 17th
TIME: 2:30-3:20p
WHERE: Hilton Universal City, 555 Universal Hollywood Drive, Universal City, CA  91608
INFO: HERE!
TIX: HERE!
---

 He said. She said. The 411 for Non-Monogamy's 101 with me and Allison Moon
Opening up any relationship takes skill, patience and perseverance. Mistakes will be made. But why make any more than you have to? Join Reid for a 2-hour workshop devoted everyone already charting or just considering new territories in their relationships.
bout called polyamory? Maybe you've read all the books but want to talk to folks actually living and loving the poly lifestyle…
Perhaps you caught Reid and Allison on Bravo's Miss Advised where they talked to Emily Morse about non-mongamy and you want to meet them in person!
Whatever your reason or level of experience, join Reid and Allison for 2-hours of tips and tricks and Q&A!
Show up with your questions and leave with new-found confidence and self-esteem for your relationships and sex life!
DATE: Tues, Jan 19th – Poly-Curious 101 with Reid and Allison
TIME: 8-10pm!
WHERE: LA's historic Pleasure Chest
7733 Santa Monica Blvd., West Hollywood, CA 90046
COST: FREE – Get there EARLY 'cause seats fill up fast! 
SEATS ARE FIRST COME/FIRST SERVED!
Questions? Call The Pleasure Chest @ 323.650.1022
In this fun, informative and easy-to-understand primer on Polyamory and open relationships, we'll cover:
Definitions and different ways to construct non-monogamous relationships
The elements that make Polyamory workable
The most common pitfalls of open relationships and how to avoid them
How to figure out and negotiate your boundaries and agreements so everyone feels safe
Ways to merge different poly styles so that everyone ends up happy
Five things that will help you survive any poly exploration
The secret key to turning jealousy into a blessing
Resources, books, and tools to proceed into the world of responsible non-monogamy, at whatever your preferred pace or interest level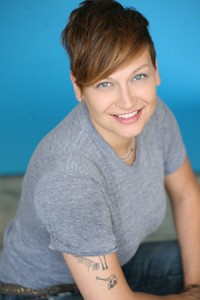 ABOUT ALLISON: Allison Moon is a writer based in Northern California. Her writing has been published in Not For Tourists, Nerve.com, McSweeney's, and Psychopedia.com. In 2011, she was named runner-up for the Victoria Hudson Emerging Writer's Award. She was recently named a fellow for the Lambda Literary Foundation's Emerging LGBT Writer's Program.
Allison recently came out with her 2nd novel, "Hungry Ghost," the second installment in her lesbian werewolves series, "Lunatic Fringe," being the first novel . In addition to writing, Allison is a sex educator and has presented her trade-mark class, "Girl Sex 101"³ and others at the Center for Sex and Culture in San Francisco, Dark Odyssey, Sexy Spirits in New York City.
Visit Allison at TalesofthePack.com.
Curious about booking Reid for a private class? Go HERE!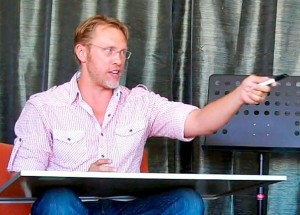 ABOUT REID MIHALKO: "America's favorite sex geek," Reid Mihalko of ReidAboutSex.com and Relationship10x.com  helps adults and college students create more self-esteem, self-confidence and greater health in their relationships and sex lives using an inspiring mixture of humor, keen insight, and comprehensive sexual health information.
Reid frequently speaks at colleges and universities on sexual assault prevention and healthy relationship skills, and regularly appears in the media sharing his views on consent, dating, and shame-free sexuality.
Reid's workshops and college lectures have been attended by close to 50,000 men and women. He has appeared in media such as Oprah's Our America With Lisa Ling on OWN, the Emmy award-winning talk show Montel, Dr. Phil's The Doctors on CBS, Bravo's Miss Advised, Fox News, in Newsweek, Seventeen, GQ, The Washington Post, and in thirteen countries and at least seven languages.
Reid is also founder of Sex Geek Summer Camp and Sex Geek School for Gifted Sex Geeks which help sex educators learn valuable business skills that allow them to reach more people, transform move lives, and make a better living as sexperts.
Follow Reid on Twitter and Facebook and YouTube.