When Sex, Art, and Shame Collide… 
Join us for Putting a Frame on Shame: Exploring Sexual Content in Fine Art, a thoughtful, revealing and funny conversation about how sex is and isn't depicted in art — and why! – with artist Nick Weber, sexologist Carol Queen and sex and relationship expert Reid Mihalko.
Broadband is a series of oil paintings inspired by still images that Weber selects from internet porn videos.
Stay after for a special workshop with Reid Mihalko and Carol Queen!
DATE: Feb 17th, 2013
TIME: 2-3 pm
LOCATION: Res Ipsa Gallery, 455 17th Street, 3rd Floor, Oakland
COST: Free!
Stay Later (3-5pm) for Negotiating Successful Threesomes workshop with Reid Mihalko and Carol Queen!  Register early!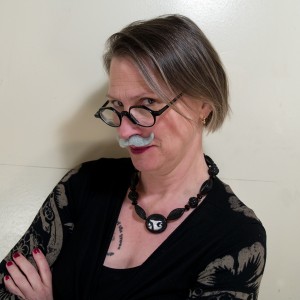 ABOUT CAROL: Carol Queen has a PhD in sexology and a prior degree in sociology. She calls herself a cultural sexologist; while she addresses individual and couple's sexual concerns, her overarching interest is in cultural issues (gender, shame, access to education, etc.).
Queen has worked at Good Vibrations, the woman-founded sexuality company, since 1990. Her current position is Staff Sexologist and Chief Cultural Officer; her roles include representing the company to the press and the public; overseeing educational programming for staff and others; scripting/hosting a line of sex education videos, the Pleasure-Ed series, for sister company Good Releasing; and curating GV's Antique Vibrator Museum.
She is also the founding director of the Center for Sex & Culture, a non-profit sex ed/arts center San Francisco, and is a frequent lecturer at colleges, conferences, and community-based organizations. Her dozen books include a Lambda Literary Award winner, PoMoSexuals, and Real Live Nude Girl: Chronicles of Sex-Positive Culture, which are used as texts in some college classes.
She blogs at the Good Vibes Magazine and in days gone by was the sex advice columnist for the East Bay Express. For more: carolqueen.com.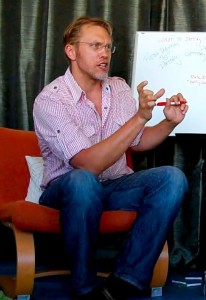 ABOUT REID: Reid Mihalko of ReidAboutSex.com helps adults create more self-esteem, self-confidence and greater health in their relationships and sex lives, no matter what their self-expression of those happen to be.
From his rated-PG/PG-13 workshops (Cuddle Party, Speed-Flirting) to the rated-R (Iron Slut Sex Educator Showdown) to his explicit, NC-17 rated, Show-N-Tell sex education workshops (where audiences get to watch, take notes, and ask questions), Reid's workshops have been attended by close to 40,000 individuals from myriad walks of life, orientations, relationship styles, countries and religions. Known for his charisma, wit and emphasis on integrity, Reid travels the country teaching, coaching, consulting and collaborating on fulfilling his mission: Create more self-esteem, self-confidence and health for adults in and out of the bedroom.
Reid has been a featured speaker at dozens of conferences on relationships and sexuality and is a sought-after presenter and teacher at colleges and sex positive stores across the country.
Reid has been a writer and producer on a number of films and television projects about sex and relationships, and appears regularly in the media. He has also appeared on the Emmy award-winning talk show Montel, Fox News, OWN's Our America with Lisa Ling, Bravo's Miss Advised, VH1's Scott Baio is 45 and Single, Showtime's Penn & Teller's Bulls**t!, Canada's The Sex Files and SexTV, and the short-lived Life & Style, on NPR, Sirius' Maxim Radio and Cosmo Radio, and in Marie Claire, GQ, Details, People, Newsweek and The National Enquirer, as well as media across the globe in thirteen countries and at least seven languages.
Follow Reid twittering as @ReidAboutSex.
ABOUT NICK WEBER:  Nick Weber is a painter and photographer who graduated from Stanford in 1993 with BA in studio art. At Stanford, he studied painting with Nathan Oliveira (1928-2010), whose mentorship continues to exert a strong influence on Weber's work.  Weber exhibited his work recently at AMH, 144 10th Avenue in Chelsea, NYC, and at John McWhinnie on 64th Street, the Fireplace Project in East Hampton, Tripoli Gallery of Contemporary Art in Southampton, and the Scope Hamptons Art Fair.  Weber's work has been featured in the New York Post, the NBC Nightly News, Time Out Magazine, CBS Sunday Morning, and the Village Voice.  Collectors of his work include Richard Prince, Lisa de Kooning, Phil Aarons, and Glenn Horowitz.  Weber lives in Amagansett, New York.
ABOUT RES IPSA GALLERY:  Jonathan Ball, an Oakland lawyer and photographer, founded Res Ipsa in 2011.  Res Ipsa, which means the "thing itself," showcases contemporary work in a variety of media from a diverse range of artists.  Res Ipsa is committed to showing innovative work that speaks for itself.  The gallery typically presents up to six solo shows per year, and works in close collaboration with a small group of artists.