Watch and Learn as Real Sex Educators Go Head To Head and Reveal Their Best Bedroom Moves…
What better way to learn about practical sex education that you can actually use than to watch four sex educators literally go head to head?
Let's face it, sex is one of the few things we're not allowed to learn by watching others. You go to a fancy dinner. You don't know which spoon to use. You watch to see what spoon everyone else uses… But don't know what to do how in the bedroom, or want to add a few tricks to your repertoire? No such luck!
Until now…
Tonight's Iron Slut Sex Educators:

Monique Darling

VS

Reid Mihalko 
Show up to this Rated-R and NC-17 workshop designed to empower adults around their sex lives and get folks smiling!
Show up to this fun-filled, 3 hour workshop and learn:
What sex educators do under the covers and how their best tips and tricks (and probably not the kind you read about in Cosmo)
Their favorite, black belt sexy-sexy time moves!
And much, much more…
We can't promise you badly dubbed voice-overs or high-jinx dramma like television's Iron Chef, but we can promise you some down-to-earth, applicable sex and relationship education. The only theme ingredient is education!
Iron Slut is a wealth of sex geekery and informative experience that you don't want to miss.
If you were a big fan of "I'll show you mine, if you show me yours" as a kid, or you always wished there was a reality show called "Shagging With the Stars," then this workshop might be for you. Tell your friends. Bring a date. Bring a note book, too, while you're at it!
Because of this workshop's explicit and frank nature and live demonstrations, no one under 18 admitted. Please try to arrive on time. And, as with all of Reid's workshops, you can always leave early.
Date: Thursday, Apr 9th, 2015
Time: 7:00-10pm
Location: Fruitopia, 1080 23rd ave, Oakland, CA
Cost: $30 advanced, on-line tickets, $25 each for twosomes, for Threesomes and Moresomes! $40 day-of at the door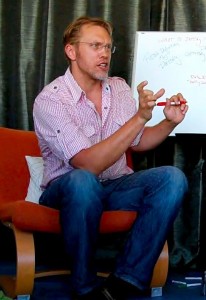 About Reid:  Reid Mihalko of ReidAboutSex.com helps adults create more self-esteem, self-confidence and greater health in their relationships and sex lives, no matter what their self-expression of those happen to be.
Reid has appeared on Oprah's Our America With Lisa Ling on OWN, the Emmy award-winning talk show Montel, Dr. Phil's The Doctors on CBS, Bravo's Miss Advised, Fox News, in Newsweek, Seventeen, GQ, People, Details, Marie Claire, The National Equirer, The Washington Post, on VH1's Scott Baio is 45 and Single, Showtime's Penn & Teller's Bulls**t!, Canada's The Sex Files and SexTV, and the short-lived Life & Style, on NPR, Sirius' Maxim Radio, Playboy Radio and Cosmo Radio, and in thirteen countries and at least seven languages.
To date, Reid's workshops and lectures have been attended by close to 40,000 men and women.  Reid has been a featured speaker and keynote at dozens of conferences on relationships and sexuality and is a sought-after presenter and teacher at colleges and sex positive organizations across the country.  Reid has also been a writer, producer and behind the scenes consultant on a number of films and television projects about sex and relationships.
Follow Reid twittering as @ReidAboutSex.  Like and subscribe to his Facebook page, Facebook.com/ReidAboutSex!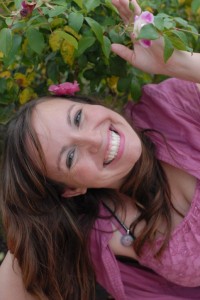 ABOUT MONIQUE: Monique Darling of DivineInterludes.com is dedicated to empowering people who are questioning the assumptions of how their life should be; and to offer tools for self expression that create trust, inner knowing and wisdom to make the life they want. It's a lot of hard work, but it's the kind of work that makes life easier.
Since 1990, Monique has felt the calling to learn from some amazing teachers including Wayne Dyer, Matt Kahn, Reid Mihalko, WhiteBear, Shawn Roop, ABDY, Kamala Devi, and Scott Catamas to name a few. She has through workshops, courses, and client sessions, experienced how spirit/love moves through her using intuition, touch, play and emotional release in helping people embrace the truth of their divinity.
Her specialty is transmuting fear and repression into courage, love and freedom to express truth in ways that nourish all.
She is devoted to helping YOU uncover your magnificence!!! To empower YOU, who dream of something more, to awaken further and discover it is within you. You have all the answers, let her help you remember the questions.