Learn the Ins and Outs of 3ways From the Comfort of Your Home or Office!
This 90-minute, downloadable podcast answers the question, "How does one actually make the threesome fantasy a reality?"

Initiating Threesomes: A Pragmatic Approach from Fantasy to Actuality
A Recorded, Downloadable Podclass with Reid Mihalko (PLUS a 33-page Compendium)!
Join world-renowned sex and relationship expert, Reid Mihalko (creator of Negotiating Successful Threesomes), for the nuts and bolts of initiating a threesome experience.
Whether you're single or in a relationship, threesome-curious or the lucky benefactor of a menagé Ã  trios experience that fell in your lap, here's your chance to gain valuable insight on something that no one's talking about: Ways YOU can initiate, negotiate, and facilitate your own threesome!
The crazy thing is the skills sets and approaches that allow for making your fantasies a reality, are almost the exact same skill sets for creating kick-butt relationships and dating, too! What? Don't think so? Read on, non-believer! 🙂
In this downloadable podcast, designed for adults of any orientation and relationship status, Reid will share his basic, foundational approaches on how to take an exciting, erotic idea (in this case, the threesome) and turn it into an actuality. This approach you can implement across all sorts of other intriguing desires in your lovelife, not just menagé Ã  trios, btw!
You will learn:
– How to bring the idea of a threesome to a partner
– What the different types of threesomes are
– Where to find a third person to play with if you're a couple, or a couple to play with if you're solo
– What to say and how to say it so you (or you and your sweetie) don't sound creepy
– Ways to make sure everyone gets what they want (or at least stack the deck in everyone's favor)!
And you'll get a chance to listen in as other threesome-curious adults get their questions answered by Reid!
If you're in a conservative relationship and have no intentions of ever trying something so outrageous, this teleclass will give you and your sweetie lots to giggle about, lots to fire up your bedroom imaginations, as well as plenty of top-notch relationship skills that you can use how you talk about what you want and what turns you on.
$47 per person as well as per couple (just turn up your computer speakers or share one of your ear-buds!) and don't forget that you get to listen in on all of this in the privacy of your own home, office, car, or where ever you choose to listen in!
Initiating Threesomes: A Pragmatic Approach from Fantasy to Actuality
Only $47 with a 100% Money Back Guarantee AND a 33-page Compendium complete with exercises and insightful tips!

Register to download your MP3 and Pdf here:

Reid teaches his in-person Negotiating Successful Threesomes workshop all over the world, and the first one was so successful (and there was SO MUCH to learn and cover), that Reid created this downloadable teleclass to give everyone a chance to develop a deeper, more nuanced understanding of the tools and approaches that can make setting up a threesome less daunting, more fun, and waaaay easier for others to be a Yes!
A testimonial from the workshop…
Reid,

Not only was your threesome workshop SUPER fun with all the live demos, but it also produced results within 24 hours.

The following night I met a couple at a party who wanted to experiment, but were very unsure about how to approach anyone or communicate their desires and boundaries. It felt surprisingly easy and natural to explore what they wanted, and to navigate a hot and rewarding experience for all three of us. In fact, the next day, the husband sent me this email:

'Connecting with you, after much uncertainty of how to break the ice, was definitely the highlight of our evening. Your energy, directness and honesty, empathy and enthusiasm, were *exactly* our best-case scenario for our first threesome.'


Thanks Reid – you rock!
D, New York City
Sign up now and if you're not completely satisfied with this product,
Reid will refund your money, in full, without question! Yep, as crazy as that sounds,
we've got a Full Money Back Guarantee on Initiating Threesomes!
Order the downloadable MP3 and Pdf today: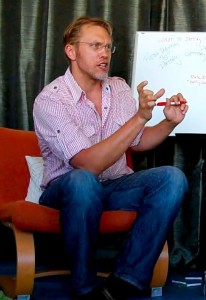 ABOUT REID: Sex and relationship geek Reid Mihalko (he/him) of ReidAboutSex.com helps adults and college students create more self-esteem, self-confidence, and greater health and accountability in their relationships and sex lives using an inspiring mixture of humor, personal stories, keen insight, and comprehensive sexual health information.
In early 2018, some very brave people came forward during #MeToo sharing harms that Reid had caused them. Reid stepped down from teaching and initiated a restorative justice-based accountability process to address his misconduct and make amends if and where possible. The formal, year-long process along with Reid's apology and resources were shared publicly and can be found at TinyURL.com/reidaccountability. Going forward, Reid's projects and appearances will include pointing people towards resources and experts on restorative and transformative justice-based accountability processes.
Reid teaches internationally, running workshops and speaking on communication skills, alternative relationship styles, and shame-free sexuality. Whether online, on stage, or at a college or university, Reid shares skills and concepts designed to help everyone be the change they want to see in the bedroom.
Reid's workshops and college lectures have been attended by over 50,000 people from all over the globe. He has appeared in media such as Netflix' Chelsea Does… with Chelsea Handler, Oprah's Our America With Lisa Ling on OWN, the Emmy award-winning talk show Montel, Dr. Phil's The Doctors on CBS, Bravo's Miss Advised, Fox News, in Newsweek, Seventeen, GQ, The Washington Post, and in thirteen countries and at least seven languages
Reid is also founder of Sex Geek Summer Camp, Sex Geek Conservatory, and Sex Geek School for Gifted Sex Geeks, which help sex educators learn valuable business skills that allow them to reach more people with greater ease, transform more lives, and make a better living as sexperts.
Follow @ReidAboutSex on Twitter and Facebook and YouTube and Instagram.