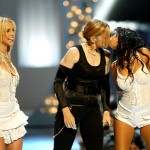 Couldn't make any of the in-person Negotiating Successful Threesomes workshops with Reid and his demo-models? Well, noooooo problemo. You can begin increasing your three-in-a-bed mojo right from the comfort of your own computer or iPod! Down load Initiating Threesomes today!

Need more convincing?
Check out the Full Course Description and Reid's wittily crafted promotional propaganda before you register!
If you're not completely satisfied with this product,
Reid will refund your money, in full, without question! Yep, as crazy as that sounds,
we've got a Full Money Back Guarantee on Initiating Threesomes!