Are You Ready To Make A Bigger Impact, Create More Raving Fans, and Make More Money? All While Staying True To YOUR Calling and Having More Fun?
Join me at Abrams Creek, WV this July 25-30th, 2015!
Sex Geek Summer Camp (July 26-30, 2015, at Abrams Creek in Elk Garden, West Virginia) is a 5-day/4-night sleepaway camp for sex educators of all levels of career experience to have fun, get some rest and relaxation, AND learn the business behind sex education so that YOU can reach MORE people with your message, be MORE financially and emotionally free, AND achieve greater levels of success and professionalism in YOUR career!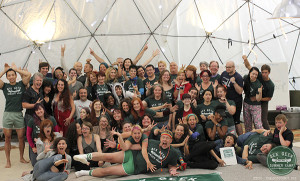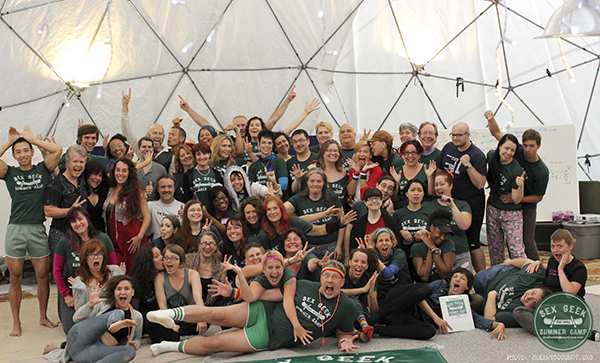 HOW CAMP WORKS…
With Your Paid In Full Tuition, You Receive:
1 Seat & Camping Privileges Reserved for YOU at Sex Geek Summer Camp, Our In-Person, 5-Day Business Retreat in West Virginia, July 26-30th, 2015!
TUITION INCLUDES… 
Camping/Tenting Privileges for 5-Days and 4-Nights – Tenting and Camping supplies not included. Please bring your own equipment (or Upgrade to Indoor Room Accommodations).
3 Meals Per Day
Access to All Camp Lectures and Take-Home Educational Materials Covering Overviews, Cutting-Edge Best Practices, and As Many Specifics As We Have Time To Cover In…  

Branding & Positioning
Marketing & Social Media 
Entrepreneurship Vs. Self-Employment Vs. Working For Someone Else
Best Business & Revenue Models for Sex Educators
Technology & Automation
Content Creation & Curriculum Design
Digital Publishing & Live Events
Rates, Pricing & Sales Models
Facilitating/Presentation/Public Speaking Skill Sets
Self-Care & Sustainability
Working with the Media & PR
Best Business Practices & Accounting
Virtual Assistants & Outsourcing
Legal & Tax Overviews
Tuition Also Gants You Access To:
Full Access To All Extracurricular Camp Activities, Including But Not Limited To… 

Swimming Hole Swimming!
Hiking
Camp Fire Erotica Reading Night
S'mores Night!
Sex Geek Talent Show
Movie Night
Tell me more about Camp and the Camp Application Process:
Who Can Come To Camp? All levels of experience – from beginner sex educators and sex-positive entreprenuers to seasoned pros. All Orientations. All Shapes, Colors and Sizes. You Must Be 21 or Over by the first day of camp to Attend Camp.
Camp Application Process: Because of 2014 camp's success and the already unbelievable buzz for camp 2015, all people registering for camp will be required to submit an official camp application to ensure this is an inclusive, consent-oriented, and business focused event. We'll send you a link for the application soon after you purchase. Anyone who's application is not accepted will be refunded their payment in full.
Camp Dates: Sunday-Thursday, July 26-30th. Bonus early arrival for FREE on Saturday night, the 25th, anytime after 6pm, so you can settle in before we begin!
Tuition Cost:  $497 Camp Tuition. Tuition includes Camping/Tenting Privileges for 5-days/4-nights (camping and tenting supplies not included), 3 Meals per Day, and Access to All Camp Lectures, Take-Home Educational Materials, and Curricular/Extracurricular Activities.
Why Does Camp Tuition Seem So Low? Shouldn't It Cost More for What We're Getting? Yes. Frankly, an experience of business and community training this in-depth would normally cost $3000-$5000 easily. However, the reason camp tuition is such a steal is because Reid designed camp to be affordable and accessible to even the brokest of broke sex educators. That's less than $100 a day for meals/tenting/course materials (and S'mores)! You can't not afford to miss this life-changing event! Register NOW!
Accommodation Upgrades: Once registered, we will contact you with further information about indoor room accommodation upgrade pricing and availability. Upgrade Availability Guaranteed to First 80 Registrants. Accommodation Upgrades cost extra and range from entire cabin take-overs for you, your organization, and your friends, to teepee rentals, to room shares, and individual bed accommodations.
Arrival and Departure Times: Pre-registration, Bonus Extra Night arrival time on Saturday evening, July 25th, anytime after 6pm. Camp begins Sunday at 11am! Camp ends, Thursday, July 30th, at 12 Noon. All campers must be off property by 12pm on Thursday, July 30th. Sex Geek Bus back to Dulles Airport (Information below) leaves at 12 Noon.
Location: Camp's amazing retreat center is located 2.5 hours west of Washington, DC, and about 2.5 hours southeast of Pittsburgh, PA, in Elk Garden, West Virginia – Directions
What's The Weather Going To Be Like At Camp? Camp is located in the Potomac Highlands section of West Virginia, about 2-1/2 hours west of Washington DC and 2 1/2 hours southeast of Pittsburgh. The terrain is characterized by lush mountains, year-round rivers and streams, and clear, clean mountain air. Situated just past the first crest of the Allegheny Ridge, we will be in a different weather system than most of the major cities on the East Coast. Because of this, it is never too hot where we will be; the record highs are about 90, and most summer days are in the high 70's or low 80's. Temperatures stay moderate from spring until the late fall. Rainfall is typical of the Eastern US. The area is rural, bordering on wilderness, with small urban centers with a full range of stores and services about a half-hour away. We will be surrounded by recreational areas and nature preserves; within a half-hour's drive, there are dozens of major attractions, and hundreds of smaller ones.
Learning While Playing Format*: Interactive Lectures, Group Exercises, Hilarious Demonstrations and Audience Participation, Special Interest Break-Out Sessions, Special Guests, Plenty of Q&A, Meal Breaks, Free Time to frolic and decompress and swim in the creek, Talent Show, Sing-Alongs, S'mores! And Much, Much MORE!
Weather: A range of weather is possible, from WARM to COOL, and WET to DRY. July is typically changeable. The average high temperature is near 80 degrees and the average nightly low temperature is 55 degrees; lows in the high 40's are not unheard of. The record high ever was 92, so we don't expect long stretches of uncomfortably warm weather. This region of West Virginia gets a rainy day about every third or fourth day, and occasional brief sprinkles in between.
Feel free to Google the week's weather and projected forecasts if that are your thang! Knowledge is power!
Abrams Creek provides:
Campsites, 3 healthy meals per day (please make sure you filled out your Additional Info/Medical Emergency Form, which includes some important things re: camp meals), showers and portapotties, a Personal Foods Kitchen for storing and preparing your private snacks and meal supplements for those who have special food needs.
Summer Camp will arrive before you know it and there's only 80 accommodation upgrades available, and those spots will go fast! So register NOW!
You deserve the best of what I have to offer for growing your sex positive business AND you deserve to have the camping experience of a lifetime with fellow sex geeks in a beautiful outdoor setting with great food…
Relive your childhood camp experience, this time as a sex geeky adult while you give your career and your calling a sound foundation to transform lives while you support your dreams!
See you at camp!
xxREiD
P.S. Don't miss out… Don't struggle another year while your peers jump ahead of you in business. And don't let your peers reminisce about all the amazing fun and juicy brain-sex you missed last summer because you didn't register for Sex Geek Summer Camp!
P.P.S. Remember… I can show you how to have the career of your dreams and how to monetize it. I'll help you tune into your authentic business self-expression, leverage your teaching style, and show you how to share your message with the people who will LOVE WHAT YOU TEACH, without you or them feeling like you're pushy or "salesy." I've done this for my career, and I've taught others to do it with great success.
Sex Geek Summer Camp is only $497, and includes all meals, educational materials and activities, and a space to park your tent (room upgrades info and bus ticket links available after your register for additional cost – You will receive an email with details about these options soon after you pay your tuition and secure your spot at camp). That's 3 meals a day, access to all the courses and take home materials, a BONUS EARLY ARRIVAL NIGHT'S STAY and all the fun you can handle! (PLUS $593 worth of BONUS BUSINESS TRAINING PROGRAMS you get access to the day you register, and get to keep even if you ask for you money back!)