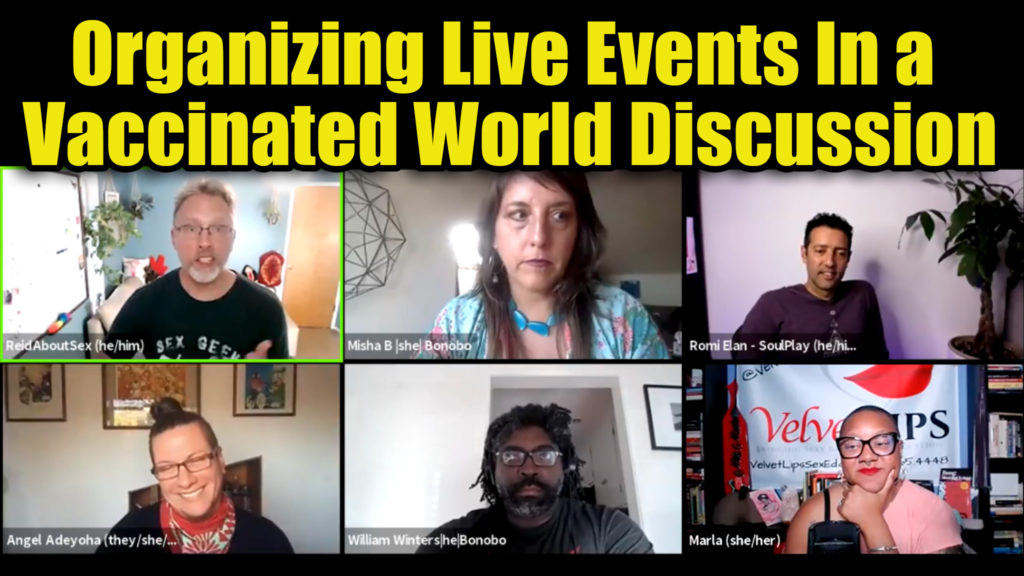 What are the best COVID event policies to use if you're going to run or be teaching at in-person events?
If you're thinking about teaching in-person events and wondering what are the best, COVID policies to use… Or what safety protocols need to be in place for you to teach at someone else's event… Then this email is for you!
Keep reading to find what worked for several 150 people events, a 350 people festival… As well as a 70,000 person street fair! Yep: 70-THOUSAND.
The Story Behind The Calls…
In June 2021, I held a discussion panel with some of the smartest, sex-positive educator/organizers I knew. They were about to run their first live, in-person events since the pandemic began and I wanted to know what their policies were going to be (and the thinking behind them).
In November 2021, after their events were complete, we got back together again to discuss what policies worked, what didn't, and what they were adjusting for their in-person 2022 events.
Discussion Panelists:
PRO-TIP: Short on time? Watch the Youtube video at faster speeds (if you know how to get your Youtube geek on)!
June 2021 – Call 1
Organizing Live Events In a Vaccinated World: Considerations & Approaches for In-Person Experiences
Link to Call 1 on Reid's Facebook page
Nov 2021 – Call 2
How Did Our In-Person Sex Ed Events Go This Summer?
Follow-Up Discussion About 2021 Pandemic Events
Link to Call 2 on Reid's Facebook page
Links Discussed During Call 2:
What did you find useful? Any ah-ha moments? Please leave a comment! We'd love to hear from you.