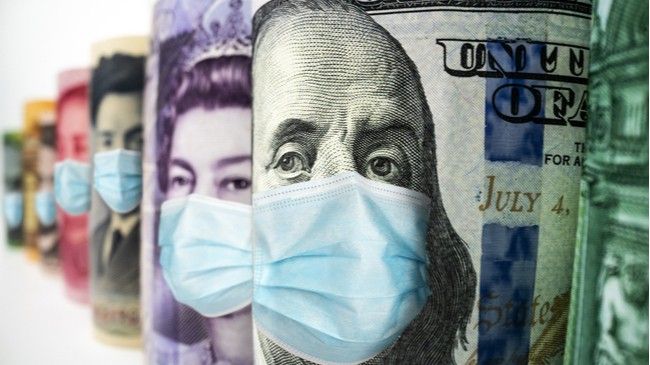 Here are some of my favorite resources for my fellow sex educators educators, event producers, artists and entrepreneurs…
[If you're looking for COVID resources for day-to-day life, go HERE.]
Now that we're going on 2 years into the pandemic… I wanted to gather the COVID resources and best policies and approaches I've found to help make for safer in-person events… While there is no such thing as a completely "risk-free" event, there are LOTS of ways to make your events safer and role model for your communities more informed, empowered ways of navigating the pandemic!
Like everything during the pandemic, information and recommendations are always changing as we have new information and respond to new variants, etc. I've done my best to confirm that what I'm sharing is medically accurate, psychologically sound, and will reduce harm rather than spread panic—Please endeavor to do the same!
And PLEASE try to be kind to one another. This INCLUDES BEING KIND TO YOURSELF. Inform yourself as you have the bandwidth. Trying to learn EVERYTHING in one sitting isn't healthy. We all have limits—Myself included (even though I don't want to admit it!). Everyone has their own unique struggles. And those struggles, just like my struggles, are invisible to onlookers. This pandemic won't be over in one night, so remember to pace yourself and take care.
My wish is that these resources help you, your communities, and your businesses as much as they've been helping me. Please share this page with your peers and loved ones as you feel called to.
Here is THE best example of COVID protocols for LIVE, high-touch social events…
FREE Discussion Panels on LIVE, In-Person Event Protocols & Approaches During the Pandemic…
In 2021, after we had widespread vaccinations happening and some event organizers were going back to running live, in-person events, I found the smartest sex-positive educators/event organizers I knew and moderated two discussion panels focusing on the COVID protocols and policies they'd be using — The first panel was recorded in June of 2021 BEFORE the organizers ran their events, and the 2nd panel was recorded in November AFTER the events were done.
The events would span group sizes from 150 people to 70-THOUSAND! Want to learn what worked, what didn't, and what they're changing for their 2022 events? Register to receive access links to both call recordings HERE.
Resources from 2021 and 2020 That I Still Find Useful…
Website post: How to Protect Your Online 12 Step Meeting against Trolls, Zoom Bombers and Griefers
Great post for all virtual facilitators using Zoom right now… https://medium.com/@nanea/how-to-protect-your-online-12-step-meeting-against-trolls-zoom-bombers-and-griefers-53ffe08b529c
Website post: Things to think about as an event producer…
Hat tip to Rachel Rickards for this informative post for event producers that she shared with me on Facebook…
https://commchat.substack.com/p/communities-events-and-the-impact
Article: I need you to read this and decide about Coronavirus
I think this article is REALLY useful reading for all event producers and workshop leaders… Please give it a read and let me know what you think!
https://medium.com/@phoebetickell/i-need-you-to-read-this-and-decide-about-coronavirus-6dd184745b33
Facebook LIVE: Social Distancing and Taking Your Events Virtual During COVID-19 with Cassandra J. Perry
Courses Designed To Help Your Business During the Pandemic…
Free online course: Let's Make an Online Course…
The idea of making an online course about making an online course while YOU make an online course is SO meta to me! One of the ways I self-regulate and find grounding is to merge helping others with creating things tools and courses that alleviate people's challenges… A LOT of my friends and peers get paid from organizing or performing in-person at IRL (In Real Life) LIVE events. Many had their livelihoods canceled, which inspired me to help them figure out how they can bring their brilliance to their fans and followers virtually (and, hopefully, help them make some rent money)… Are you an event planner, teacher or performer? Join us for this free "How to make an online course" training…
https://reidaboutsex.mykajabi.com/lets-make-an-online-course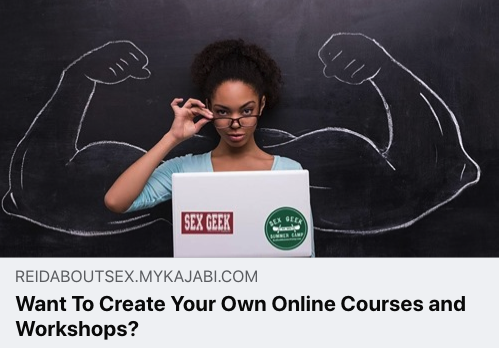 Paid 6-week online facilitation and virtual workshop skills course for educators: Virtual Conservatory
If facilitating online workshops and upping your virtual teaching skills will help you pay the bills, let's build your confidence and online teaching savvy so YOU can give GREAT Zoom that has attendees and clients coming back for more!
http://ReidAboutSex.com/are-you-coming-to-virtual-conservatory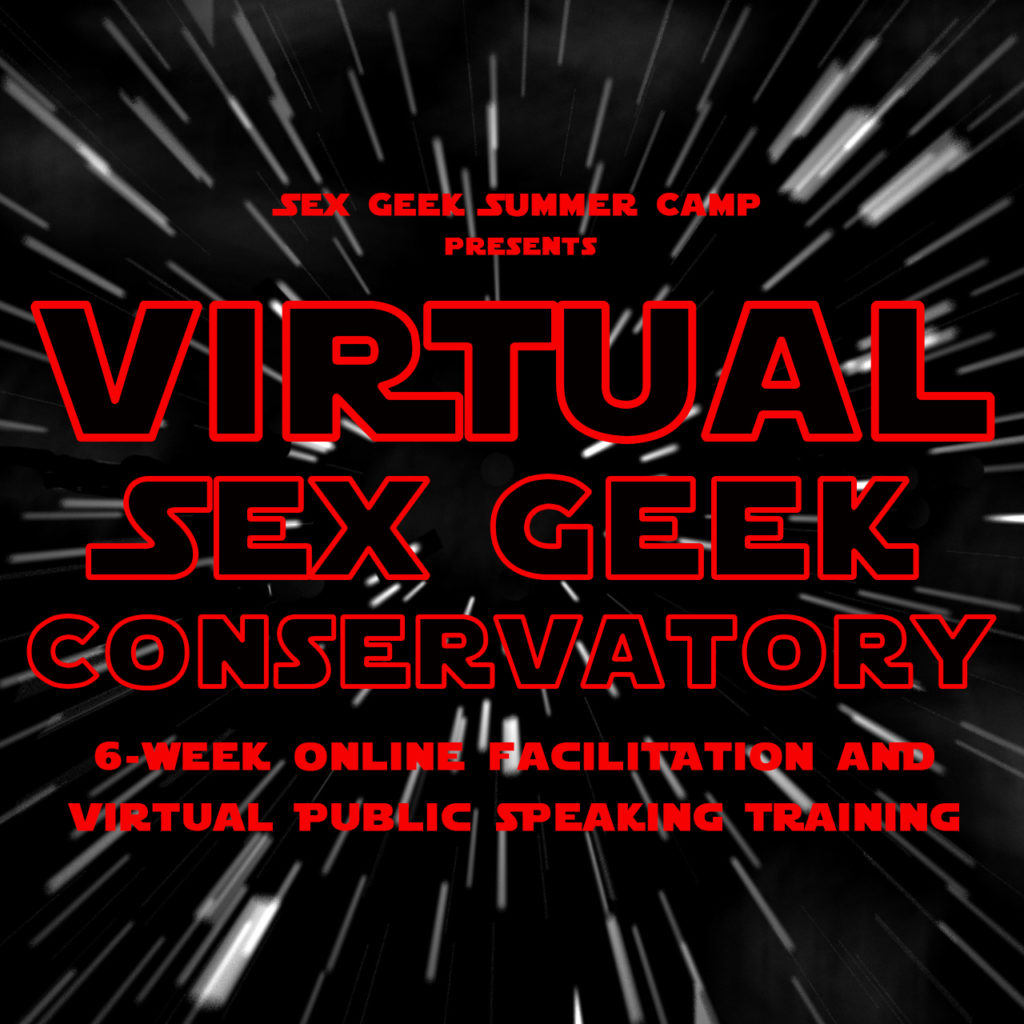 Paid 6-week business skills course for educators: Virtual Camp
If you were thinking about coming to Sex Geek Summer Camp, let CAMP come to YOU! http://ReidAboutSex.com/are-you-coming-to-virtual-camp