Business Before Pleasure, Unless Pleasure Is Your Business!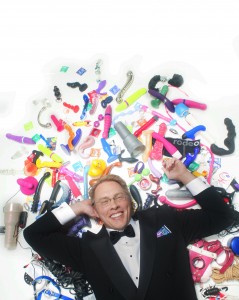 Passionate about sex and relationship education?
Ever thought of becoming a Life Coach?
Interested in what you need to make a living out of teaching workshops, creating online products, writing and lecturing, body work sessions, coaching, or mentoring?
Confused about how best to leverage social media and how to get your work on television?
Blocked on how to create your brand, or if your brand and business model is the right one for you?
If you have dreams of quiting your day job and doing sex and relationship education as a career, or enhancing your current one as a sex educator or worker, then please join Reid Mihalko of ReidAboutSex.com and Richard Anton Diaz of SexySpirits.com for a fantastic, humorous and informative, four hour live webcast (or join us in NYC in-person!) where they will share how they turned their passion for education and creating sex-positive community into their livelihood and their businesses.
Recorded: Saturday December 1st, 20122
Length: 4-hours
Location: New York City's Upper West Side (Address upon registration)
Can't make it to NYC? Missed it? Watch the entire seminar WEBCAST over the Web!
Cost: $149 per person 

Lubricating and Making Your Sexy Business Successful with Reid Mihalko & Richard Anton Diaz will be webcast live and available to watch for 30-days after broadcast. You may also sign up to attend in person in NYC — RSVP soon because in-person space is limited.
In this 4-hour webcast/seminar, you will learn:
How the sex education business has changed in the last decade and why most sex educators can't afford their own health insurance
The essential tools and things you need to be doing to increase your odds of being successful in the sex-positive industry
The mistakes Reid and Anton made in their careers that you don't need to make
How to figure out your brand, whether the brand you have is the "right one" for you, and how to leverage it
What conferences to attend and why
How and when to hire help or get it for free, and when to do it
How to get Incredible Internet exposure without spending a penny!
How to never cross the wrong side of the law.
And much more…..
This seminar will be webcast live and available to watch for 30-days after broadcast. You may also sign up to attend in person in NYC — RSVP soon because space is limited. Tell your friends and get ready to learn how YOU can share your passion with the world and run a business at the same time! Attendees will receive a copy of the entire Keynote presentation as well as bonus products and services that will help catapult your business into 2013!
30-Day Money Back Guarantee if you learn nothing!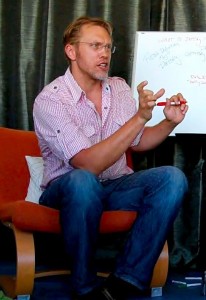 ABOUT REID: Sex and relationship expert Reid Mihalko of ReidAboutSex.com teaches adults how to create more self-esteem, self-confidence and greater health and satisfaction in and out of the bedroom.
Using humor, insight and solid information, Reid appeals to audiences of all orientations, backgrounds, ages and identities. He's one of the only male sex and relationship experts touring the country today who can speak pragmatically to nearly all areas of sexual self-expression, intimacy, dating and relating. Reid's mission is to give men and women new tools to transform their love lives  into fulfilling, satisfying, and sustainable expressions of self.
Reid is a sought after speaker who lectures at colleges across the country and has presented and keynoted at dozens of conferences on relationships and sexuality. The workshops he's designed continue to be taught all over the world and have been attended by over 40,000 people. Reid has appeared on CBS' The Doctors, Oprah's Our America with Lisa Ling on OWN, Bravo's Miss Advised, the Emmy award-winning talk show Montel, Fox News, VH1, Showtime'sPenn & Teller's Bulls**t!, on NPR, Sirius' Maxim Radio and Cosmo Radio, and in Marie Claire, GQ, Details, Seventeen, People, Newsweek, The Washington Post and The National Enquirer, as well as media across the globe in twenty-seven countries and at least fourteen languages.
Reid has also been a writer and producer on a number of films and television projects about sex and relationships, and consults regularly behind the scenes with producers and writers as an expert on subjects ranging from infidelity and sex addiction to dating and marriage, from jealousy and non-monogamy to gender dynamics and sexual tips and tricks.
Follow Reid twittering as @ReidAboutSex and LIKE Reid on Facebook!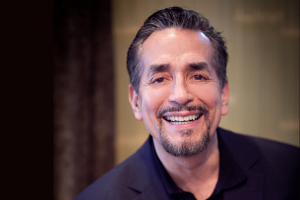 About Anton: Richard Anton Diaz is the founder of Sexy Spirits, established in New York City in 1999; dedicated to creating and implementing a saner and more effective education in sexuality, intimacy, and relationships into our established learning systems.
He retired as a former Ballroom Dance Champion in 1994 who twice represented the United States at World Championships in 1994 and became certified as a Taoist teacher and instructor in the Universal Tao system created by Master Mantak Chia. In 2001 he was introduced to Dr. Patricia Taylor, author of Expanded Orgasm and began his own work in this field calling it Orgasmic Providing. He has been featured in both HBO & Showtime in this work. In 2005 he created the Sacred Sex Conference held in New York City every fall now an annual event.