Battling the 8-Armed Octopus of Jealousy Scholarship Winners Announced!
Many thanks to each and every one of you who shared so deeply about your experiences with jealousy! Hope to have each of you join us on thequickly approaching teleintensive! Remember that the Early-Bird Registration Discounts don't end till the 25th.
Congratulations to
Christine L. and Maiyah O.
Read Christine and Maiyah's winning entries at the bottom of this post by scrolling down…
For those of you who haven't had a chance to check out the Day of Jealousy recordings, here's the workshop that was inspired by them and everyone's chance to go deeper into exploring, understanding and kicking jealousy's butt!
June 30th is the kick-off for this month-long, in-depth jealousy teleclass/workshop I'll be leading called Battling the 8-Armed Octopus of Jealousy, the workshop!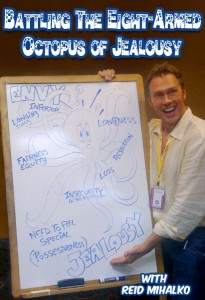 And to commemorate the launch of this exciting new workshop, I'm doing two things:
1. I'm offering some amazing Early-Bird Discounts for those of you who'd like to jump on the band wagon first and save some extra money, and…
2. For those of you who are being especially challenged by the economy these days, I cooked up a fun idea for how you can

win a FREE scholoarship

to the telecourse!
For those of you wanting a shot at the scholarship, first, I should recognize my buddy and fellow relationship educator Bryan Bayer from whom I'm "borrowing" this scholarship idea. It's really a very awesome way to create opportunity for folks, so thanks, Bryan!
How the scholarship works…
Take a look at the Eventbrite link's promo copy for the workshop (which is the same copy on my site, btw). Then, simply write me a short essay letting me know what blocks, limitations, fears and frustrations you're hoping this teleclass could solve for you and how specifically your life and your relationships would be impacted by this program.
Tip: Be as specific as possible – How has jealousy wreaked havoc on your relationships? Who in your life (lover, partner, friend, ex-partner, family member) would mastering jealousy make a difference with or for? What kind of difference do you see it making? Take us on a ride, tell us a good story, make it intriguing and really let us know what it means to you to win this scholarship. If you're a couple, consider both of you answering these questions and submitting them together so we get to hear both sides.
No need to go into the financials of the situation. This is a needs-blind scholarship that's being created to help everyone in these trying times and the winner will be selected based on artistry of storytelling and what the class will give them… Make us smile, laugh, or cry – Have us really get why working on jealousy would be a great improvement to your life and the life of those around you!
Submit your email essays to reid@reidaboutsex.com
Only a few days to act-– I'll be reading submissions over the weekend and winners will be announced Monday the 22nd – So act quickly!
Good Luck!
Yours in jealousy-free relationships,
REiD

Our Winning Scholarship Entries…



I need help with jealousy. I don't have  a witty or gut wrenching story… just NEED HELP! I met a poly man two months ago with whom I developed a very deep and loving relationship very fast. I will not ask him to not see others while I get "used" to the idea, although if I asked he would. I won't ask him to change his lifestyle for me. I love him for who he is and being poly has made him the man he is, why would I want to change that?




Right now there is "M", his wife (who is monogomous, and has a very low libido), myself and he has one other girlfriend he see's on an occasional basis.  M's wife and I get along great…. I can see us becoming good friends. M is, however, always open to more relationships. M is a very kind, loving and patient man and he does everything he can to talk me through my bouts of jealousy and insecurity. We recently had an issue come up that could have ended our relationship, and a lesser man would have turned his back on me. Instead M has stood by me when I thought no one would. Although he tells me he loves me often, his recent actions have spoke volumes of his love. I want to be able to let him expand his love to others without having to worry about hurting me. It hurts M when I get upset over his talking about seeing other women, or even when I just think of the possibility.




In my prior relatoinships I have been left twice for other women and my late husband cheated on me several times. One big hurdle has been my struggle to understand that M being in a relationship with others does not mean he is going to leave me and it does not lessen his love for me. Our endless hours of discussion coupled with his actions of the past couple of weeks have gotten me over one big hurdle, the fear of loosing him. I know he loves me, and I know I won't loose him to another woman. But knowing that isn't enough. I still get very jealous at the thought of him becoming involved with another woman. It's not the occasoinal "playmate" he may have, its the thought of him developing an actual relationship with someone that upsets me so much and causes me so much jealousy. The thought of him having feelings for another. How do I get over that???  What do I do???? We talk about it and talk about it and he tries to reassure me that he becoming involved with another will not lessen his love for me. I'm trying to wrap my monogamistic brain around it all and sometimes I think I'm doing good, then the next minute I feel like I'm back to square one.




M and I intend to be in this relationship for a very long time. I want to be able to deal with my jealousy so as not to put that burden on him.




Thank you for considering my request.
From Octopus to Lotus-Blossom:

Transforming Jealousy into a Path for Enlightenment


The number 8 signifies abundance in Chinese numerology.

On its side the numeral indicates infinity, the limitless flow of possibility beyond human imagining.

In Buddhism, the 8 fold path is the key to enlightenment, the transformation of the "reality" of human suffering into ineffable bliss regardless of outward circumstances.

However, in my life lately, 8 has signified the knotty tentacles of jealousy, the intricately shibari'd handcuffs of selfishness, insecurity, defensiveness and anxiety.

The octopus of my jealous fears lurks above the murky gloom of my unresolved issues, protecting the deep sediment by latching onto any being that might stir up those long-buried wounds.

I feel that exposing each clinging appendage to the light of your class would allow a reallocation of the energy of "grab on and suck" into "go deep and blossom."

Diving curiously into the sludge, I might find hidden treasures.  And even better, plant the seeds for a blossom which, though rooted in my core, would be visibly radiant above the ripples of my pool of consciousness.

This transformation from octopus to lotus blossom would upgrade my entire life.  In particular, it would improve my personal relationships and my professional life.

In the past my story/habit was to distance others by triggering them to feel jealous of my skills and talents and thus not wish to collaborate with me either intimately or collegially.

As my core beliefs include: "everything is a mirror of ourselves," and "every pattern has a payoff."  it seems to me that the best way to deal with jealousy is to deconstruct the patterns and identify a more luscious payoff than the anguished adrenaline rush that accompanies the desperate need to defend my emotional territories, both in the workplace and in the boudoir.

With the coaching, awareness and support available in the Jealousy class, I would have the opportunity to re-channel the stagnation currently known as jealousy into a positive flow of creative energy to optimize my relationships with loved ones, mentors and peers.

Digging deeply into the muck of my psyche, rather than attacking the visitors who would stir it up, I could use the nourishment to fuel a blossoming whose petals would rise above the surface as a symbol of my own fulfillment, and hopefully an inspiration to others who are also grappling with inner turmoil.

And to me that is true abundance, the true infinite blessing and source of bliss:  to share with others the means of self-mastery.  In my case, self-mastery of the 8 tentacled guardian beast which I know to be an 8-petalled gift of enlightenment just waiting to rise and bloom.