I sent this as an email blast to my Sex Geek Pro people at 3am, and felt like it should be copy/pasted here… I hope this helps…
I hesitated to send this out tonight, but I'm imagining that YOU might be feeling as overwhelmed and directionless I have been this week. It feels like I've got no where to turn, no way to stop what's coming… It feels like I'm lost and careening off the side of a cliff in slow motion… and all I can do is accept it.
But I don't want to accept it.
I want to fight. And for that, I'm going to need my strength and some bad-ass kung-fu or something. 
I saw a quote tweeted by Planned Parenthood this week for MLK Day that moved me, and really impacted me.
"The ultimate measure of a man is not where he stands in
moments of comfort and convenience, but where he stands
at times of challenge and controversy."
                                    ~Martin Luther King, Jr. 
2017 has already been so challenging and full of controversy and foreboding… I don't think I've ever felt so stunned and slapped awake before. I fear that I won't measure up, or that I'll fail somehow because I'm not sure what to do or because I'll take the wrong action. As a white, cis-gender male who just happens to be a nerdy sex geek, I learned that my privilege prevents me from experiencing a host of oppressions and injustices (as Louis CK elucidates on HERE). I know that I'm missing things, so I turn to folks who's lived experiences differ from mine, and who's perspectives and expertise are more relevant. Their advice gives me direction and makes me a better human being. 
And, sadly, after this last election and year's beginning, I have too many friends and peers, people who are brilliant, brave, tireless activists that are worried and exhausted. 
If you're feeling similar or worse, please accept my heartfelt compassion and caring. I want to acknowledge your strength and spirit. Sex educators don't pick what we do because it's easy or "glamorous." We do it because it's a calling.
And even if you feel beat and listless, I know you've got that spark still burning inside. 
Let's give that spark some oxygen, shall we?
I've been doing a lot of self-care these last few weeks, which has helped me show up for people who need an ear or a shoulder. That, at least, has had me feel useful, and that usefulness I was able to fan into a smoldering whiff of hope, which allowed me to take action tonight for something I believe in…
YOU. I believe in YOU.
And some of you have an uncanny sense of asking for things that are SO smart, and make so much sense. I've learned to listen when you reach out. And many, many thanks to all of you who do reach out!
After some soul searching, and a few requets sent to me from some great Sex Geeks, I decided to take action tonight that I wasn't planning on doing… Which is why I'm sending this email passed 3am (I haven't been to bed yet, fyi. I promise I'll go right to bed after I hit send).
I'm staying up late because I know at least one of you needs this… I know at least one of you needs a place that will feel safe, a place where you can gather among kindred spirits, frolic in nature, and rejoice as we let our hair down for a minute… Eat some great food, breathe some fresh air, and nourish our souls in preparation for what looks like some BIG and lengthy battles that need fighting… And while we nourish ourselves, and strengthen our community, we'll practice and hone our business savvy, so we can get our message out to more people, transform more lives, and pay our bills while we raise the volume on our message of sex-positivity, so we can spread our mission of pleasure and justice in a way that cannot and will not be stopped or silenced…
I know at least one sex educator needs this tonight… Maybe they're just starting out, maybe they've been at this fight for decades… All I know is that I need our industry to be as strong, as vibrant, and as fierce as we can make it.
Which is exactly what Sex Geek Summer Camp was created for… To recharge us while it empowers us. 
Per the requests from a number of you, I've added a longer payment plan for Sex Geek Summer Camp 2017.
It's a 5 Pay Option. And it's temporary. 
Even if you're not joining us in West Virginia this year, knowing that you and others like you are working together to learn how to be more powerful so we can, together, beat back the tides of fear and shame…. That keeps me strong. 
When I'm having a "small day," I'll sell out on myself in a heartbeat sometimes. But knowing that you and other Sex Geeks might be reading this, that Camp might help someone who will then transform hundreds, thousands, tens of thousands of lives… I won't sell out on THAT. And I'll get up at 3am or go to bed at 3am for THAT, over and over again. 
And I'll do that for four years in a row times ten.
Camp Dates: July 29th-Aug 2nd, 2017 (Early Arrival Bonus Night starts at 4pm, on July 28th! That's when the Camp Bus arrives, btw)
Camp Location: Abrams Creek Resort & Campgrounds, Elk Garden, West Virginia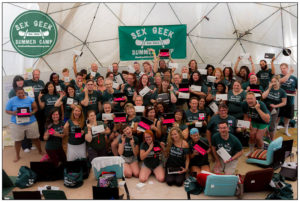 Woodhull Sexual Freedom Summit pre-cons begin August 3rd, so you may want to come to Camp, then go straight to Woodhull. Just a thought. 
The Sex Geek Summer Camp Bus will be going to Woodhull Sexual Freedom Summit along with the Dulles and Reagan airports after Camp, and we've planned Camp to end this year with enough time for people to arrive the night before Woodhull's pre-con start.
You can get your tickets, including the limited time only 5 pay option that goes away March 1st, HERE: http://ReidAboutSex.com/campfaq
And, in any case, please know my thoughts and hopes are with you.
Stay strong,
xxREiD
Ps. If you want, Join my Sex Geek Pro list (it's free), leave a comment below, or email me at Reid at ReidAboutSex.com and let me know how you're doing. I can't always reply to every email, but I do read each one! <3