Have you ever been too ashamed to ask for something you wanted?
Have you ever been too ashamed to ask for something you wanted?   Liked someone and wanted to flirt, but didn't know how to break the ice?  Can you remember a time in your life when you felt embarrassed or shameful for something that felt good?  Ever had someone start flirting with you but couldn't flirt back and all you could do was be overcome by shyness or fear?
You'd be surprised how easily shame strangles our ability to flirt.
For many of us, feelings of shame (or trying to avoid them) keep us from asking for and experiencing things that we want.  From flirting to romance to sex, many of us feel paralyzed by shame and powerless to change it.  The results over a lifetime can be catastrophic.  The great news is you don't have to let shame stop you anymore and you don't need to be "shameless" to get what you want in your relationships.  Both flirting and asking for what you want are excellent skills to transform your social world and life.
In this special 3-hour, interactive workshop you will learn:
The emotional tools and approaches Reid uses to deal with his own sexual shame
Reid's unique perspective on flirting that you can implement immediately
how to "track" your shame and have it lead to breakthroughs in your relationships
How 7th Grade and cultural shame are keeping us from flirting our way to more love and freedom in life
Communication tools and strategies to have you asking for what you want in your love life, the bedroom, and beyond!
This is a clothes-on, participation-optional workshop. Group exercises are not mandatory.  Voyeurism is participation!  And you are free to change your mind at any time.  Exercises will include silly (yet powerful) flirting exercises as well as practicing asking for what we want sexually, both activities will be used as catalysts for accessing our shame and working through it by revealing it and witnessing it.
Date: Thursday night, June 20th
Time: 7:00-10pm
Location: Woodside, CA  Exact location upon registration.
Cost: $30
Tickets: Reserve Your Seats Now!
Experience More Reid
Fri, June 21st: Energetic Sex Introductory Evening

Sat, June 22nd: Monique and Reid's Energetic Sex Practicum and Playground PART 2!

Sat Night, June 22nd: My First Play Party Practicum

Sun, June 23rd: Communication Mastery~How to Say What's Not Being Said!

Sun afternoon, June 23rd: Energetic Sex Practicum/Playday Woodside!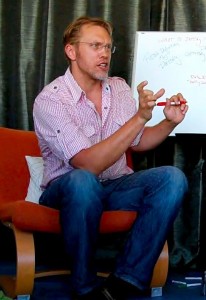 About Reid:  Reid Mihalko of ReidAboutSex.com helps adults create more self-esteem, self-confidence and greater health in their relationships and sex lives, no matter what their self-expression of those happen to be.
Reid has appeared on Oprah's Our America With Lisa Ling on OWN, the Emmy award-winning talk show Montel, Dr. Phil's The Doctors on CBS, Bravo's Miss Advised, Fox News, in Newsweek, Seventeen, GQ, People, Details, Marie Claire, The National Equirer, The Washington Post, on VH1's Scott Baio is 45 and Single, Showtime's Penn & Teller's Bulls**t!, Canada's The Sex Files and SexTV, and the short-lived Life & Style, on NPR, Sirius' Maxim Radio, Playboy Radio and Cosmo Radio, and in thirteen countries and at least seven languages.
To date, Reid's workshops and lectures have been attended by close to 40,000 men and women.  Reid has been a featured speaker and keynote at dozens of conferences on relationships and sexuality and is a sought-after presenter and teacher at colleges and sex positive organizations across the country.  Reid has also been a writer, producer and behind the scenes consultant on a number of films and television projects about sex and relationships.
Follow Reid twittering as @ReidAboutSex.  Like and subscribe to his Facebook page, Facebook.com/ReidAboutSex!