Last all night without sprainning your wrist or throwing your back out!
Ever had an enthusiastic love making session that was dynamite, but left you feeling sore the next day?
Perhaps you have an exuberant lover who leaves a smile on your face but your back in need of chiropractic care?
How about that special someone who takes a long time to climax and always seems to be "almost there" right when your arm and wrists begin to fatigue…
It's possible that your "problems" are due to what world-renowned sex and relationship educator Reid Mihalko refers to as "poor sex posture." Whether you're like a golfer who suffers from bad form or like an overworked porn star with "hand-job elbow," this workshop will improve your love life.
While we might laugh that "we should be so lucky," at complaints of too much sex, and as much as it would be "cool" to tell our friends we threw a disc making love, who can really afford an injury in this day and age?  In today's sit-at-a-desk-all-week, work-extra-hours-to-save-your-job workplace, we unconsciously bring our stress and bad postures home to the bedroom where they wreak havoc on us. We know that ergonomics in the workplace have positive impacts on performance, so why not apply it between the sheets?
Well, here's just what the doctor ordered…
In this workshop, Reid will answer your questions while demonstrating proper body positioning for a variety of "problem" sexual positions (especially those challenging, repetitive activities that please your partner… You know the ones!).
Date: Wednesday, Sept 4, 2013
Time: 5-7pm
Location: Oasis Aqualounge, 231 Mutual St., Toronto Canada
Phone 416.599-7665
Cost: $10pp + admission to Oasis Aqua Lounge*
*admission – $50 single men & couples — women free
Tickets: CLICK HERE for PAYPAL RSVP w/ "Sept 4, 2013 SexCon"

Take both workshops! All About Orgasm! and Ergonomics Of Sex for $25!
In this workshop, you will learn:
Ways to beat fatigue in extended love-making sessions
Optimum body alignment and strategies to avoid hurting?yourself
How to ease stress on your joints and ligaments when?making love
How to generate powerful amounts of thrust with little?effort
Ways of understanding posture and positioning that don't?get taught elsewhere
Approaches to positions and activities with repetitive?motions that will give you lasting endurance and blow you and your sweeties?away!
Let's learn how to use proper body alignment, full range of motion, and basic physics to take our love making to the next level!
Whatever your gender, age, level of sexual experience, orientation, relationship status or political views: This class will give you valuable information and lots of laughs!
Full of fun-to-watch, educational demonstrations of practical skills that you can implement immediately!
Who really wants to hold back in bed? So don't hold back on registering today!
DISCLAIMER: This is not a physical therapy workshop. Reid is not a doctor, nor does he play one on TV! Please check with your physician if you are experiencing pain regularly during sex.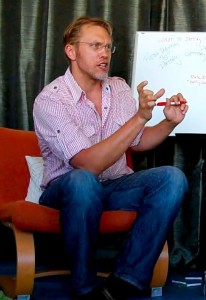 ABOUT REID: Reid Mihalko of ReidAboutSex.com helps adults create more self-esteem, self-confidence and greater health in their relationships and sex lives, no matter what their self-expression of those happen to be.
Reid has appeared on Oprah's Our America With Lisa Ling on OWN, the Emmy award-winning talk show Montel, Dr. Phil's The Doctors on CBS, Bravo's Miss Advised, Fox News, in Newsweek, Seventeen, GQ, People, Details, Marie Claire, The National Enquirer, The Washington Post, on VH1's Scott Baio is 45 and Single, Showtime's Penn & Teller's Bulls**t!, Canada's The Sex Files and SexTV, and the short-lived Life & Style, on NPR, Sirius' Maxim Radio, Playboy Radio and Cosmo Radio, and in thirteen countries and at least seven languages.
To date, Reid's workshops and lectures have been attended by close to 40,000 men and women. Reid has been a featured speaker and keynote at dozens of conferences on relationships and sexuality and is a sought-after presenter and teacher at colleges and sex positive organizations across the country. Reid has also been a writer, producer and behind the scenes consultant on a number of films and television projects about sex and relationships
Follow Reid twittering as @ReidAboutSex. Like and subscribe to his Facebook page, Facebook.com/ReidAboutSex!