An Outrageous Evening of Safer Sex Info and XXXtreme Sex Education with Reid Mihalko
Feel a little intimidate or embarrassed by the idea of adult toys? Do you think deep throating is impossible to learn? Perhaps your asking yourself, "Dental dams? What the heck are dental dams!?"
Let's face it, most people want to feel confident in between the sheets and our culture does a horrible job educating us on being sexually savvy. Worse, when it does, sex education often feels like going to the dentist.
That was, until now…
Mon, April 18th – Dildos, Dental Dams and Deep-throating
Tues, April 19th – Negotiating Successful Threesomes
Time: 8-10pm EST
Cost: Both nights FREE!
Where: The Pleasure Chest NYC – 156 Seventh Avenue South, NY NY 10014 – Map

First come, first served seating, so get there early! Questions? Call The Pleasure Chest @ 212-242-2158
Join world renowned sex and relationship expert Reid Mihalko of ReidAboutSex.com for an outrageously informative, irreverent and hilarious evening of R-rated, adult education and demonstration.
In this 2-hour workshop, you will learn…
The ins and outs of dildo use
Why the phrase "professional tools create professional results" is key to building an amazing sex life!
Why using sex toys means

you're awesome

and not "less-than" as a lover…
What a dental dam is and how to use one
How to deep throat and how to teach your lovers!
Great tips for oral sex on men and women
The basics of safer sex and how to negotiate safer sex with ease
If you (or your partners) think "prophylactic" is the name of a Star Wars character, get your butt to this workshop!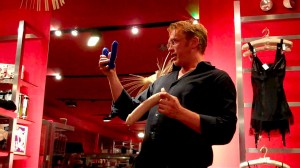 If you want a dildo or want to upgrade on the one you already have, if you don't have a clue where to start or which one is right for you or your lover… If you think that deep throating is only for porn stars or that dental dams are just for the dentist's office… Then Reid's Dildos, Dental Dams and Deep Throating is for you!
This is a two-hour, co-ed workshop for all sexual orientations, identities, and relationship statuses. This workshop includes some live, fully-clothed demonstrations, explicit language and lots of laughter. Like all of Reid's R-rated workshops: No participation or nudity required by participants. Bring a notebook, watch, giggle and ask questions!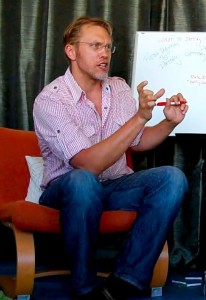 ABOUT REID: Reid Mihalko of ReidAboutSex.com helps adults create more self-esteem, self-confidence and greater health in their relationships and sex lives, no matter what their self-expression of those happen to be.
From his rated-PG/PG-13 workshops (Cuddle Party, Speed-Flirting) to the rated-R (Iron Slut Sex Educator Showdown) to his explicit, NC-17 rated, Show-N-Tell sex education workshops (where audiences get to watch, take notes, and ask questions), Reid's workshops have been attended by close to 30,000 individuals from myriad walks of life, orientations, relationship styles, countries and religions. Known for his charisma, wit and emphasis on integrity, Reid travels the country teaching, coaching, consulting and collaborating on fulfilling his mission: Create more self-esteem, self-confidence and health for adults in and out of the bedroom.
Reid has been a featured speaker at dozens of conferences on relationships and sexuality and is a sought-after presenter and teacher at colleges and sex positive stores across the country.
Reid has been a writer and producer on a number of films and television projects about sex and relationships, and appears regularly in the media. He has also appeared on the Emmy award-winning talk show Montel, Fox News, VH1's Scott Baio is 45 and Single, Showtime's Penn & Teller's Bulls**t!, Canada's The Sex Files and SexTV, and the short-lived Life & Style, on NPR, Sirius' Maxim Radio and Cosmo Radio, and in Marie Claire, GQ, Details, People, Newsweek and The National Enquirer, as well as media across the globe in thirteen countries and at least seven languages.
Follow Reid twittering as @ReidAboutSex.