Let Me Help You Find Your Relationship Sweet Spot, Sunday, October 29th in Orange County!
Avoiding What Sinks Your Intimacy and Embracing the High-Performing Tools To Soar In Love and Life.
Do you fear that your relationships will eventually run out of gas? Or worse, might be doomed to careen into a ditch of twisted resentment and resignation?
What would it be like to feel confident in love, intimacy, and knowing you can see the warning signs?
The good news is that you can learn how to hit your "relationship sweet spots" and leave your partners feeling deeply connected while you role model how your loved ones can leave YOU feeling love, honored, and cherished!
Join sex and relationship expert Reid Mihalko for workshop that will reveal the relationship tools and innovative approaches he's made available to over 50,000 men and women who've transformed their lives.
In this seminar with plenty of time for Q&A, you will learn:
Why relationships are such a struggle

What makes most relationships doomed to fail from the very beginning

Three powerful tools that will increase your ability to have truly transformational relationships

2 things to avoid that can destroy even the most deeply in love couple

How each of these concepts will empower and embolden those currently single so that they're ready for love when it comes their way

2 powerful ways to stay connected in the worst of arguments
Open to all ages, relationship expressions, genders, and levels of experience. This is a complimentary event so bring your relationship or friends with you.
Even if your relationships are cruising along smoothly, life can be filled with unexpected sinkholes and dangerous curves that catch us when we least expect it.
Wouldn't life be more fulfilling if you had the best tools and concepts easily at your beck and disposal? Join us!
Date: Sunday, October 29th, 2017
Time: 2pm-5pm
Where: The Atrium Hotel at The Orange County Airport, 18700 Mac Arthur Blvd, Irvine, California 92612
Tickets: Get your FREE tix ASAP! HERE  
Check Out The Facebook Invite HERE!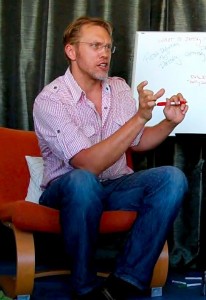 ABOUT REID: America's favorite sex geek, Reid Mihalko of ReidAboutSex.com and Relationship10x.com helps adults and college students create more self-esteem, self-confidence and greater health in their relationships and sex lives using an inspiring mixture of humor, keen insight, and comprehensive sexual health information.
Reid frequently speaks at colleges and universities on sexual assault prevention and healthy relationship skills, and regularly appears in the media sharing his views on consent, dating, and shame-free sexuality.
Reid's workshops and college lectures have been attended by close to 50,000 men and women. He has appeared in media such as Oprah's Our America With Lisa Ling on OWN, the Emmy award-winning talk show Montel, Dr. Phil's The Doctors on CBS, Bravo's Miss Advised, Fox News, in Newsweek, Seventeen, GQ, The Washington Post, and in thirteen countries and at least seven languages.
Reid is also founder of Sex Geek Summer Camp and Sex Geek School for Gifted Sex Geeks which help sex educators learn valuable business skills that allow them to reach more people, transform move lives, and make a better living as sexperts.
Follow Reid on Twitter and Facebook and YouTube.