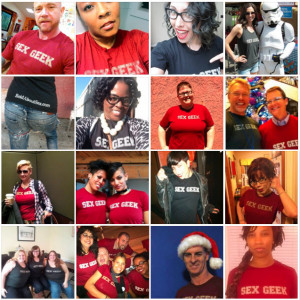 Help me spread Sex-Positivity by wearing your Sex Geekdom!
As you know, I'm all about normalizing sex and healthy relationships, taking it from scary and hidden to open and shame-free. And I try to do it in a fun and playful (and still respectful) way.
One of the ways I do that is with my Sex Geek T-shirts… I realize that a shirt with the word sex printed on the front isn't for everyone; however, for those of us for whom it is for…
When you wear them out: 
– You help your own brain realize that sex isn't scary and you don't have to hide (if you used to hide from sex like I did)
– AND you help others see that nothing horrible happens if the word "sex" comes up – to date, no sex geeks that I know of have been hit by lightning while wearing their tees.
– Wearing the shirts can also spark all kinds of juicy conversation with friends as well as strangers…
– Flagging your sex geekery by wearing your shirt is a beacon that helps other Sex Geeks find you in a crowded room! And,
– You get tagged as the courageously cool person who's willing to step outside "the Box" of everyday fear and shame, and boldly talk about exciting, pleasurable things!
I think these things are good things.
I want to encourage and be a stand for
more of these cool perks and benefits happening
out in the world, and I'd love to have YOU help me
role model this and help other people feel safer
talking about sex, being less ashamed and fearful,
and being more sex-positive.
Would you help me?
Here's how we're going to do this…
1) Take a Facebook friendly picture of yourself solo or with a group, wearing Sex Geek T's. (If you don't have one- you can order them here: reidaboutsex.com/sexgeektee)
2) Each different combo of people, location, etc., counts as a new photo (take one in a Santa hat, another out skiing with your friends, lighting the candles on the menorah for Hanukkah, one under the mistletoe, at a potluck for Kwanzaa, on the beach, you get the idea).
3) Post them somewhere on social media – Facebook, Instagram, Tumblr, etc. – and be sure to tag ReidAboutSex.
4) Email your pictures to Support@ReidAboutSex.com with the subject line Sex-Positive Holidays
5) For each photo you post somewhere and email me, I'll enter your nam e in a contest to win something very, very cool. I'll actually let you choose something worth $497 from what I have in my store! And, with your permission, I'll feature your winning photo in an upcoming announcement email!
Deadline for submissions: Dec 18th, which should give me time to ship tees to those who order them (order them asap, please), for the tees to arrive, and for the picture taking to begin!
Also, I'll be more than happy to post all the submissions on the Facebook Sex Geek Tee Album, too, so feel free when you email me to include any description or URL you'd like me to consider using that I can include with the picture on FB. If you like my FB ReidAboutSex page, I think you'll then be able to tag yourself when that pic goes up. Squeeeeeee!
Let's help spread Sex-Positivity and make the world a more pleasure-positive, consentful place as a gift to those who are trapped this season…
xxREiD
P.S. If you don't have a shirt or need a different color, you can get your's here: reidaboutsex.com/sexgeektee
P.P.S. If this kind of thing isn't your bag… Whether you participate or not, I believe that YOU are making the world a better place! Thank YOU for being awesome and many good wishes to you and yours this holiday season however you choose or choose not to celebrate!