Get expert advice while building mad social media skills, AND trick your website out… All in one weekend!
Attn: Sex Educators, Workshop Leaders and Sex-Positive Entrepreneurs…
Tell your friends to BYOL (Bring Your Own Laptop) and BYOB, so we can kick-off 2011 in style by strengthening our social media skills AND tricking out our websites all in one fell swoop, together!
Two Days = two chances to take your internet skillz to the next level!

Day 1, Saturday, Jan 15th: Pimp My Social Media!

Day 2, Sunday, Jan 16th: Pimp My Website!
Does SEO sound more like an airport code than an important internet term?
Perhaps "retweeting" sounds vaguely like something a mother bird does to feed her chicks…
Do you feel paralyzed when it comes to Plugins and Widgets or how to sync your calendar to your website's?
Does your website even have a calendar?
Did you know that you can post on several social media sites simultaneously?
How current is your Wikipedia page?
Maybe you don't even have a Wikipedia page yet, and is that a bad thing?
Whatever your level of skill, this weekend, devoted to Pimpin' Your Interwebs, is definitely for
you

!

Join sexpert Reid Mihalko and some of his website geekiest friends (see below) for a weekend all about taking your website and social media skills to the next level.

You'll not only learn how to leverage your social media opportunities and what your website should be/can be doing for you, but you'll actually take the time to implement some of it!

And after the last workday (as if the workdays weren't cool enough), we'll celebrate our efforts and focus with a Workday Wrap Party to strengthen our community ties and network our peers!
Ask yourself, "What is it worth to have your social media and website(s) doing what you need them to do, and looking smart and pimped out doing it?"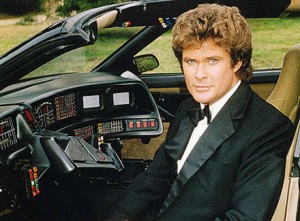 If you want to turn your old jalopy of a website into the Kit-2000, Knight Rider, of websites, but have no idea who to ask (or how to make it affordable)…
If you feel like you don't have the time to spare to implement the things or the time to take your social media skills to the next level…
If you just hate working alone and wish you could surround yourself with like-minded peers and cheer each other on…
Well, Reid needs to take his website and social media skills to the next level, too! So join him and your peers January 15th or 16th or BOTH for a weekend of learning, and implementing, and then celebrating!
14-hours of your time for some mad social media skillz and a pimp'ed-up website?! (and a sip of coffee and Bailey's while it lasts, if that's your poison)… How does
that

sound?

WHEN: Jan 15th and 16th, 2011 from 11am till 6pm (Plus the Wrap Party on Sunday, 6-9pm!)
WHERE: Reid's Fruitopia event space, Oakland, CA
This is a private event. Please RSVP for directions.
COST: $110 for both days, $69 for either Sat or Sun
Join us in person at Reid's Oakland, California event space for FREE coffee and Bailey's while we get some expert advice and personal website consultation, and actually take the time to implement the advice so we can all get our websites in gear for the New Year!
"Free coffee and Bailey's?!? What's the catch?" you say. Shame on you! This is about pimping our websites out, not about free coffee and Bailey's while it lasts as some Skinnerian, positive reinforcement tool to get you to show up on time…
🙂
Reid's gonna pimp his website out with the latest plugins, RSS feeds, and social networking widgets whether you show up or not… So, come drink his coffee and Bailey's, why don'cha, and suck the brains of his geeky web-expert friends dry of their juicy know-how!
RSVP and show up with your laptop or iPad and maybe a pen and notebook, focused and ready to pimp your interwebs! Haven't got a website or Twitter Account? No worries! We can advise and take care of you so that you'll be ready and know just what to do to get your social media "sea legs" and that website up and ready and pimped out, too!
In these, two, 7-hour days, ending on Sunday with a Wrap Party, we will…

SATURDAY: Pimp My Social Media!


Talk about (briefly) how you can use social media -and which types- to increase your visibility and increase business and recognition
Ways to approach using social media as one entity rather than several tools that you have to constantly juggle
Share (briefly) about our businesses, our social network abilities, websites and businesses and goals
Get clarity and alignment on how our business goals and brand image can help make sense of our approach to using social media
Update (or create!) your accounts across several social networking sites so you look more professional and less of a stressed out hack
Play with some cool social media tools and techniques so you can "get the hang of it" AND do the job of three or four sites in one click!
Have fun!!!

SUNDAY: Pimp My Website!

Hear from the experts and geeks what they think we should be doing and what we might be missing the boat on
Get personalized advice on the bells and whistles available to us and our sites
What things we can "do without" and things to avoid for your sites
What's fun to have on your website that will make your job easier (and how to use it)
Actually take the time to implement many of the things/advice we get so you go home with work already done!!!
Kick ourselves in the pants to be even more successful
Have a blast doing it!

SUNDAY NIGHT: Weekend Workday Wrap Party!

Crack open a beer and/or non-alcoholic beverage to celebrate as a community what we got accomplished!!!
If you've got a website, or would like to; if you use social media, or would like to…  Kick-off 2011 by learning, brainstorming, mapping out, and implementing your 2011 website of awesomeness and then promoting it with more ease and panache via social media! What are you waiting for?

WHEN: Jan 15th and 16th, 2011 from 11am till 6pm (Plus the Wrap Party on Sunday, 6-9pm!)
WHERE: Reid's Fruitopia event space, Oakland, CA
This is a private event. Please RSVP for directions
COST: $110 for both days, $69 for either Sat or Sun
Doors open at 10:30am. We start promply at 11am. Please pack a meals/snacks for as you need since we'll be working straight through!
At 9pm on Sunday, we will crack open the wine and beer and non-alcoholic beverages and celebrate our jump on the New Year. Please BYOB and BYOFood for the wrap-party!
Yep, this weekend is devoted to upping our web savvy skills! So show up for yourself, your community and support all of us in getting our websites and social media pimp'd out! (That's how devoted Reid is to 2011 being the year we kick-ass online!)
Our experts and geeks for the weekend: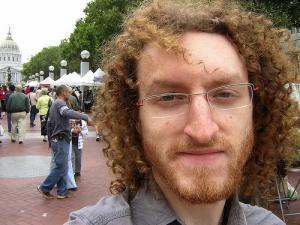 ABOUT MAYMAY: Meitar Maymay Moscovitz has been an active member of alternative sexuality communities since 2002. An outspoken, sex-positive feminist blogger, he authors several blogs on sexuality issues including the explicit photography blog MaleSubmissionArt.com that explores submissive masculinity and his personal "sex blog" at maybemaimed.com. He also co-hosts the weekly KinkOnTap.com Internet talk show discussing the interconnectedness of sexuality through politics, medical science, news and more. In 2009, he co-founded the all-ages educational KinkForAll series of sexuality unconferences in New York City that has since spread to 5 cities including Washington, DC and San Francisco. An open source programmer by day and a sexual freedom activist by night, Maymay's passion lies in analyzing the intersection of technology and human sociosexual behavior.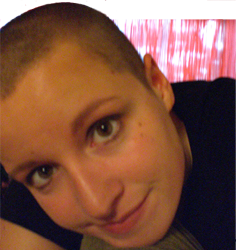 ABOUT SARAH: Sarah Dopp has been blogging, building websites, and using the Internet as her own personal sandbox for over ten years. She's worked as a tech consultant in the professional branding industry through Interbrand and Bedrock Brands, and in the social media marketing industry through Cerado. Her clients include BlogHer, Cisco, Chevron, Jiffy Lube, Hyperion, Seton Pediatric Hospital, and Planned Parenthood. Sarah is the founder and community manager of Genderfork, a volunteer-sustained community art blog on gender variance. She's also an experienced performance poet and co-host of San Francisco's Queer Open Mic. You can find her blogging regularly at Dopp Juice and twittering as @sarahdopp.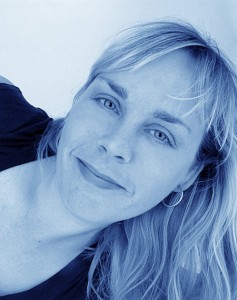 ABOUT VERONICA: Veronica Van Gogh of veronicavangogh.com is a designer of things you can click on and put in your pocket. She has years of experience working on interactive projects (think: Hypercard) If you are looking for creative marketing ideas for your business, she's your girl. She's got ten years as an Art Director in advertising and interactive.
Miss Van Gogh is currently specializing in iPhone graphics, print campaigns and projects that require creative mischief.
….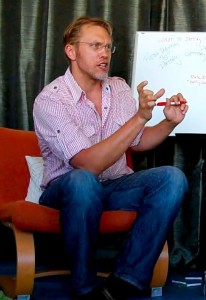 ABOUT REID: Reid Mihalko of ReidAboutSex.com helps adults create more self-esteem, self-confidence and greater health in their relationships and sex lives, no matter what their self-expression of those happen to be.
From his rated-PG/PG-13 workshops (Cuddle Party, Speed-Flirting) to the rated-R (Iron Slut Sex Educator Showdown) to his explicit, NC-17 rated, Show-N-Tell sex education workshops (where audiences get to watch, take notes, and ask questions), Reid has worked with thousands of individuals from myriad walks of life, orientations, relationship styles, countries and religions. Known for his charisma, wit and emphasis on integrity, Reid travels the country teaching, coaching, consulting and collaborating on fulfilling his mission: Create more self-esteem, self-confidence and health adults in and out of the bedroom.
Reid has been a featured speaker at dozens of conferences on relationships and sexuality and is a sought-after presenter and teacher at colleges and sex positive stores across the country.
Reid has been a writer and producer on a number of films and television projects about sex and relationships, and appears regularly in the media. He has also appeared on the Emmy award-winning talk show Montel, Fox News, VH1's Scott Baio is 45 and Single, Showtime's Penn & Teller's Bulls**t!, Canada's The Sex Files and SexTV, and the short-lived Life & Style, on NPR, Sirius' Maxim Radio and Cosmo Radio, and in Marie Claire, GQ, Details, People, Newsweek and The National Enquirer, as well as media across the globe in thirteen countries and at least seven languages.
Follow Reid twittering as @ReidAboutSex.