How do you make sex 10-times better? Let me give you a taste…
An Introduction To Sex10x
Be here to get a peek at -and some black belt level sex technique info- Reid Mihalko's exciting new offering! Learn how to increase your sexual self-confidence and start becoming a more attractive, self-expressed and fearless person in all your relationships!
If you've ever asked yourself… Am I normal in the sex department? Am I good in bed (and how can I be better)? Am I broken when it comes to sex? How can I get my partner to be better in the sack?
Learning better sexual technique will boost your sexual self-confidence, raise your self-esteem, and make you more confident and competent in sex and love! Being THAT kind of person is attractive in AND out of the bedroom!
If you worry about sex and want to enjoy it more (or if you think your loved ones do), then please join sex and relationship expert Reid Mihalko for a humorous and informative, PG-13 introduction to his premiere Sex10x Online Course!
In this half-day, no nudity, interactive course (with hilariously "edutaining" demonstrations), you will learn:
3 Powerful Perspectives that will help you understand pleasure and orgasm, and how to give and receive both!
5 tips that will give you oral sex super powers!
How to use fantasy to turbo-charge a lover's orgasm…
2 BIG differences between penises and vulvas, and 1 thing that's the same that will make you 10-times better in bed…
How to listen to your partner's body in bed…
3 ways to use your hands sexually that will drive your partner wild AND leave you feeling more confident as a lover!
How to create your own "sexual positions decoder ring" so you naturally "think" about lovemaking in an exciting, Kama Sutra way!
And more!
Introduction To Sex10x (with plenty of time for you to get your questions answered!) is designed for men and women, the shy and the extroverted, straight/gay/bi/poly/kinky/vanilla/woo-woo/skeptics, couples and singles, beginners and advanced Sex Geeks…
All you have to do is be over 18, bring a notebook, wear something comfortable, and show up ready to learn from the Sex Geek himself! And while you're at it, invite your friends!
Like all of my programs and products, Introduction To Sex10x comes with my "Your Satisfaction Is Important Guarantee!" If, at the end of the workshop, you're not completely satisfied with your experience, just let me know and I'll be glad to refund your class tuition.
Mark it on your calendar, and be some of the first to gain these transformational tools and get a peek at the Sex10x Online course before it's goes live! Space is limited.
Date: Sunday, March 30th
Time: 12:30 to 5:30pm
Location: Del Cerro SD at Lotus Falls – Exact location upon registration.
Cost: Membership fee to attend- $99.00
Tickets: Love Exchange
Experience More Reid
Sat, March 29th: Monique and Reid's Energetic Sex Practicum and Playground
Sat Night, March 29th: My First Play Party Practicum Led by Reid Mihalko and Monique Darling
Sun, March 30th: Official Cuddle Party led by Monique and Reid
Mon, March 31st: Night of Intimacy: The Sacred Path of Honoring a Goddess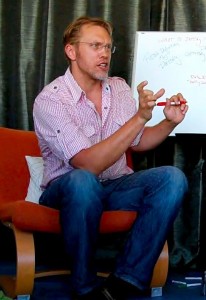 About Reid: Reid Mihalko of ReidAboutSex.com helps adults create more self-esteem, self-confidence and greater health in their relationships and sex lives, no matter what their self-expression of those happen to be.
Reid has appeared on Oprah's Our America With Lisa Ling on OWN, the Emmy award-winning talk show Montel, Dr. Phil's The Doctors on CBS, Bravo's Miss Advised, Fox News, in Newsweek, Seventeen, GQ, People, Details, Marie Claire, The National Equirer, The Washington Post, on VH1's Scott Baio is 45 and Single, Showtime's Penn & Teller's Bulls**t!, Canada's The Sex Files and SexTV, and the short-lived Life & Style, on NPR, Sirius' Maxim Radio, Playboy Radio and Cosmo Radio, and in thirteen countries and at least seven languages.
To date, Reid's workshops and lectures have been attended by close to 40,000 men and women. Reid has been a featured speaker and keynote at dozens of conferences on relationships and sexuality and is a sought-after presenter and teacher at colleges and sex positive organizations across the country. Reid has also been a writer, producer and behind the scenes consultant on a number of films and television projects about sex and relationships.
Follow Reid twittering as @ReidAboutSex.
Like and subscribe to his Facebook page, Facebook.com/ReidAboutSex