If video killed the radio star, will the internet be the death of somatic sex education?
How does someone go from almost becoming a Jesuit priest to getting a group of strangers naked, releasing their sexual shame and embracing pleasure as a communal experience?
Ever wonder who started the idea that gay men could gather for intentional, heart-felt, genital massages that lasted for hours instead of furtive, bathhouse quickies?
What's the connection between hand jobs and finger banging and spirituality?
If sex is healing, how and what does sex "heal," and do I have to be a shaman to do it?
What's all this talk about trace states, withholding orgasm, and heavy breathing?
Who's responsible for all these Certified Sexological Bodyworkers we've been hearing so much about and what is it, exactly, that they do?
Curious? Well, scroll down and watch!
Joseph Krammer/Reid Mihalko interview pt 1 of 2 from ReidAboutSex on Vimeo.
Joseph Krammer/Reid Mihalko interview pt 1 of 2 from ReidAboutSex on Vimeo.
This candid evening with erotic massage pioneer and somatic sexological educator
Joseph Kramer PhD was recorded Wed, Feb 24th, 2010 at
San Francisco's Center for Sex and Culture
Whether you're a sex history geek with a desire to trace movements back to their source or you're simply looking to expand your own erotic sense of self, stop wondering and eavesdrop in on this intimate, one-on-one conversation.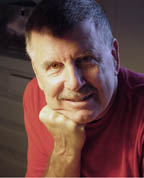 ABOUT JOSEPH KRAMER: Somatic sexologist Joseph Kramer is director of  The New School of Erotic Touch, an online resource to support erotic practice.  Joseph believes that most adult sex education classes are scams. Self-proclaimed sex teachers and erotic healers have been getting away with offering expensive spiritual hand jobs and communal group gropes for too long because of the incredible hunger for erotic embodiment in folks today.  One of the benefits of this severe recession is that ineffective sex educators who don't have a clue about how people actually learn sex are in economic crises.  (Thank you, Darwin.)  Joseph Kramer trains professional Orgasmic Yoga Coaches and Sexological Bodyworkers.  His specialty is somatic learning theory–how people learn sex.  His next Bay Area training is a communal exploration for embodied men starting Feb 27,28 in how to benefit from erotic trance states using Taoist Erotic Massage.  More information at eroticpractice.com.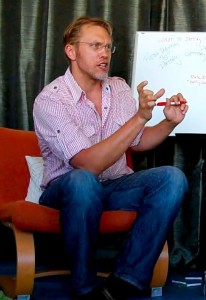 ABOUT REID: Reid Mihalko of ReidAboutSex.com helps people create more self-esteem and greater health in their relationship and sex lives, no matter what their self-expression of those happen to be.
Reid has worked with thousands of individuals from myriad walks of life, orientations, relationship styles, countries and religions. Known for his charisma, wit and emphasis on integrity, Reid travels the country teaching, coaching, consulting and collaborating. He has been a writer and producer on a number of films and television projects about sex and relationships, and appears regularly in the media.
Reid has been a featured speaker at dozens of conferences on relationships and sexuality. He has also appeared on the Emmy award-winning talk show Montel, Fox News, VH1's Scott Baio is 45 and Single, Showtime's Penn & Teller's Bulls**t!, Canada's The Sex Files and SexTV, and the short-lived Life & Style, on NPR, Sirius' Maxim Radio and Cosmo Radio, and in Marie Claire, GQ, Details, People, Newsweek and The National Enquirer, as well as media across the globe in thirteen countries and at least seven languages.