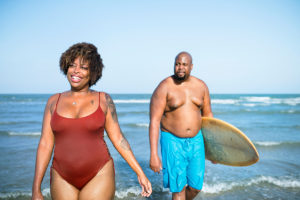 Attracted to Full-Size Women… What If I Want To Play With A Full-Size Man?
Cathy: One of our viewers wrote in and said, "I found out a long time ago I was attracted to large full-size women. I have been involved with all body types throughout my dating life and it's always been the personality of the woman that's a deciding factor. I'm in an open long-term relationship with an incredible with incredible women. I've had a few threesomes and now I want one to play with a full-size man. She…she says only that I…she asked someone would that be safe, any advice?"
I'm here with Reid Mihalko from https://reidaboutsex.com/
Reid: And I am here with Cathy Vartuli of http://theintimacydojo.com/ I thought they were going to ask you out on a date.
Cathy: Oh
Reid: I thought this was this was that comment.
Cathy: No
Reid: Okay
Cathy: I didn't see one
Reid: Okay advice for finding
Cathy: I
Reid: so this is a gentleman, it sounds…it sounds like
Cathy: It's…
Reid: not that it matters
Cathy: it's a gentleman from [Inaudible 00:00:45]
Reid: Gentleman is looking for a full-sized gentleman
Cathy: To play with
Reid: Okay
Cathy: To have a threesome with.
Reid: Okay, so…so any advice about how to have a threesome?
Cathy: Yeah like you how to…how to find a full-sized gentleman I believe.
Reid: Okay, well so I….we've done a ton of videos on threesomes so go watch all of those because the advice is going to be the same word for me you know regardless of size or shape
Cathy: Right
Reid: or what people are into, right? Like if you wanted to if your fantasy is to have a threesome with…with all redheads, good for you like my big questions are, are your partners are they…are they willing to wear wigs does that count like what do you need and then as far as like full-sized people of…of any gender now it's kind of a dating your species watering hole conversation, right? Like where do you find those folks which for me is about like where do people who might be up for a threesome or already be good at threesomes stack the deck in your favor people who already had successful threesomes be hanging out?
Cathy: Sometimes it's like maybe dark Odyssey years
Reid: or any…any like I mean again like this isn't these are going to where I…I think all my advice, I think you're better served by looking in places where people are already exploring three ways and then ask around or go talk to the people of size at those events or those workshops or those groups and then be really honest about "Hey, this is what I'm wanting to explore."
Cathy: Yeah and I know as a…as a big woman I've had people I don't like being objectified for my size as some people are okay with being objectified for various things but
Reid: What…what's the…this might be in another video. I'm not promising we'll answer this now. What's the distinction for you between objectification and a preference or turn-on?
Cathy: I think it's a great video we should come back for it
Reid: Okay
Cathy: but I'm going to answer a little bit here. If someone's only wanting me for my size and they don't care about anything in here or who I am as a person, I feel objectified.
Reid: Okay
Cathy: versus someone who's like wow I love what's
Reid: Let's start with this
Cathy: Yeah
Reid: because this is the thing I'm looking for
Cathy: like I'm attracted to you and what's inside there that's pretty good.
Reid: Okay
Cathy: but there are poly places on FetLife too where you can find people that are fine with you just saying "I want a larger a larger man" and they might be like "Yes, me please" and there might be some people like "Wow, I don't want you to I don't want to have sex with you just because you want someone who's bigger."
Reid: Yeah and depending on like there's Facebook groups as well like just I mean mostly non-monogamy, polyamory groups, swinger groups things like that might be a good place to start because your…your thing is "Hey, I'm looking to have a threesome and there are some things I haven't explored yet that I'm really curious about" or in this situation is it doesn't have to be a threesome
Cathy: Right
Reid: like I'm looking for a man who you know who one who likes sleeping with men
Cathy: Yeah
Reid: and this is where we get really nitpicky, not a man who's open to trying sleeping with men I would stack the deck in your favor
Cathy: Yeah
Reid: and be like "No, hi I'm so and so and I love sleeping with men like that is really fun for me" and then you're like "Oh you might be a better person for me to pick for my first time."
Cathy: Yeah
Reid: Rather than for your first time trying to help somebody else have their first time which can still work out fine. I'm just going to be greedy and tell you to do it my way because you are picking somebody who's already excited
Cathy: Yeah
Reid: and already knows they like this thing and then you know if it's a man of size, I would in a polite kind way be like "Hey, this is my fantasy and I'm worried like Cathy said about objectification like this is a thing that's a concern of mine so I would like to respectfully toss my hat into the ring to any of you interested but knowing I'm I want to be mindful that I'm not objectifying"
Cathy: Yeah
Reid: "And I love women of size and I'm curious if I would like men of size."
Cathy: Yeah
Reid: "I would like to explore this thing." In certain communities, I think that's probably you know your mileage may vary, you might get some people who are a little you know upset about me being so explicit.
Cathy: Yeah
Reid: But
Cathy: I think it's great that if you know what you want it's… the mine…for me, when someone I've had people objectifies me and it just felt like it's not my turn on at all um so it didn't feel good to me.
Reid: When did it felt less objectifying if they said as they were objectifying you "Hey, just so you know like I'm aware of objectification dynamics and maybe I'm not on top of it but I just want to I just want to let you know that I know that that can be a thing."
Cathy: Yeah, I think that might have helped, these people that I'm thinking of didn't…they weren't aware at that level and I think we should do another video about that.
Reid: God more videos man. What's this YouTube channel about? Hit subscribe. Maybe? Please.