Learn the ins and outs of the modern day "play party," 'cause orgies are sooooo Roman Empire!
Do you label your relationships as "Monagmish" or "Mongamy-Plus?"
Maybe the term "Swinger" or "Modern Relationship" more accurately describes you and your loved ones?
Are you a Poly person with a penchant for having your multiple loves under the same comforter?
Enjoy expressing your kinky tendencies while people watch or play nearby?
Never been to a play party, but curious?
Been to a play party but want to know more about etiquette?
Love group events and want to throw your own?
If the relationship status "It's Complicated" means something
fun

to you, this workshop might be juuuuust what you're looking for!

Whether you'd like to be the "Hostess With the Mostess" and throw your own event, or just looking to spice up your love life, sex and relationship expert Reid of ReidAboutSex.com is going to provide you with juicy tips, great recommendations, and sound advice on how to make attending play parties or throwing 'em yourself as simple and as powerful as they can be.

In this 2-hour, humor-filled workshop, where Reid is sure to make you laugh and you'll get plenty of chances to ask questions, we'll cover:
What a play party is and why you'd want to go in the first place!
The basic types of play parties that are being thrown these days and where to find 'em!
The nuts and bolts and "ins and outs" of play party etiquette
The differences -if any- between swinger events, poly play parties, and other types of play events
Things you must talk about with your partners

before

attending your first play party
How to attend a play event solo
How to avoid being that "creepy person" or the "aggressive couple" at the orgy
How to tell when you're ready to attend your first play party

and what to wear

!!
What you need to know to host an event of your own
What to say to your partners and community if you want to attend or throw an event
Who to invite!
Whatever you level of experience, whatever your relationship status or orientation, Reid promises an informative evening chocked-full of great communication and relationship skills!
Curious about booking Reid for a private class? Go HERE!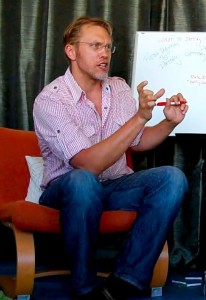 ABOUT REID: Reid Mihalko of ReidAboutSex.com helps adults create more self-esteem, self-confidence and greater health in their relationships and sex lives, no matter what their self-expression of those happen to be.
From his rated-PG/PG-13 workshops (Cuddle Party, Speed-Flirting) to the rated-R (Iron Slut Sex Educator Showdown) to his explicit, NC-17 rated, Show-N-Tell sex education workshops (where audiences get to watch, take notes, and ask questions), Reid's workshops have been attended by close to 30,000 individuals from myriad walks of life, orientations, relationship styles, countries and religions. Known for his charisma, wit and emphasis on integrity, Reid travels the country teaching, coaching, consulting and collaborating on fulfilling his mission: Create more self-esteem, self-confidence and health for adults in and out of the bedroom.
Reid has been a featured speaker at dozens of conferences on relationships and sexuality and is a sought-after presenter and teacher at colleges and sex positive stores across the country.
Reid has been a writer and producer on a number of films and television projects about sex and relationships, and appears regularly in the media. He has also appeared on the Emmy award-winning talk show Montel, Fox News, VH1's Scott Baio is 45 and Single, Showtime's Penn & Teller's Bulls**t!, Canada's The Sex Files and SexTV, and the short-lived Life & Style, on NPR, Sirius' Maxim Radio and Cosmo Radio, and in Marie Claire, GQ, Details, People, Newsweek and The National Enquirer, as well as media across the globe in thirteen countries and at least seven languages.
Follow Reid twittering as @ReidAboutSex.