Sex Without Upset: Learn to Navigate Complex Sexual Situations Like a Rockstar and Leave Everyone Better Than You Found Them
Want Less Drama and More Love and Fun In Your Community? It's Easier Than You Think…
Whether you've been to Burning Man a gazillion times, are a veteran raver, or a dance festival junkie… It only takes ONE MISHAP to ruin an amazing journey or poison a community…
And with so many new people entering the festival/retreat scene, how can we help build and foster amazing, sex-positive community that's healthy, thriving, conscious AND free?
It's possible, but unless you've geeked out on the latest upgrades and tool, most communities are doomed to repeat the mistakes of those who came before them.
Join sex geek and community builder Reid Mihalko, founder of Camp Beaverton for Wayward Girls (Burning Man's largest lesbian and queer women's camp), for Sex Without Upset: Navigating Complex Sexual Situations Like a Rockstar and Leaving Everyone Better Than You Found Them.
Over the course of 3-hours, using Reid's unique combination of humor, pragmatic wisdom, and geekery, we'll discuss:
Why sex-positive communities often implode
3 things that everyone can do to lessen upset, drama, and make sex and play healthier and more fun…
The 5 mistakes your friends and peers may not know they're making that breed upset and spell disaster
How to navigate complex sexual situations that have people feel safer with you (and saying GREAT things about you behind your back)
How Reid, a cis-gendered white dude, was able to build the largest lesbian theme camp at Burning Man and earned the title, "Honorary Man'Beave."
Top notch consent blackbelt tools that will ease your mind, help you avoid train wrecks, and have others asking YOU how you do it…
Pragmatic steps to cleaning up mistakes and initiating healing processes so we can all enjoy a thriving, healthy community where we can truly frolic, transform and grow
Ways even the shyest person can start building a rockstar reputation as a sexy mo'fo who has their shit handled and gets invited to the best events!
Whether you're a musician, a dancer, a DJ, a journeyer, a varsity sex geek, or the newest of curious newbies…
If you or a loved one has ever been frustrated or angry about your community or someone in it… If you know someone who's suffered or committed a consent violation… If you wish your communities were sanctuaries instead of accidents waiting to happen (or already happening)… If you've ever wished you could play sexually full-out and leave the campsite better than you found it…
We all win when we surround ourselves with better tools for navigating complex sexual situations… So, join us! And bring your friends!
Date: Friday Jun 3rd, 2016
Time: 7:00-10:00pm
Location: INKubation Theater – Eau Claire Market 200 Barclay Parade SW, Calgary, AB T2P 4R3, Canada
Tix & Info: HERE! 
Curious about booking Reid for a private class? Go HERE!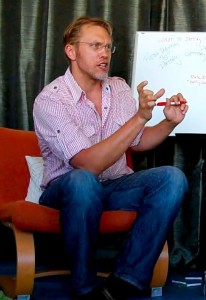 ABOUT REID MIHALKO: America's favorite sex geek, Reid Mihalko of ReidAboutSex.com and Relationship10x.com  helps adults and college students create more self-esteem, self-confidence and greater health in their relationships and sex lives using an inspiring mixture of humor, keen insight, and comprehensive sexual health information.
Reid frequently speaks at colleges and universities on sexual assault prevention and healthy relationship skills, and regularly appears in the media sharing his views on consent, dating, and shame-free sexuality.
Reid's workshops and college lectures have been attended by close to 50,000 men and women. He has appeared in media such as Oprah's Our America With Lisa Ling on OWN, the Emmy award-winning talk show Montel, Dr. Phil's The Doctors on CBS, Bravo's Miss Advised, Fox News, in Newsweek, Seventeen, GQ, The Washington Post, and in thirteen countries and at least seven languages.
Reid is also founder of Sex Geek Summer Camp and Sex Geek School for Gifted Sex Geeks which help sex educators learn valuable business skills that allow them to reach more people, transform move lives, and make a better living as sexperts.
Follow Reid on Twitter and Facebook and YouTube.