Join Reid For A Consensually Savvy Play Party Saturday Jun 4th!
**Please Read this BEFORE you purchase tickets for Saturday night's event – This is a Private Event and tickets must be purchased in advance – No tickets will be sold at the door**
Being the consensually savvy sex and relationship geeks that we are, why not spend an evening conversin,' cuddlin' and frolicin'… It's what the weekends were made for, right? 
Round-up a lover or sex geek or three and come join us for an evening of sensual play and nibbling on whatever snack foods you'd like to bring to share (as well as nibbling on each other)… If that's your thang.
Doors open at times listed.

Doors 

CLOSE

 when we begin the Welcome Circle 

where we go over house rules, have an icebreaker game, and a safer sex convo. Please don't be late because at a certain point during the welcome, to ensure the integrity of the event, late comers will be turned away. 
WHAT TO BRING? 
Bring some blankets, pillows, and soft, cushy stuff to help "play-a-fie" the room… Bring your toys, your safer sex supplies, whatever drinks and whatever vittles you wanna share with the gang… *No hard alcohol or drugs please**
WHAT TO WEAR?
Bring something sexy to change into when you arrive, if you'd like – Why? 'Cause an evening of chillin' and play is more fun when done by folks wearing lingerie or a sarong or undies that fit juuuuuust right! Yum! And don't by shy about wearing that playful onesie or your favorite pajamas, too! 'Cause comfy is sexy, too!
INVITING YOUR FRIENDS/PARTNERS:
Sometimes a party is invite only. Sometimes it's bring your friends. This party is a "invite your consensually savvy friends" party, which is why you need to purchase TWO TICKETS (if you want to purchase a third or more tickets, just select more than 2 tickets during checkout 'casue we love moresomes!).
Reid has run and/or attended close to 1000 play parties in his life, and he loves, loves, loves creating an community environment that fosters safety, exploration, learning, and fun. Becuase of this, his events include some of the best tools and approaches for group gatherings of an "adult" nature. And there is some graet evicence that attending a play party with a friend, nicknamed your "PAL" (Pervy Activity Liason) by Reid's good friends at Mission Control SF, actually helps lessen drama and upset… From Mission Controls' website:
PAL System
We have an important philosophy… that participants can be responsible to manage and help each other, rather than relying solely on [Reid] to act as party police. When people have a friend to support them at an event, everyone tends to be more centered and better able to navigate and negotiate responsibly.
In order to help maintain a safe, playful, and responsibly hedonistic playspace, we use an approach called the PAL system (Pervy Activity Liason). Whether you are male or female, if you want to come to [attend a play party] the following rules apply:
Please arrive & leave with a trusted friend (not necessarily a date) as your PAL.
Your PAL can be the same gender, the opposite gender or even a couple.
You are responsible for your PAL's behavior and they are responsible for yours!
You can't PAL someone you don't know. You must know them and trust them.
If either of you violate consent or the event agreements, you will both be held responsible.
The folks at Mission Control are amazingly smart, have run events for thousands of adults, and we love their PAL system!
PLEASE THINK TWICE BEFORE YOU INVITE YOUR POLITICALLY CLUELESS FRIENDS – this play party isn't a workshop for your friends to get a clue about consent, beautyism, gender, race, and social justice issues. We would prefer not to have to put up with them saying super offensive/racist/fucked up things to our lovers and friends or sexually harassing people. No one has to be perfect, but lets not to bring our asshole friends. Agreed? You are responsible for tending to your guests should they need support, so choose wisely.
WHAT TO EXPECT:
We'll start the opening circle at the time stated above. That's when we close the doors – PLEASE TEXT the number on your ticket confirmation if you're running late so we can try to hold the doors open for ya! Save yourself the stress and just get there early and kick back and enjoy meeting folks and relaxing.
This will be a very chill, fun, playful event where sex and nudity will most likely occur. This will also be a co-ed environment with a queer/feminist/sex geeky vibe to it (because of Reid's sex geeky nature). If watching same sex play unnerves you, then plan on showing up for the Welcome Circle and ice breaking exercises, and perhaps choosing to leave early. (You can always change your mind and stay!) 
While Reid doesn't identify as "kinky" by BDSM standards, he's not a prude. Light BDSM play is allowed, but this event isn't happening in a dungeon. If we're going to freak out the neighbors, let's do it with orgasmic screams and not the sound of whips, okay?  : )
Whatever you're into… Come relax. Come sip a beverage, or cram some snacks into your mouth (see what I did there). Come smooch. Come cuddle. Come play. Come watch. For some people, just attending a play event and not doing anything is a life-changing event. Pluse: Voyeurism is participation!
WHAT IS PLAY WIHT A CAPITAL "P"? (This text below, courtesy of my good friend, Dr. Beth…)
Play with a capital "P" is whatever it means to you. You are invited to co-create whatever feeds your soul. Participation (also with a capital "P") can mean many things and voyeurs are as warmly welcomed as the most actively engaged. It's a sensual space where participants are encouraged to explore themselves and others in ways that are stimulating, nurturing, exciting, safe and FUN!  
You are probablly excellent or becoming great at being sensually, erotically, and emotionally savvy! That you can Play nicely with others. You're probably a good sharer. Someone who takes good care of your toys and knows how to use your words. 🙂  You are somebody who's getting masterful at knowing your own wants, boundaries, and desires and can communicate them clearly…… All of those things makes you savvy, and savvy makes you hot.
We're going to open the doors for people to begin arriving at the above stated time and I'm going to close the doors when we start our Welcome Circle. Don't be late becasue I will begin turning people away after we begin the circle. 
The Welcome Circle is what we use to introduce ourselves to one another, enjoy some icebreaking exercises, have a safer sex conversation, and practice sharing any boundaries people should know about. These are designed to get folks comfy and ready enjoy a relaxing evening of Play. 
Have more questions about sex? http://www.sexuality.org is the easiest, least scary and most direct site to go to for good safer sex info. 
After the Welcome Circle, it's an "all skate!" For those of you who ever went to a roller skating rink growing up, you know that an "all skate" refers to when the DJ called for everyone to get on the rink and do their thing, whatever their thing might be.
WHAT TO BRING: You and your sexy ass (no farm animals, please). Whatever food and drink you might enjoy sharing. (We like our Playmates to be present and capable of connection, so no "hard drugs," hard alcohol, or being super drunk, please – I will ask you and your PAL to leave if I have to.) Bring whatever sexy things you'd like to wear and lounge in or just throw on your regular weekend clothes or pjs for relaxation and chillin'. Bring along whatever safer sex accoutrements you desire (condoms, dental dams, gloves, toys, lube – whatever you might be needing to create that perrrrrfect evening). I will have some supplies and toys, but only YOU know what YOU need. Oh, and please bring a Playful attitude and an open heart and mind.
PLEASE BE ON TIME. For participants to Play with abandon, we need to co-create a safe environment. Having people floating in and out makes that difficult. Therefore, the doors will lock after the Welcome Circle begins. If you are running unavoidably late, call and we'll see what we can do. But don't run unavoidably late please.
Looking forward to Playing with you!
Date: Saturday Jun 4th, 2016
Time: 8:00-1:00am (doors open at 7:30pm)
Location: INKubation Theater – Eau Claire Market 200 Barclay Parade SW, Calgary, AB T2P 4R3, Canada
Tix & Info: HERE! 
Curious about booking Reid for a private class? Go HERE!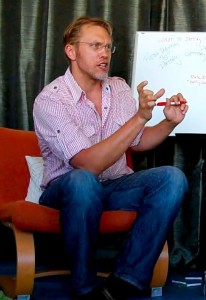 ABOUT REID MIHALKO: America's favorite sex geek, Reid Mihalko of ReidAboutSex.com and Relationship10x.com  helps adults and college students create more self-esteem, self-confidence and greater health in their relationships and sex lives using an inspiring mixture of humor, keen insight, and comprehensive sexual health information.
Reid frequently speaks at colleges and universities on sexual assault prevention and healthy relationship skills, and regularly appears in the media sharing his views on consent, dating, and shame-free sexuality.
Reid's workshops and college lectures have been attended by close to 50,000 men and women. He has appeared in media such as Oprah's Our America With Lisa Ling on OWN, the Emmy award-winning talk show Montel, Dr. Phil's The Doctors on CBS, Bravo's Miss Advised, Fox News, in Newsweek, Seventeen, GQ, The Washington Post, and in thirteen countries and at least seven languages.
Reid is also founder of Sex Geek Summer Camp and Sex Geek School for Gifted Sex Geeks which help sex educators learn valuable business skills that allow them to reach more people, transform move lives, and make a better living as sexperts.
Follow Reid on Twitter and Facebook and YouTube.