Watch and Learn as Real Sex Educators Go Head To Head and Reveal Their Best Bedroom Moves…
What better way to learn about practical sex education that you can actually use in the bedroom than to watch two sex educators literally go head to head?
Let's face it, sex is one of the few things we're not allowed to learn by watching others. You go to a fancy dinner. You don't know which spoon to use. You watch to see what spoon everyone else uses… But don't know what to do how in the bedroom, or want to add a few tricks to your repertoire? No such luck!
Until now…
Tonight's Sex Educators:
Reid Mihalko
and
Sacred Sexuality Coach and published author
KamalaDevi!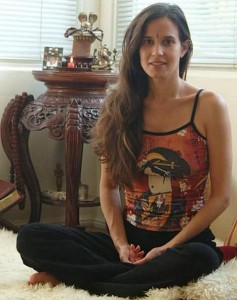 Date: Tuesday, June 14th
Time: (6:45 doors open) 7-9:30pm
Location: San Diego location – address with ticket confirmation


Join "America's favorite sex geek," Reid Mihalko and watch as he goes mano a mano and blow for blow against author and international teacher, KamalaDevi of Showtime's Polyamory: Married and Dating!
In this entertaining, informational, guaranteed-to-be-funny and friendly, "competitive" throwdown, we'll let the audience watch, take notes, ask questions, and, when the dust finally settles, hang out and mingle with the experts and guests!
Show up to Reid's latest Rated NC-17 workshop designed to empower adults around their sex lives and get folks smiling!
Show up to this fun-filled 2-and-a half hour workshop and learn:
What sex educators do under the covers and how
Their best tips and tricks (and probably not the kind you read about in Cosmo)
Their favorite, black belt sexy-sexy time moves!
And much, much more…
We can't promise you badly dubbed voice-overs or high-jinx dramma like televisions Iron Chef show, but we can promise you some down-to-earth applicable sex and relationship education.
If you were a big fan of "I'll show you mine, if you show me yours" as a kid, or you always wished there was a reality show called "Shagging With the Stars," then this workshop might be for you. Tell your friends. Bring a date. Bring a note book, too, while you're at it!
Because of this workshop's explicit and frank nature and live demonstrations, no one under 18 admitted. Please try to arrive on time. And, as with all of Reid's workshops, you can always leave early.
ABOUT KAMALADEVI: KamalaDevi of BlissCoach.com is a down to earth tantra goddess who has been studying and practicing yoga, tantra, sacred sexuality, and sexual healing during her extensive travels for the past eleven years.
A prolific writer, Kamala is the author of Don't Drink the Punch: An Adventure in Tantra, Sacred Sexual Healing with Baba Dez Nichols and Teaching Tantra the EROTIC WAY as well as numerous stage plays. She has most recently release her collaborative DVD with Reid Mihalko, Earning Your BLACKBELT in Relationship.
Kamala has recently appeared nationally on Tyra Banks's Tyra, theMorning Show, Inside Edition, MTV and several programs overseas.

ABOUT REID: "America's favorite sex geek," Reid Mihalko of ReidAboutSex.com and Relationship10x.com helps adults and college students create more self-esteem, self-confidence and greater health in their relationships and sex lives using an inspiring mixture of humor, keen insight, and comprehensive sexual health information.
Reid frequently speaks at colleges and universities on sexual assault prevention and healthy relationship skills, and regularly appears in the media sharing his views on consent, dating, and shame-free sexuality.  
Reid's workshops and college lectures have been attended by close to 50,000 men and women. He has appeared in media such as Oprah's Our America With Lisa Ling on OWN, the Emmy award-winning talk show Montel, Dr. Phil's The Doctors on CBS, Bravo's Miss Advised, Fox News, in Newsweek, Seventeen, GQ, The Washington Post, and in thirteen countries and at least seven languages.
Reid is also founder of Sex Geek Summer Camp and Sex Geek School for Gifted Sex Geeks which help sex educators learn valuable business skills that allow them to reach more people, transform move lives, and make a better living as sexperts.
Follow Reid on Twitter and Facebook and YouTube.