Sex Geekery Down South…
The amazing folks at Sex Down South conference are letting this New England-raised Yankee geek out with 'em! Wanna join me in Atlanta for their 2nd year?
And we've got a coupon code below, too, so you can attend and SAVE $20 off registration!
I'll be teaching Date Your Business Model: Building a Career That Thrills You AND Pays The Rent AND hosting an official Iron Slut: Sex Educator Showdown, too! You don't want to miss this!
From their website:
Sex Down South is a three-day sex and sexuality conference taking place October 13th-15th, 2016 in Atlanta, GA.  The conference will conclude on Saturday night with our exclusive Big Bang Event ball featuring an endless array of flirtatious revelry, erotic demonstrations, and deliciously diverse (and perverse!) entertainment!
Expect over 50 presenters and workshops to choose from including appearances by nationally noted including your truly!!
Subjects to be addressed and explored include:
Sacred/Spiritual/Tantric Sexuality
Religion & Sexuality
BDSM/Kink/Costume Play
Polyamory/Non-monogamy
Sex in the South/Geographical implications on Sexuality
Race & Sexuality
Aging & Sexuality
Sex & Disability
Youth Sex Education
Communication & Healthy Relationships
Single Life
Trans* & Genderqueer Sexualities
Lesbian/Gay/Same Gender Loving/Bisexual/Queer Sexualities
Sexuality in Academia
Sexual Liberation/Sexual Justice
Reproductive Justice
Sex Worker Rights
Trauma and Sexuality
Date: October 13-15, 2016
Time: TBD
Where: Hilton Atlanta, 255 Courtland St NE, Atlanta, GA 30303
Tickets: Use code REIDSDS for $20 off! Go HERE for more info!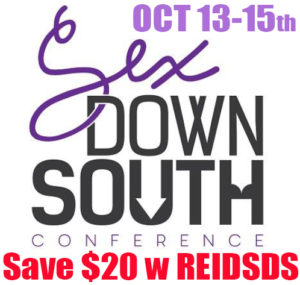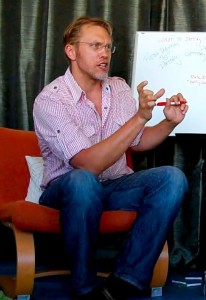 ABOUT REID: Reid Mihalko of ReidAboutSex.com helps adults create more self-esteem, self-confidence and greater health in their relationships and sex lives, no matter what their self-expression of those happen to be.
Reid has appeared on Oprah's Our America With Lisa Ling on OWN, the Emmy award-winning talk show Montel, Dr. Phil's The Doctors on CBS, Bravo's Miss Advised, Fox News, in Newsweek, Seventeen, GQ, People, Details, Marie Claire, The National Enquirer, The Washington Post, on VH1's Scott Baio is 45 and Single, Showtime's Penn & Teller's Bulls**t!, Canada's The Sex Files and SexTV, and the short-lived Life & Style, on NPR, Sirius' Maxim Radio, Playboy Radio and Cosmo Radio, and in thirteen countries and at least seven languages.
To date, Reid's workshops and lectures have been attended by close to 40,000 men and women. Reid has been a featured speaker and keynote at dozens of conferences on relationships and sexuality and is a sought-after presenter and teacher at colleges and sex positive organizations across the country. Reid has also been a writer, producer and behind the scenes consultant on a number of films and television projects about sex and relationships
Follow Reid twittering as @ReidAboutSex. Like and subscribe to his Facebook page, Facebook.com/ReidAboutSex!