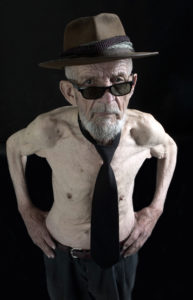 Does Ejaculation In Older Men Decrease Life Force Energy?
Reid: Hello Facebook it's Reid Mihalko from https://reidaboutsex.com/ and hello YouTube as well because we take this videos and we post them there as well. If you want to subscribe go to https://www.youtube.com/reidaboutsex. There is an airplane flying directly above me and better than beside me I would guess and I am sitting on the deck here near the backyard. We've been having some rain, you can see our little…little pond there is filled up with rain water it's very exciting, very exciting times.
And today's question was a question that was submitted during the Halloween Scary Sex Ed FAQ that we had and I didn't get a chance to get through all the questions so I'm gonna answer this one and it was a question that was submitted by anonymous asking about life force energy and if male ejaculation in older men decreases life force energy. And a friend of mine asked…heard me you know getting ready to have to talk about this question and she is not a Tantra person or a sacred sexuality nerd and she was like "What does that even mean?" And as a nerd who geeks out on Tantra and sacred sexuality stuff and energetic sex and things like this of this nature, where this kind of life force energy thing comes from? Is it chi or qi you can call a lot different things but when I first ran into it in around sexuality it was in a Taoistic sexuality circles and practices. There's a book like Cultivating Male Sexual Energy I believe it's called by Mantak Chia and it's a translation from Chinese and there's a lot of other Taoist sexuality practice books out there. But one of the…the ideas that was described in this book is that you're you want to be cultivating and circulating your life force energy and not kind of having it leak out. And I'm not a…a Chinese medicine nerd and so I don't know all the ins and outs about that which also kind of you know kind of leaps over into the Tantra world around you know ideas on Ayurvedic medicine and whatnot but the idea whether you want to believe in it or not is basically that you have not a finite amount of life force but it's the kind of thing that you kind of you can cultivate and you can kind of run out of and then recharge the battery on, run out of and recharge the battery on.
And so one of the things that you want to geek out on in Taoist sexuality practices is can you cultivate the ability to hold more energy and also like refine the energy that you have so that it… it's more pure it's more potent. And one of the things that Mantak Chia talks about and a lot of other folks in the Taoist sexuality world is that you know if you as a penis owner if you ejaculate all the time you're like you're spilling your life force energy out. Whether you want to believe this or not I'm not gonna make any…any…any claims to what's… what's real or what's not. What I can say is if I was gonna nerd out on like well what's the science behind this? If you're somebody who's masturbating all the time or having tons of sex all the time and constantly ejaculating and you eat a horrible diet or you're malnourished then maybe we could argue that you're you know you're dumping a bunch of minerals and…and things like that and not giving your body time to recuperate and so you would like lessen, you would be doing some sort of damage to yourself over time and you know from a skeptic's perspective maybe that's what they mean around you know lessening your qi. If you do believe in energy or at least believe in the possibility of it then you know being mindful around how you experience life or let loose so to say…so to speak and "how ejaculation impacts your libido and your overall sense of well-being?" You know air quotes around that then…then I think just being more mindful makes a lot of sense.
That's challenging around Taoist sexuality beliefs and practices is this idea of withholding your ejaculation so that you can cultivate and moved your energy around. As a list as an American with our over cheating sense of…of identity, it's really easy in a sex-negative culture to take you know maybe fair advice and apply it the wrong way so that then all of a sudden you're a bad Taoist sexuality nerd or a bad Tantra practitioner if you ever ejaculate. And I really believe in ejaculation being a choice that it's always great to have more choice in your life, ahh or maybe more agency it's always good to have more agency in your life sometimes choice can be overwhelming. But if you have a few…a few more choices than culture traditionally gives you around sexuality if you're penis owner so to ejaculate or not to ejaculate. If you're more mindful about developing and honing the abilities to have more choice in your life around pleasure, if you're…if you're cultivating and nerding out on the ability to hold more pleasure, hold and contain more of that energy and arousal so that you just don't need jerk reflex always have to… have to cum, I think that's really useful and…and neat idea to…to chase. However, you can also go too far and start beating yourself up in feeling shame for not being able to "control yourself" for you know am I a bad person or a less evolved human being if I like ejaculating and I do it you know everyone's small if I do it every time?
As somebody who has spent a fair amount of time geeking out and…and practicing and exploring this things you know I cum when I want to cum and I also sometimes don't want to cum during sex or during masturbation. So I think in the end, explore and have fun with the tools that you're exploring and be really aware of how we shamed and beat ourselves up and…and apply this over achieving ness and…and that somehow I'm less evolved if I'm ejaculated. And as far as like lessening you know your life force energy it hasn't been my experience as…as somebody who…who has a fair amount of sex and also ejaculate a fair amount. But in my growing older I have noticed that when I do cum my interest or my desire you know that like [groaning] "continue to sex" that kind of arousal seems to lessen a little bit and being able to withhold your orgasm and save it for the end or the ability to not orgasm every time, to not make sex about or…the orgasm, I think that's really healthy for men and women and people of all genders and gender identities. But um I don't know I think…I think it's…it's good to question things and then explore them a little bit and what's your lived experience with these things.
So I'm not trying to be wishy-washy in my answer. I think this a place to…to ask more questions and to geek out more and overall if you're ejaculating every time all the time you know twenty times a day, you know one if you're…if you're you know air quotes "older" and you can ejaculate twenty times a day good on you. I can't…but maybe overtime maybe lessens more who knows? There you go what do you think? What do you think out there folks? And if you know any…any Tantra practitioners, if you know any sacred sexuality folk or groups on Facebook share this video with somebody there and asked their opinion and let's have a conversation about this. What do you think? And thanks for sending in the questions.