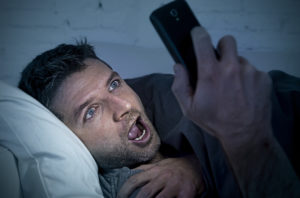 Love Porn? How Do You Not Bring Bad Porn Habits To The Bedroom?
Porn can be lots of fun, but bringing some of those approaches into the bedroom can cause problems. How do you keep things straight? Get tips with With Reid Mihalko from http://www.ReidAboutSex.com and Nina Hartley from http://TuesdaysWithNina.com and http://www.nina.com/.
Reid: You like watching porn but how do you not bring bad porn habits into the bedroom when you're maybe sleeping with somebody who's a non-Olympic sensuality athlete like Nina Hartley?
Nina: Or Reid Mihalko
Reid: Reid Mihalko from https://reidaboutsex.com/ and Nina Hartley from @ninaland on Twitter and in which website on
Nina: http://www.nina.com/notsafeforwork
Reid: Not safe for work. So you, I think know a little bit about porn literacy,
Nina: I do.
Reid: and then also like sleeping with a with non porn
Nina: Nonprofessionals
Reid:  Nonprofessionals?
Nina: I….I…. yes. So
Reid: So, advice.
Nina: The first advice is porn: movie, Reid: person; porn: movie, Reid:
Reid: Person
Nina: person.  Porn is a paid professional performance of a fantasy scenario, live-action cartoons where professionals do not try this at home your mileage may vary. In short, no matter what media we consume under what circumstances eventually we will be alone hopefully in a room with another human being with whom we have to communicate. So, a good porn habit is learning how to ask for stuff that you want. "Oh harder; deeper; faster; longer; to the left; to the right that feels so good?
Reid: More lube? Less lube?
Nina: That kind of thing. Another good porn habit is to be a looking moving and difficult that looks like fun that looks like fun if you can't actually say the words and so porn is not overall usually a bad thing because it can show you things you might not know that interested you when
Reid: Sure.
Nina: until you saw it.
Reid: And…..and I've had moments in….in my not you know non porn sex where things actually kind of feel like we've hit a porn moment
Nina: Yes, yes.
Reid: and but for me it always it just takes way longer to get to that than it seems for the pizza delivery guy to set the pizza down.
Nina: That's called editing
Reid: Editing?
Nina: and movie magic again professional so all the….again difference between porn and real people is in real….real life stops and starts, penises go up and down, vaginas lube up and get dry
Reid: And people need to change positions
Nina: people change positions to got to go pee, I've got to answer the phone
Reid: Yeah.
Nina: So, in a movie all the parts that are clumsy, all the waiting for the gentleman to get an erection, all the "aw, my knee" all that's been taken out so it looks like it's smoothed happens
Reid: and seamless
Nina: in twenty two point five minutes. In real life, we have been for the 22-minute scene that you might be watching it may have been shooting for an hour to an hour and a half
Reid: Got it.
Nina: position changes, lighting changes, bathroom break
Reid: People need to take a break.
Nina: People need to take a break so however when you do hit that porn moment in real life usually it means you're super connected, the passion it is going it's all cylinders are firing, it feels so smooth and so good "I can do this for a living."
Reid: Yeah and that's when I scream your name out and….and people get confused as to what's happening
Nina: Yeah. You do not do that.
Reid: So as I like to say in my workshops trying to learn how to be a better lover from….from watching a lot of mainstream porn is kind of like trying to learn how to be a better driver from watching The Fast and The Furious it's just that we understand that The Fast and The Furious is a movie and we shouldn't be taking all the cues home
Nina: Right.
Reid: So when we get on the road and porn literacy like….like there's I love porn. I don't think there's anything bad about it
Nina: You can travel the whole world and enabled your home. However, movie: person
Reid: Person
Nina: movie no feelings turn on, turn off take this out, person: feelings, person: feelings
Reid: Yeah and that's the other I guess this….this be my last question for this piece. So, obviously porn performer's adult performers are people too. So if somebody meets a porn performer in real life in the wild, how….how should we 'coz I know when I met you I was I was stars truck like any advice for…..for when we meet our porn heroes in real life
Nina: Actually I do I first take cues from their environment if they're with young children or people who are older that might be family members don't approach. If they are with other adults and there's no….. there was gray hair no one who couldn't get into an NC-17 movie, a simple "hey love your work." If I'm alone guys will say "are you on TV? Or you
Reid: You look familiar?
Nina: Totally you look familiar and I tell them is like "oh yeah!" Anyway, so I don't mind it but my voice has been very open and I have two children and my parents are not able to be embarrassing more about what I do. So but again….take cues from the environment
Reid: And when in doubt don't approach.
Nina: Yeah.
Reid: Just let people have their private time.
Nina: If obviously, if they're if they're if you recognize them well I think it's a compliment that if I'm wearing a baseball cap in my in my yoga pants and no makeup and a sweatshirt and you still recognize me that sort of cool but I'm looking like that, it really mean
Reid: you're probably
Nina: I don't want to be talked
Reid: Yeah, yeah. I got it. Yeah, so give people their space and….and be a good consumer of porn and pay for your porn folks. Pay for your porn!
Nina: Pay for and why pay for porn? It keeps me in work also when you pay for porn you know as a consumer who is also a progressive person and wants workers to be treated well when you pay for professional porn you know you know that they were tested, of age, gave consent, or paid and understood what they were what they were getting into. So you don't have to worry about all the horror stories you might hear about people in adult entertainment when you pay for professional adult material you can note consenting adult all were tested before work and all were paid for their labor.
Reid: Support the things that you are fans of by buying those tickets and…..and subscriptions and things like that.
Nina: Yeah.
Reid: Nina, thank you so much.
Nina: Thank you Reid.
Reid: Yup and it's http://www.nina.com/notsafeforwork
Nina: Not safe for work
Reid: and ninaland
Nina: On twitter
Reid: @ninaland on twitter and then you have out you also have a safe work blog
Nina: Yes. Tuesday's With Nina.
Reid: Awesome! Yay! Hit subscribe. Leave a comment.