Knoxville, TN, just got sexier! Join me to celebrate Sex Week at the University of Tennessee April 4 & 5!
Join me for 3 lectures during Sex Week at the University of Tennessee sponsored by the Sexual Empowerment and Awareness at Tennessee (SEAT)!
Many thanks to S.E.A.T. and Sex Week UT for making all this possible!
For an entire list of Sex Week's Schedule go HERE! And check out the Facebook event page HERE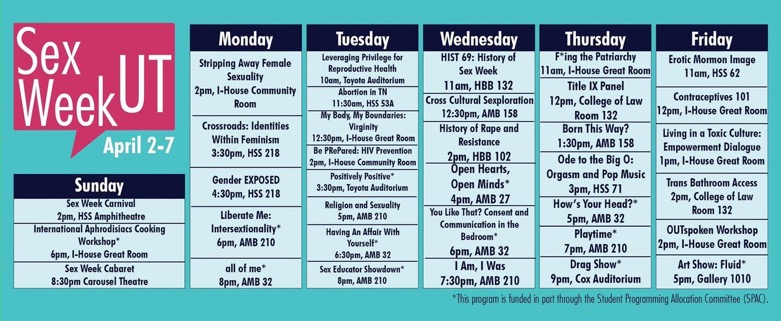 Each lecture will be 90 minutes with a 30 minute Q & A session for participants. Join me at any or all of these upcoming Sex Week events

TUESDAY, APRIL 4TH at 8PM

Sex Educator Showdown with Reid Mihalko & Allison Moon

Sex Week at UT is thrilled to be bringing back not one, but two Sex Week veterans. Guest speakers Allison Moon and Reid Mihalko will be throwing it down in this no-holds-barred event, providing students with all the tips and tricks for pursuing healthy and pleasurable relationships that you could ever want.

WEDNESDAY, APRIL 5TH at 4PM

Open Hearts, Open Minds with Reid Mihalko & Allison Moon

This primer on open relationships and polyamory will be led by guest speakers Allison Moon and Reid Mihalko and will address what makes polyamory workable, how to avoid the common pitfalls to open relationships, how to negotiate boundaries and agreements, and how to proceed responsibly into the world of non-monogamy.

WEDNESDAY, APRIL 5TH at 6PM

You Like That? Consent and Communication in the Bedroom

In this engaging seminar, guest speaker Reid Mihalko will walk attendees through how communication skills can be your best asset in the bedroom. With pragmatic guidelines and frameworks, Reid will help us learn how talking about pleasure, boundaries, and safer sex can be not only second-nature but fun.
Curious about booking Reid for a private class? Go HERE!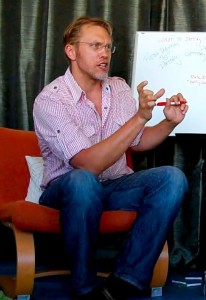 ABOUT REID: America's favorite sex geek, Reid Mihalko of ReidAboutSex.com and Relationship10x.com helps adults and college students create more self-esteem, self-confidence and greater health in their relationships and sex lives using an inspiring mixture of humor, keen insight, and comprehensive sexual health information.
Reid frequently speaks at colleges and universities on sexual assault prevention and healthy relationship skills, and regularly appears in the media sharing his views on consent, dating, and shame-free sexuality.
Reid's workshops and college lectures have been attended by close to 50,000 men and women. He has appeared in media such as Oprah's Our America With Lisa Ling on OWN, the Emmy award-winning talk show Montel, Dr. Phil's The Doctors on CBS, Bravo's Miss Advised, Fox News, in Newsweek, Seventeen, GQ, The Washington Post, and in thirteen countries and at least seven languages.
Reid is also founder of Sex Geek Summer Camp and Sex Geek School for Gifted Sex Geeks which help sex educators learn valuable business skills that allow them to reach more people, transform move lives, and make a better living as sexperts.
Follow Reid on Twitter and Facebook and YouTube.