Non-Conservative Sex: From Taboos to Queer to Kink to Poly and More!
What is "out of the box" these days when it comes to sex? What if you think what turns you on isn't "normal?" The good news is thinking about all types of sex and wanting to explore "other things" is normal and healthy! However, talking about our desires, knowing where to go for good information, and learning how to explore new things safely can be daunting. It's not like you can ask your Dean or the graduate TA, right?
Join sex and relationship expert Reid Mihalko for a candid conversation about the "other" sex that's out there. Reid will walk us through an overview of "non-conservative sex" as well as ways you can safely explore your sexuality solo and with others! Topics will include: taboos and fantasies, queer sex, kink and BDSM, open relationships, threesomes and moresomes, fetishes, masturbation and celibacy. Reid will also discuss tools to figure out what turns you and your partners on and tips for how to ask for what you want. You might be surprised to discover what turns your crank is more common than you think and that sex doesn't have to be a shameful thing!
All genders, sexual orientations, and curiosity levels welcome!
Date: March 16, 2017
Where: MacEwan University, 10700 104 Ave NW, Edmonton, Alberta, Canada
Time & Location:
4-5:30pm – MacEwan University CN
7-8:30pm – MacEwan University Residence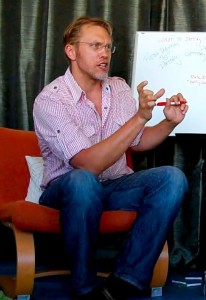 ABOUT REID: America's favorite sex geek, Reid Mihalko of ReidAboutSex.com and Relationship10x.com helps adults and college students create more self-esteem, self-confidence and greater health in their relationships and sex lives using an inspiring mixture of humor, keen insight, and comprehensive sexual health information.
Reid frequently speaks at colleges and universities on sexual assault prevention and healthy relationship skills, and regularly appears in the media sharing his views on consent, dating, and shame-free sexuality.
Reid's workshops and college lectures have been attended by close to 50,000 men and women. He has appeared in media such as Oprah's Our America With Lisa Ling on OWN, the Emmy award-winning talk show Montel, Dr. Phil's The Doctors on CBS, Bravo's Miss Advised, Fox News, in Newsweek, Seventeen, GQ, The Washington Post, and in thirteen countries and at least seven languages.
Reid is also founder of Sex Geek Summer Camp and Sex Geek School for Gifted Sex Geeks which help sex educators learn valuable business skills that allow them to reach more people, transform move lives, and make a better living as sexperts.
Follow Reid on Twitter and Facebook and YouTube.