SOLD OUT. 🙁
Explore your orgasmic sexual energy without even taking your clothes off!  Become the master of this most powerful energy within us!
Remember that Cosmo magazine article that talked about how Tantra and breathing could give you explosive orgasms? How about the urban legend about Sting having sex for eight hour stints?
Regardless of your tolerance for words like "chakras" and "yoni," there is a non New Agey way to understanding and incorporating ecstatic experiences into your bedroom routine that is fun, easy, and explosive.
Date: Saturday, Oct 15th, 2011
Time: 1-6pm
Location: Reid's event space, aka Fruitopia, in Oakland's Fruitvale neighborhood
Directions and address with your Online Registration
Cost: $55-$75 sliding scale, per person. Space is limited to 20
Register now before space runs out!
Order tickets HERE.
If you or a lover have ever experienced post-orgasmic spasms or "twitches" after lovemaking, or feelings of heat and tension in your lower back, hands, neck or throat… You might be more energetic in your sex life than you think! And if you've never experienced those things but would like to, you might be pleasantly surprised how easily energetic sex is to grasp and play with.
And, if you speak "woo-woo" fluently and your Kundalini is wide awake, this day and a half intensive will give you plenty of ways to explain how energetic sex "works" to your skeptic friends. Bonus!
Join sex and relationship expert Reid Mihalko of ReidAboutSex.com for a day of frank, fun, and electrifying learning targeted for folks who aren't New Agey and those who are!
You will be introduced to:
Reid's particular views on how sexual energy "behaves" and how it "works," as well as ways you can begin accessing more energetic awareness in the bedroom
What Kriyas ("the twitchys") can look like and what to do when you or a lover experiences them
Three possible approaches for engaging sexual energy and expanding it when exploring energetic sex with a partner or solo with yourself
What playing a singing saw has to do with energetic sex and expanding your lovemaking
Simple breathing and "presence" techniques to build up energetic awareness
How to use "pressure play" and where so you can help unlock and activate points on your lover's body to augment energetic experiences during love making
A few advance tips and tricks that will make you smile and your partner moan regardless of whether "the twitchys" happen or not!
Singles, Twosomes and Moresomes welcome! You don't need a partner to take this workshop!
All participants will remain fully clothed and all exercises are optional. Saturday's workshop may include more explicit demonstrations by Reid and his demo models, but no actual "sex" will occur. You get to watch and ask questions and learn!
Whatever your level of experience with sex that seems to be "more than just sex," Reid's humorous and informative instruction, sex education, and live demonstrations on this esoteric (and yet more common than you think) realm of energetic sex is not to be missed!
Order tickets HERE.
Only 20-spots!
Because this letter from an Energetic Sex Intensive participant of mine is so powerfully touching (and I got permission to post it), I'd like to share it here is in it's entirety…
Hey You!

I'm writing to share some big shifts in my experience that feel connected to your energy workshop.

Nearly a week later I continue to be amazed at the huge shift I feel when I "straighten my hooks". I'm referring to the velcro analogy you gave for disengaging with another person's energy. I thought it might be a fluke, or my imagination, so I keep testing it and I am continually amazed. I get a bit teary just writing it…

The image I see around what I feel (physical sensation and emotion is how it hits me first and sometimes images come later) is me huddled under a large raincoat in a storm, my body is tensed against the winds buffeting me and the cold of the water dripping in. I "straighten my hooks" and instantly it changes to blue skies with a warm sun. Birds are singing, for crying out loud! Reid, this happens whether I'm with someone else or not. It's like the energy I'm picking up isn't localized or specific, it's in thoughts and in the atmosphere, like weather. I have felt victimized by it and also thought that it was me. Straightening my hooks is evidence that it isn't me – at least not the pure essence of me. It's giving me access to sanctuary (again the emotion – I'm so dramatic!). I'm beginning to be able to look at it as something not personal, not me nor intended for me from another. Like it's something we're all influenced by but isn't truly any one of us. Does that make sense?

Also, for as long as I can remember – even before I was aware of it, I would wake up in the morning with a weight in the center of my chest. A sense of heaviness about the day ahead and a resistance to push through. That has changed. I feel solid and connected in my heart when I awake. I feel present with myself. It is much easier to get out of bed. Maybe I haven't spent my sleep state in a combat zone.

Keep spreading the love and light that you are. You have made a huge shift for good in my life and I bet I have lots of company in that. Thank you for doing what you're here to do. It's excellent!

With Love,
~Madelon Guinazzo, Chicago
Curious about booking Reid for a private class? Go HERE!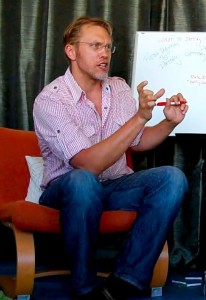 ABOUT REID: Reid Mihalko of ReidAboutSex.com helps adults create more self-esteem, self-confidence and greater health in their relationships and sex lives, no matter what their self-expression of those happen to be.
From his rated-PG/PG-13 workshops (Cuddle Party, Speed-Flirting) to the rated-R (Iron Slut Sex Educator Showdown) to his explicit, NC-17 rated, Show-N-Tell sex education workshops (where audiences get to watch, take notes, and ask questions), Reid's workshops have been attended by close to 30,000 individuals from myriad walks of life, orientations, relationship styles, countries and religions. Known for his charisma, wit and emphasis on integrity, Reid travels the country teaching, coaching, consulting and collaborating on fulfilling his mission: Create more self-esteem, self-confidence and health for adults in and out of the bedroom.
Reid has been a featured speaker at dozens of conferences on relationships and sexuality and is a sought-after presenter and teacher at colleges and sex positive stores across the country.
Reid has been a writer and producer on a number of films and television projects about sex and relationships, and appears regularly in the media. He has also appeared on the Emmy award-winning talk show Montel, Fox News, VH1's Scott Baio is 45 and Single, Showtime's Penn & Teller's Bulls**t!, Canada's The Sex Files and SexTV, and the short-lived Life & Style, on NPR, Sirius' Maxim Radio and Cosmo Radio, and in Marie Claire, GQ, Details, People, Newsweek and The National Enquirer, as well as media across the globe in thirteen countries and at least seven languages.
Follow Reid twittering as @ReidAboutSex.