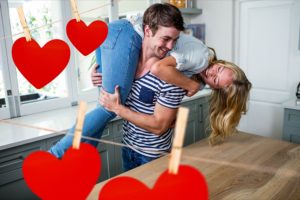 What is Pegging? | Facebook Walk With Reid
Reid: Hello everybody! It is Reid from http://reidaboutsex.com/ and it is our little Facebook live walk today. So as you as you jump on, let me know that the sound is okay. I've got my little extra battery today so I shouldn't be able to.. to not die in the middle of broadcasting and it is a cloudy cloudy day here in Oakland and I am coming back. I just came back from my trip to Los Angeles where I taught at the sexual health expo and did some emceeing there for that event running around in my tuxedo because you know I'm either in my tuxedo or in my sex geek t-shirts and and that was really fun when I got to hang out with Dr. Ruth, one of my heroes, my sex ed heroes and that was amazing!
Give me some hearts for Dr. Ruth and one of the things that was super fun and also nerve-racking was one of the audience members asked a question about pegging and Dr. Ruth being you know the amazing educator that she was and also just a really good facilitator at eighty eight years old. May I please have the energy and the spitfire-ness of Dr. Ruth when I am in my eighties? But like without hesitation Dr. Ruth was like and that's just pegging!  Like without even trying to like fake it which I really respected like as an expert to just ask what..  like when you have a term that you don't know what it is to just ask without hesitation like so I've never heard that term before. Somebody please tell me, what that means and everyone looked at me and I was right by the stage so I grabbed the other mic and gave Dr. Ruth a definition of pegging in which case I started talking about you know strap on sex.
Generally, I was going to say you know a woman penetrating a man but then I'm like going down the gender rabbit hole and behind well actually not about gender but and then Dr. Ruth self-identifies as being very old-school and very old-fashioned and square. So we really have time to go down the nuances of gender and it's not really about you know what parts are but basically stopping on a dildo and then receptive penetrative sex too. Usually when that term was coined, a male identified person in the butt. So I gave that term to her and she was like, "oh! I did not know that!" and then just kept on teaching. That was a really fun and great moment for me and a lot of other sex educators with the audience who thought that that was hilarious that I was teaching Dr. Ruth what pegging was. And for you all today as I walk around with my little turtleneck staying warm and my baseball cap because you know it's one of those days today where it just  baseball cap and a sweater day and as I pass this family, I'm not talking about our topic until I'm well out of the earshot. What I wanted to tell you about is from what I have seeing in the comments I'm waving everybody.  My tips my quick tips no pun intended for pegging for those of you who are curious about it or who are enthusiasts who are trying to help other people become enthusiast about pegging is the big rule of thumb with any kind of anal play and there's some great books out there Charlie Glickman co-wrote a book on the Prostate Play and Tristan Taormino has an amazing book all about anal.
So like you know go research and learn about anal play but the big thing to learn whether you're taking workshop or you're reading a book or something like that, checking out one of Jessica Drake's sex add, DVD's is the slower you go the faster you get there and using lots of lube because the anus does not so appropriate. Going slow to let the person who's being penetrated like kind of let their body catch up to what's going on and also the idea of really creating situations where people can be fully aroused while some people it's erotic to turn on in their head to be being penetrated. For the receiver, that doesn't mean their bodies ready yet that just means their brain is really lit up for it.
So whatever you can do generally speaking to give people time for their bodies to really open up to really get excited for there would be a lot of endorphins in their blood system and a lot of you know to have their bodies turned on and I'm just going to give you a quick shot there where are they hang on there! It's the crew, the crewers, the crew team just racing down, they're practicing. The opportunity to slow down and also not really try for any kind of penetration into someone's body really kind of hungry for it really wants it and then from the pegging perspective such as anal play in general, starting small with with toys to see what's a good fit for people's bodies. But the other two things that I'll I'll leave you with that that's been really useful for me is somebody who likes pegging.
Having a dildo or toy that's a little bit squishy like not super hard and firm like you know like a glass dildo or really super hard rubber or silicone dildo what would be known in the sex toy world is like a dual-density dildo where it has a firmer core but then the outside is a little bit softer, that skin makes a great dual density dildo. Tantus makes a great dual density dildo. Those seem to be really great especially for people who are just starting out because they're just a little bit more they're just easier on your butt to put it bluntly and I've also found that using longer dildos is easier for the person who's wearing the dildo because you don't have the biofeedback of knowing when you're you know where the end of the dildo is in regards to the person's butt.
So for me if somebody in my early days, when I was first trying to get the hang of this if it was a short dildo it felt like for me like the person was going to fall out of my butt like on the backstroke you know so the fucking motion they were just going to like slip out of my butt and that had me like I'm high alert and I was worried intense. Whereas the longer dildo it… there was less of that worry. So I was able to relax more into my body. This might be a too much information maybe I'll put it in the in the description that this is a more explicit video and hopefully I haven't lost you all but the idea of longer dildo something a little bit you know firm but squishy for the person who's receiving that the longer dildo for the person who's doing the.. who's wearing the strap on. That that helped transforms pegging for me tremendously made it so much easier and allowed me to get a lot better at it. And then last but not least, you know adding on to all the things that we covered lube lube lube lube lube say it to yourselves. Reapply lube you can have enough lube use lube.
The other thing is pegging for a lot of people isn't about in and out motion it's once you're in, it's more of a kind of humping and grinding motion like you stay you know you kind of lean in to the penetration rather than this kind of fucking motion. That seems to generally be what most people enjoy most their quote not all and not all the time. Sometimes I like a lot of in and out motion but generally speaking at least from my body to warm up and recalibrate to being penetrated that you know once somebody's inside me for them to kind of you know grind or hump rather than that humping motion you know your mileage may vary but I think we pick up unintentionally we pick up bad visual cues from watching porn where penetrated sex is about the back and forth motion because penetrated sex needs to look active.
So generally speaking a lot of pegging seems to quote and unquote look a little bit more boring than you would think in your in your fantasies what it's supposed to look like. Those are just some ideas that I'm I'm going to share with you today as we walk around, hello! And as I… I pass these these lovely people enjoying enjoying the water front. I guess that's it.
Leave some questions.  Leave some thoughts. Hit some emoticons today. Thanks for going out on our little walk and let's see.. what is the strap on that I would recommend for this? There..  there's a lot of different ones I… the.. the basic ideas are there's like three basic forms of strap on's. There's ones that are like a thong where they have a strap that goes underneath a single strap then there's more of a jockstrap design which has you know the two straps that go between the legs around the butt and now there's the great kind of like underwear brief cloth harnesses that are more like underwear. So rodeo makes the underwear harness.
There's a lot of different companies that make really great strap on's and godlike I'm that's it's not like I'm drawing a blank with this just so many different ones that are out there. What I would recommend if you're near an adult toy store that really kicks ass like self-serve in Albuquerque or the pleasure chest to create vibrations you go to or sugar in Baltimore passionals in Philadelphia, you can go to the stores or even call those stores up and ask them to talk to you a little bit about harnesses and that way you'll get floor staff that can that can recommend and kind of be your concierge and help you make a better buyer decision ask then lever.. leather in Canada has some make some amazing strap on.
So there's lots of different kinds. Tantus I believe without a strap on, harness as well. So in some ways like there's no wrong decision unless you get the style that isn't the most comfortable for you and sometimes the best way to figure out what is a good harness for you is to talk to people who are knowledgeable on these things and to go into a store if you can and look at a bunch of different one. Some stores will allow you to try harnesses on over your jeans and things like that or you know ask a friend who has harness if you could try it on and see how it fits.
I think that's about it! Thanks a lot for letting me give you too much information today and as I leave oh and just well as we leave the history pegging wise which has been going on for beyond, but the term comes from Dan Savage basically ran a contest years ago to create a name for this activity because we didn't really have a common name for it in in American culture and the the runners-up were either pegging or bend over boyfriend which was the idea would be called calling it bobbing and bend over boyfriend was educational video made famous by Carol Queen and Robert Lawrence so you can check that out from the anal's of history ladies and gentlemen yes I said it but pegging won the contest and hence it has been pegging ever since.
So leave your comments. I'm going to take a look at them. Right now I got to get home before rush hours over a rush hour starts and I really appreciate you all on this cloudy rainy day.  Thanks for being a part of this video today and we'll see you tomorrow! Bye!