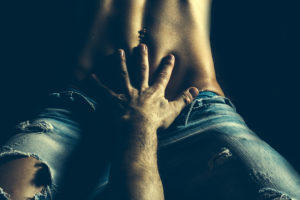 Walk With Reid Facebook Live: Doing New Things To Boost And Build Intimacy And Connection
Reid: Hello everybody! It is Reid Mihalko from http://reidaboutsex.com/ and I'm still at my Callan Rush workshop seminar this weekend and umm I am just trying to a get my video up because I realized that like oh my goodness it is dark out and I was on the seminar all day. And I'm like I didn't do my life. I didn't even walk today so I feel really bad, bad really but I will I will do some walking tomorrow with you all and the what I wanted to do is a quick video because I'm trying I'm I've been doing on every day now since like January second or third and a Hi Leanne, good evening! Good evening everyone and good morning to some of us because there's international people watching this videos. Whenever you watch them I appreciate it so thank you.
But we're on break, we're almost done a weekend of awesome seminar stuff a on business and and marketing and throwing a live events and that's what Callan Rush's called them Magnetize Your Audience and the and so that's the business stuff but I want to give you some relationship advice and something that I did this afternoon because I was doing an interview for the Sexual Health Expo and you can check that out at http://www.sexexpo.com /. I'll be speaking next weekend in Los Angeles so if you're around on February fourth and fifth, come to the expo because tickets are free. You can register for them and get a free ticket and I'm going to be hanging out with Doctor Ruth and interviewing Doctor Ruth and getting to hang out and geek out with a bunch of my fellow educators. So check that out! But the reason I wanted to talk about doing new things and how it builds relationship and intimacy as I was doing a radio interview this afternoon for the S.H.E. expo and was talking about for couples and this is like for use for friendships. You can also use this for your kids and stuff and, and family members but one way to strengthen intimacy in both connection is to go do something new, something different with each other.
One my, my business mentors Brennan Bouchard talks about the controlling for new like doing new things gives your brain keeps your brain like "oh my goodness, Something new!" And you release a bunch of dopamine and if you're with somebody you like you release a bunch of oxytocin and so doing something new that you've never done before with somebody you care about can strengthen bonds and release a lot of yummy, yummy feel-good endorphins and hormones and things like that.
If you're in Los Angeles and you're also struggling with like relationship stuff or you have a great relationship and you just want to take it to like awesome mind-blowing then come to the Sexual Health Expo because you might meet a teacher who you want to take a workshop with. It's like a smorgasbord of educators and also vendors for from some really great sex adult toy companies and pleasure products and all kinds of stuff. It's hilariously fun that'll be in downtown L.A but if you're not able to get to L.A, where could you go to do something new? Even if it's like hiking a new hiking trail or if it's like going to like one of the reason is going to a movie can be so exciting is if you're seeing a movie for the first time it's a new movie. Going to the movie theatre might be might not be so different but like what can you do if you're gonna go do something you've done before, what can you do to make it new? Maybe it's something as simple as going and dressing up if you're gonna go your usual bar or restaurant you know it's.. a place that you really love and go too often. How about if you all got super dressed up and just made it like dress-up night?
It doesn't have to be a date but the idea of doing things that you haven't done before or making something that you have done before different enough that your brain comes back alive you're dumping a lot of oxytocin and feel-good hormones for each other. And hello Julia! Hi Mede! How you're doing dude? It's good to see you guys. So like what can you do to leverage something that we already know that our brains do when encountering something new? That's going to be the tip. Again, next weekend if you're in Los Angeles come to the expo because you'll going to meet a whole bunch of teachers teaching on things they're experts in and all kinds of realms of sexuality and romance and intimacy like tantric yoga and all kinds of fun stuff. I'm going to talk about the, the fantasy of threesomes and how you might be able to negotiate one or even just know that you could negotiate one if you want to. Again this isn't just for couples. You can go and do new things with your friends and strengthen and increase those bonds.
Thank you so much! Break's almost over so I'm just there's just going to be a quick video today but I'm sorry I didn't walk with you earlier today. I've heard it was beautiful out but I was stuck in this seminar on weekend. Thank you everybody! Leave some comments. Share this with a friend. What's something new you could do with a loved one? Or what something different that would make a usual thing that you do, feel new?
Leave your comments below and I'll do another video tomorrow. Bye! Mwah!