Couldn't everyone benefit from more sexual self-confidence?
Self-confidence and self-esteem are essential for living an empowered, fulfilled life… Especially in the bed room!
With greater self-esteem and a sense that you "know your way around" your body and your lover's, romance and relationships take a quantum leap forward. Sex doesn't have to feel as overwhelming, stressful and confusing for you anymore!
Who doesn't want to feel accomplished in sex?
Join sex and relationship expert, Reid Mihalko of ReidAboutSex.com for a day-long intensive specifically designed to increase your sexual self-confidence, relationship self-esteem, and expand your "sexual tool box!"
Come learn how your body and your desires (and those of your lover's work!)… It's easier and more fun than you thought!
In this 5-hour, humorous, informative and low pressure workshop, we'll cover:
The anatomy of female and male arousal, and how to make it sing!
Communication skill sets so you can ask for what you want and figure out what your partner wants!
Reid's best tips for oral sex on men and on women
Reid's black belt level tricks for hand-sex
Ergonomics of sexual positions so you can last longer and make love more powerfully!
How to make your sex safer and healthier
Reid's best advice on fornication – both giving and receiving!
And… What NEVER to do in the bedroom…
DATE: March 17, 2012
TIME: 1pm-6pm  – Bring snacks to share!
LOCATION: Highland Park, IL – exact location upon registration
COST: $69 for Sacred Loving Tantra Members, $77 for non-members


This class is designed for all genders of all levels of experience from beginners to black belts! Both singles and couples and moresomes welcome. All exercises will be done fully-clothed and are optional. Class will contain frank, explicit language for educational purposes.
This class will sell out, so be sure to get your ticket early!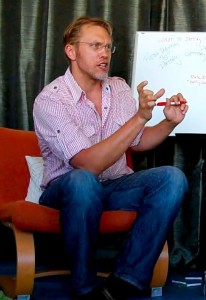 ABOUT REID: Reid Mihalko of ReidAboutSex.com helps adults create more self-esteem, self-confidence and greater health in their relationships and sex lives, no matter what their self-expression of those happen to be.
From his rated-PG/PG-13 workshops (Cuddle Party, Speed-Flirting) to the rated-R (Iron Slut Sex Educator Showdown) to his explicit, NC-17 rated, Show-N-Tell sex education workshops (where audiences get to watch, take notes, and ask questions), Reid's workshops have been attended by close to 30,000 individuals from myriad walks of life, orientations, relationship styles, countries and religions. Known for his charisma, wit and emphasis on integrity, Reid travels the country teaching, coaching, consulting and collaborating on fulfilling his mission: Create more self-esteem, self-confidence and health for adults in and out of the bedroom.
Reid has been a featured speaker at dozens of conferences on relationships and sexuality and is a sought-after presenter and teacher at colleges and sex positive stores across the country.
Reid has been a writer and producer on a number of films and television projects about sex and relationships, and appears regularly in the media. He has also appeared on the Emmy award-winning talk show Montel, Fox News, VH1's Scott Baio is 45 and Single, Showtime's Penn & Teller's Bulls**t!, Canada's The Sex Files and SexTV, and the short-lived Life & Style, on NPR, Sirius' Maxim Radio and Cosmo Radio, and in Marie Claire, GQ, Details, People, Newsweek and The National Enquirer, as well as media across the globe in thirteen countries and at least seven languages.
Follow Reid twittering as @ReidAboutSex.