It's no April Fools Joke, Sex Geeks! Do not miss this weekend!!!
Former US Surgeon General, Dr. Joycelyn Elders, Joins MOMENTUM's Closing Keynote Plenary. But wait! That's not all…
Do you love conferences filled with smart, sexy people? Dying for some social networking that's in the flesh? Wondering how best to get your sex geek on this coming April?
If you're looking for a weekend full of tech, feminism and all things sex geek, then I'd consider checking out D.C.'s Momentum Conference. Why? Well, for one reason, it's where I'll be!
The phenomenal growth of online communication has given rise to an amazing amount of sharing, learning and experimenting with different expressions of sexuality, relationships and feminism. MOMENTUM provides a safe place to listen, discuss and learn about sexualities and gender without the fear of reprisal or shaming. It is a space for acceptance and appreciation of diversity, including for those in the LGBTQ, sex-work, BDSM and non-monogamous communities.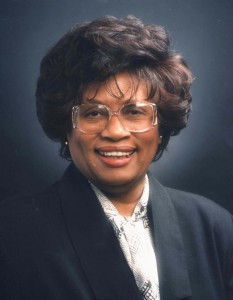 During MOMENTUM we will discuss ways to bridge the baffling dichotomies our culture creates around sexuality. While on one hand we have unprecedented sexual freedom, on the other we continue to police sexuality with a frightening vigor. Abortion laws, restrictions on gay marriage, abstinence programs, medicalization of sex, fear of pornography and prosecutions for teenage sexting are examples of one side of the spectrum. The discomfort that strives to make us keep our sexuality hidden conflicts with the use of sex – especially the female body – to sell everything from food to cars to "performance enhancing" products.

Geared toward anyone interested in intelligent conversations about the influence of new media on sexuality, MOMENTUM is the conference to attend in 2012. With more than 50 presenters, among them  Reid Mihalko, Esther Perel, Megan Andelloux, Dr. Logan Levkoff, Audacia Ray, Bill Taverner, Dr. Charlie Glickman, Maria Falzone, Dr. Lynn Comella, Twanna A. Hines, Dr. Carol Queen, Abiola Abrams, Chloe Angyal, Francisco Ramirez, and Rachel Kramer Bussel, , and over 40 sessions covering a wide range of viewpoints on sexuality, MOMENTUM's jam-packed program had something of interest to everyone. Our Friday evening opening keynote plenary panel is preceded by our signature free Ice Cream Sundae Meet & Greet and Saturday evening entertainment includes a Cinekink screening, Dirty Bingo with Ducky Doolittle and a Bedpost Confessions reading.
Each participant will leave the conference with new perspectives, new connections, and a plan to carry the MOMENTUM forward into 2012 and beyond!

Plan your Sex Geek weekend with Reid and the rest of the Sex Geeks!
Check out our schedule with 40 amazing sessions and entertainment
The second annual MOMENTUM Conference takes place
March 30 to April 1, 2012  in Washington, DC.
Get off thy butt and get thee to Momentum!!!