What if strengthening your peer community improved all of our businesses?
I'm excited and honored to be asked to give a pre-conference talk at AASECT's 46th Annual Conference this year in beautiful Monterey, California.
Please join me for what is going to be some amazing brain-sex and sex geekery!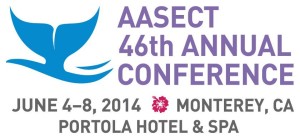 From the AASECT's website: Come renew and revitalize yourself and your relationship to the field of sexuality, as we create its future in beautiful seaside Monterey. Engaging with new and established leaders in sexuality, we will consider what works and what needs work in how we practice sexual education, counseling, therapy, and research. We aim to leverage cross-cutting skills sharing and knowledge capacity building to reveal our diversity and enhance our collective knowledge in the sexuality field.

Can articulating guiding principles of sexuality repair fractures caused by disciplinary divergences or by gaps between generations of those working in the field of sexuality? Or do conflicting principles in sexuality give rise to useful alternatives in our practice? These are questions we invite you to address at our 2014 Annual Conference.
Join me June 5th for my pre-conference talk…
The 'Sex Positive Professionals' Industry — if we can consider it an industry… Is growing rapidly and is splitting into factions that continue to weaken our ability to help people and support our peers. In this special, pre-conference workshop sex and relationship expert Reid Mihalko will  facilitate AASECT members and conference attendees through an interactive discussion and skillset share that will create ways to stop this trend by remembering why we got into our line of work in the first place!
At the conclusion of this workshop, participants will be able to:
Describe how disparate factions of the sex education/sex-positive professionals' world could constitute an actual industry;
Differentiate between traditional, 'Blockbuster' and 'Long Tail' marketplace business models;
Understand the difference between Blue Ocean vs. Red Ocean business dynamics and be able to apply these to our industry's segregated nature
Explain succinctly why professionals choose to work in our industry;
Formulate a greater sense of connectedness, empathy, camaraderie and shared intention towards other participants;
Recall the following communication and peermanship building tools: 'the difficult conversation formula;' 'the come clean buddy support system;' 'practice conversations and venting peer support;' and 'the peer-to-peer communication chain protocol.'
Dates: June 4th through June 8th – Reid's talk is June 5th
Location: Portola Hotel & Spa, 2 Portola Plaza, Monterey, CA 93940
Register: aasectconference.org/
Book ASAP – Rooms Sell Out! Reservations for the Portola Hotel & Spa can be made online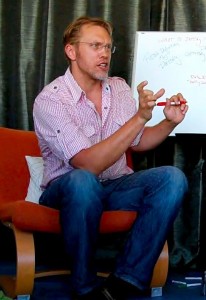 About Reid: Reid Mihalko of ReidAboutSex.com helps adults create more self-esteem, self-confidence and greater health in their relationships and sex lives, no matter what their self-expression of those happen to be.
Reid has appeared on Oprah's Our America With Lisa Ling on OWN, the Emmy award-winning talk show Montel, Dr. Phil's The Doctors on CBS, Bravo's Miss Advised, Fox News, in Newsweek, Seventeen, GQ, People, Details, Marie Claire, The National Equirer, The Washington Post, on VH1's Scott Baio is 45 and Single, Showtime's Penn & Teller's Bulls**t!, Canada's The Sex Files and SexTV, and the short-lived Life & Style, on NPR, Sirius' Maxim Radio, Playboy Radio and Cosmo Radio, and in thirteen countries and at least seven languages.
To date, Reid's workshops and lectures have been attended by close to 40,000 men and women. Reid has been a featured speaker and keynote at dozens of conferences on relationships and sexuality and is a sought-after presenter and teacher at colleges and sex positive organizations across the country. Reid has also been a writer, producer and behind the scenes consultant on a number of films and television projects about sex and relationships.
Follow Reid twittering as @ReidAboutSex. Like and subscribe to his Facebook page, Facebook.com/ReidAboutSex!