Great Making Out is More Than Just Using Your Mouth…
Ever liked someone only to discover that they were severly lacking in the kissing department? Worried that you might be one of those "bad kissers" the Cosmo articles talk about? Your lover "almost there" when it comes to kissing, but you're at a loss for how to upgrade their technique or even talk about it? Perhaps people tell you that you're a good kisser, but you want to be a GREAT kisser…
Kissing. Macking. Smoooooching. Necking. Snogging.
Lip-Locking. Tonsil Hockey…
Call it what you will, but making out is one of the best appetizers on the menu when it comes to turning a person on. And Full-Body Kissing (the art of using your mouth, lips, tongue, face, hands, arms, hair, shoulders, and legs) can be a main course all to itself, but only if you know how!
Join world renowned sex and relationship expert Reid Mihalko for an entertaining evening of frank, humorous conversations and hot demonstrations on how to take your kissing to the next level!
In this 2-hour workshop, complete with demonstrations where all you have to do is watch, take notes, and ask questions, you will learn:
How to use your entire body to turn any kiss into a Full-Bodied Kiss
Ways to use pressure, body weight, and sound to enhance you and your partner's making out
How NOT to give hickeys!
Reid's favorite erogenous zones for surprise smooch attacks!
Ears, back of the neck, and wrists and how to tease them with your kisses…
Why French Kissing isn't the end-all be-all and what lies beyond simple "tongue-macrame"…
Practical approaches to teaching a lover how to be a better kisser.
Fingers and forearms and why they're JUST as important as your lips in making out…
Plus… Tips on breaking the ice for that anxiety-ridden first kiss and how not to botch it!
See Reid
two nights in a row

!
Tuesday, March 8th – Navigating Open Relationship with Reid Mihalko
Wednesday, March 9th – The Full Body Kiss with Reid Mihalko
TIME: 8-10pm
WHERE: LA's historic Pleasure Chest
7733 Santa Monica Blvd., West Hollywood, CA 90046
Cost: FREE both evenings!

First come, first served seating, so get there early!
Questions? Call The Pleasure Chest @ 323.650.1022
Whether you're focusing on making your date swoon the first time your lips touch or getting your lover breathing heavy and writhing with pleasure on the couch, The Full-Body Kiss workshop is going to upgrade what your mouth and body are capable of. Take your kissing technique beyond 8th grade, and start getting your black belt in making out today!
Looking for something fun to do for "date night?" This workshop will definitely give the two of you something to discuss over desert… Heck, maybe you'll be the desert!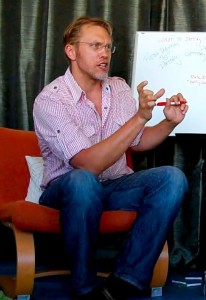 ABOUT REID: Reid Mihalko of ReidAboutSex.com helps adults create more self-esteem, self-confidence and greater health in their relationships and sex lives, no matter what their self-expression of those happen to be.
From his rated-PG/PG-13 workshops (Cuddle Party, Speed-Flirting) to the rated-R (Iron Slut Sex Educator Showdown) to his explicit, NC-17 rated, Show-N-Tell sex education workshops (where audiences get to watch, take notes, and ask questions), Reid's workshops have been attended by close to 30,000 individuals from myriad walks of life, orientations, relationship styles, countries and religions. Known for his charisma, wit and emphasis on integrity, Reid travels the country teaching, coaching, consulting and collaborating on fulfilling his mission: Create more self-esteem, self-confidence and health for adults in and out of the bedroom.
Reid has been a featured speaker at dozens of conferences on relationships and sexuality and is a sought-after presenter and teacher at colleges and sex positive stores across the country.
Reid has been a writer and producer on a number of films and television projects about sex and relationships, and appears regularly in the media. He has also appeared on the Emmy award-winning talk show Montel, Fox News, VH1's Scott Baio is 45 and Single, Showtime's Penn & Teller's Bulls**t!, Canada's The Sex Files and SexTV, and the short-lived Life & Style, on NPR, Sirius' Maxim Radio and Cosmo Radio, and in Marie Claire, GQ, Details, People, Newsweek and The National Enquirer, as well as media across the globe in thirteen countries and at least seven languages.
Follow Reid twittering as @ReidAboutSex.