Knowing where to draw the line together and how to talk about it can save you both a ton of headache the next day!
Navigating group sexual dynamics in any relationship takes skill, patience and a little bit of luck. If "luck" is where opportunity and preparation meet, then learning how to negotiate sound relationship boundaries and agreements is a sure-fire way to make the two, or three, or four of you the luckiest people on Earth!
With the dizzying array of relationship options available to people who've decided to "play well with others," how do you, and your partner or partners (if you've got any), figure out what will work best? What is open to renegotiation? And what do you do when the inevitable challenges arise or when someone makes a bad call?
Join sex and relationship expert Reid Mihalko for a two-hour workshop devoted to single people, couples, and multiple partners who want to learn how to create workable boundaries and agreements for playing sexually with others simultaneously.
In this humorous, interactive evening, you will learn:
The most common pitfalls of relationship agreements for group sex and how to avoid them
How to figure out what a boundary is and where your boundaries exist, so all involved can negotiate a win-win
How and when to renegotiate an existing rule or agreement
Negotiating techniques for when you're the single person joining in with a couple or moresome
How to merge different styles of "sexploration" in monogamy and nonmonagamy so that everyone has a decent chance of ending up happy "the day after"
Five essential things that will help you survive any group sexploration
How to work through upsets in ways that will make your relationships stronger
This workshop is open to couples and singles and moresomes of all sexual orientations and relationship statuses.
See Reid two nights in a row!
DATE:
Wed, May 25th – Play Parties: How To Thow 'Em and How to Attend 'Em!
Thurs, May 26th – Getting Ready to Play: Negotiating Open Relationships Boundaries and Agreements
TIME: 7:30-9:30 p.m., both nights!
Cost: $20 Advance/$25 Walk-In
WHERE: Pure Pleasure, 204 Church Street, Santa Cruz CA 95060

Due to the center's limited space RSVP early!

Whatever you level of experience and curiosity, whatever your relationship status or orientation, Reid promises an informative evening chocked-full of great communication and relationship skills!
Curious about booking Reid for a private class? Go HERE!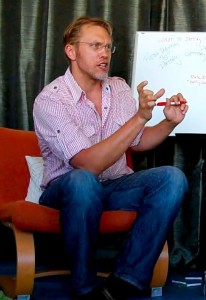 ABOUT REID: Reid Mihalko of ReidAboutSex.com helps adults create more self-esteem, self-confidence and greater health in their relationships and sex lives, no matter what their self-expression of those happen to be.
From his rated-PG/PG-13 workshops (Cuddle Party, Speed-Flirting) to the rated-R (Iron Slut Sex Educator Showdown) to his explicit, NC-17 rated, Show-N-Tell sex education workshops (where audiences get to watch, take notes, and ask questions), Reid's workshops have been attended by close to 30,000 individuals from myriad walks of life, orientations, relationship styles, countries and religions. Known for his charisma, wit and emphasis on integrity, Reid travels the country teaching, coaching, consulting and collaborating on fulfilling his mission: Create more self-esteem, self-confidence and health for adults in and out of the bedroom.
Reid has been a featured speaker at dozens of conferences on relationships and sexuality and is a sought-after presenter and teacher at colleges and sex positive stores across the country.
Reid has been a writer and producer on a number of films and television projects about sex and relationships, and appears regularly in the media. He has also appeared on the Emmy award-winning talk show Montel, Fox News, VH1's Scott Baio is 45 and Single, Showtime's Penn & Teller's Bulls**t!, Canada's The Sex Files and SexTV, and the short-lived Life & Style, on NPR, Sirius' Maxim Radio and Cosmo Radio, and in Marie Claire, GQ, Details, People, Newsweek and The National Enquirer, as well as media across the globe in thirteen countries and at least seven languages.
Follow Reid twittering as @ReidAboutSex.