Sex10x 3-Day Deep Dive Retreat – VIP Invite
SPECIAL VIP Sex10x ALUMNI INVITE ONLY

Because you've already invested in yourself and your relationships…
Because we've already begun our journey together…
I've got a special invitation for you now! (Limited to 25 people)
What If I Told You, You Could Take Your Ability to Give & Receive Pleasure To The

Next Level

In Just 3-Days?
I'm already SO PROUD of you… Why? Because you've already taken massive amounts of action by enrolling in Sex10x Online and geeking out with me… Think about how much learning can happen (has happened) in just 6-weeks?
Remember the raspberries and kiwis?!
Now imagine taking all that knowledge and anchoring it in your muscles, body, and mind while you lessen the shame that holds you back from your true radiance… Imagine deepening what you know about yourself (and what you know about sex!) in ways that allow you to get your needs and desires deeply met in bed and in life…
Imaging being able to make your lover feel safe in their body…
Imagine being able to ask for exactly what you want during sex, in the moment, as it happens… 
Let's take the momentum that you're creating with Sex10x Online and build on it together, shall we? I've got a rare window of opportunity that I'd like to share with you, and a powerful idea…
I've got a powerful 3-days set aside, and I'm inviting you to make Sex10x LIVE AND IN-PERSON for yourself so you and I can… Wait for it… Go deeper!
Yep! Puns aside… I've got 2 whole days devoted to YOU and…
Using Sex10x as a jumping off point, so we can…

Expand your sexual prowess

Deepen your ability to receive 

and feel

 massive amounts of pleasure

Upgrade your skills as a lover even more (So you can elicit guttural moans and orgasmic trembling from those you touch!)

Lessen your shame while 

upping your sexual self-confidence

, 

desire

, and 

creativity

Hone and dial-in your "energetic sex" technique

All the while giving you the compassionate understanding, humor, and support you need to make a quantum leap forward!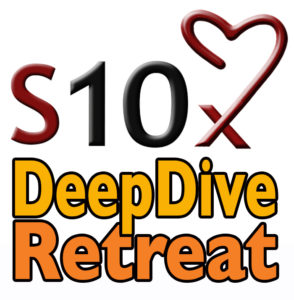 FIY: I'm limiting this all-inclusive experience to 25 people tops…
June 8, 9, 10 2018, Location TBD
Welcome, Sex Geek! I'm so excited for you and cannot wait to take you to the next phase of you're sexual know-how and growth… These are exciting times, and this calls for an exciting two whole days with me and a few of my favorite sex educators as we do what we can't in an online course…
Hands-On Demos by yours truly where you get to take notes, ask questions of me and the demo teachers,

and 

get your questions answered

!

(Hint, hint) If you bring a guest, why not ask me and my teachers to demonstrate techniques that you want your loved ones to master!? (We're more than happy to show them

exactly how to do it

!)

"Free Time" for you to hike in nature, take a nap, soak in the hot tub, swim in the pool or sweat in the sauna, so you can integrate what you're learning…

"R&D Time" where you're encouraged to enjoy your "homework" — homework that 

I'll customize just for you

!

This is an All Inclusive Retreat…

Delicious shared meals for both days

For those who Register ASAP, first dibs on sleeping arrangements Saturday, Sunday, or both nights…
Did I mention the hot tub? The Pool? The sauna? And the hiking trails…

PLUS plenty of opportunity to pick my brain, the brains of my demo teachers, and bond with your fellow Deep Divers!
Image from location of 2017's Deep Dive!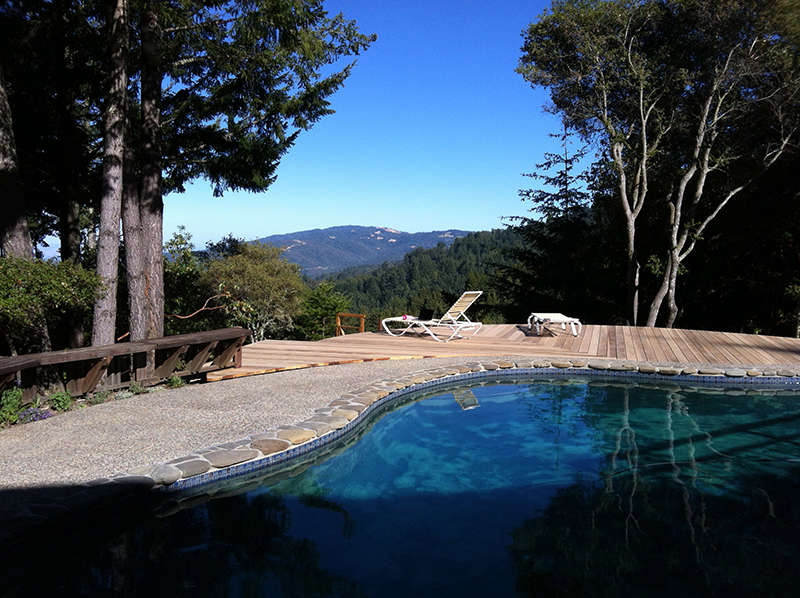 You won't believe how much ground we can cover IN-PERSON OVER 3 DAYS increasing your sexual self-confidence and bedroom prowess, AND lessening the shame, fear and frustrations that might be plaguing you (and your loved ones) between the sheets!
And you're probably thinking, "But, Reid, what can we cover in-person that you couldn't teach me online?"
And the answer is: Together, in the safety of our workshop container, I can teach you Show-N-Tell Sex Ed. Or more accurately…. "Show While You Ask Questions" Sex Ed.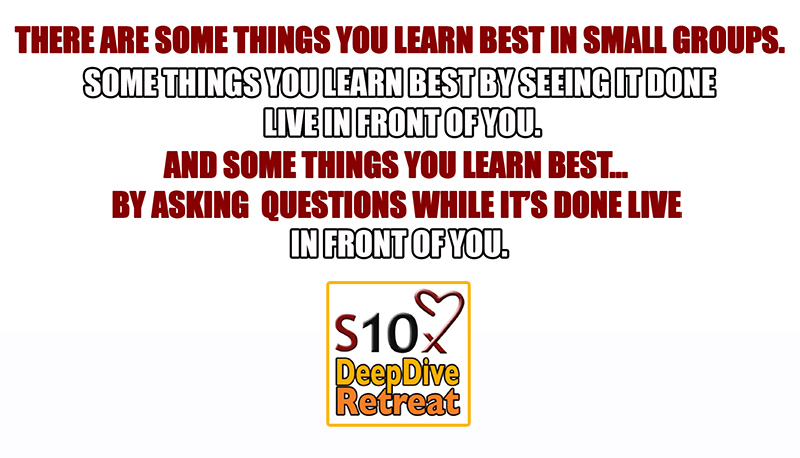 Human beings learn physical skills best in-person. (Tiger Woods didn't become the world's best golfer from reading a book! And great sex is waaaaaay better than golf, am I right?!)
Show-N-Tell Sex Ed is a phrase I popularized, and it's one of THE most powerful (and fastest) ways to make huge leaps in your sexual mastery.
And when Show-N-Tell Sex Ed is taught tastefully with humor and empathy, people can move through decades of shame, guilt, fear and pain. For this reason, Show-N-Tell Sex Ed is powerfully healing, but it's difficult to find teachers to do this kind of work with, unless you know one.
THE GOOD NEWS

:
You know a teacher like that. And you've already studied with them.
That teacher is ME…

I want to catapult your growth and bedroom confidence. Will you join me?

We could only go so far with Sex10x Online. Now it's time to tip the scales and take your sexual radiance and empowerment to it's next natural level. And we can do it in two days! These are no ordinary two days, mind you. These two days will change your life in the bestest of ways.

Whether you're single, partnered, or just want to attend solo regardless of your relationship status… I'm willing to guarantee that this weekend will shift things for you because my promise to you is to never waste your time! (See my "I won't waste your time" guarantee below.)  

You trusted me to be your online guide, so —and only do this if you're called to it— let me be your in-person mentor for two, exclusive and exciting days, and I promise to make this journey of yours as fun and humor-filled (and hawt) as I can. Will you go there with me?
Because I want you to feel

twice as safe

investing in yourself…
Everyone who registers for Sex10x Deep Dive Retreat receives: TWO GUARANTEES… I care so much that I'm give you two guarantees -one that lasts until the final day of our time together! This way, you can truly have peace of mind when you click the registration button that's best for you and invest deeply in yourself!
 Reid's 30-Day Cancelation 100% Money Back Guarantee!   
Ask for your money back within 30-Days of Registering for S10x Deep Dive Retreat (or within 10 Days of the actual event if you register last minute*) and we'll gladly refund you no questions asked!
But What Guarantee Do I Have When I Arrive at Reid's Deep Dive? No Worries!
I Already Took Care of That, 'cause You've got… 
 Reid's "I Won't Waste Your Time" Guarantee!   
Reid knows how valuable your time and focus is, and what you have to offer the world! We promise not to waste your time and are prepared to back it up!
Attend all sessions of the Deep Dive Retreat, and if, at the end of it, you think you didn't learn anything and think Reid wasted your time, just see Reid at the end of the day and tell him, with integrity, "Reid, you wasted my time. I didn't learn anything. I'd like a refund," and we'll be happy to refund you your retreat tuition (and possibly your airfare and hotel – see below**)  IN FULL!
That's how much we believe in the Sex10x Deep Dive!
---
Imagine waking up every morning, alive and refreshed, the confidence that 

YOU know your body

 flowing through you… And knowing what ecstatic pleasure really feels like in your pelvis?
Imagine the desire washing over a lover's face when they glance at you, remembering the amazing orgasm you gave them the night before?
How will you carry yourself now that your internal knowing is radiating outward into the world? What questions will your co-workers and friends ask you as they try to figure out why you won't stop smiling!
Imagine taking that radiance and self-confidence into a business meeting? Out with you on date night? To the gym or on vacation?
If you have or want children… Imagine what it will be like to role model for your kids a life free of the fear of sexuality? For them to behold the wonder and power of intimacy and pleasure without shame? Imagine raising them to love and respect themselves and their bodies…
All this and more YOU can step into and embrace… It is your birthright, and I know you can get there. You deserve this…
If you're unclear of what's included in Sex10x 3-Day Deep Dive Retreat just scroll down past the registration buttons. It's all there. AND, if you're Maybe has turned into a resounding Hell Yes! click on the payment option that works best for you now and register before everything goes away…  June 8, 9, 10 2018, Location TBD
Remember: This Retreat is limited to 25 people only.
Please click on the Payment Option
that is best for YOU!
I'd Like One Ticket,
Please!

Tuition for one Deep Dive ticket is $1997 or 3 payments of $677 –

This includes meals and lodging*
*Lodging is limited, so register asap to secure your bed!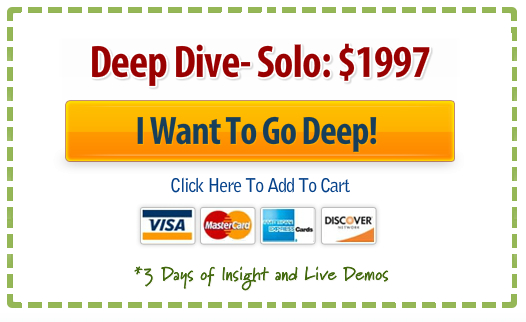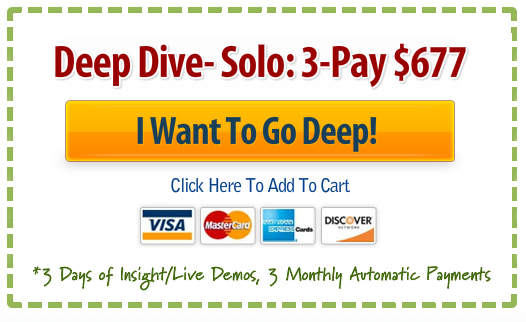 Or
Bring a Guest

with you and INCREASE YOUR SAVINGS
and my thanks…
I'd Like Two Tickets,
Please!
 Tuition for one person + a guest to attend the Deep Dive is
$2997 or 3 payments of $1011.
This includes meals and lodging for two*
*Lodging is limited, so register asap to secure your beds!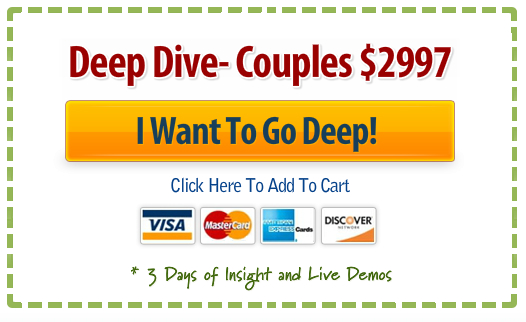 Retreat is limited to 25 participants
3-Day Deep Dive Retreat FAQ…
Dear Deep Divers! 
This FAQ should answer most of your questions. Please give it a read. If you discover something missing, just email me at Support@ReidAboutSex.com and we'll get those answered asap. 
DATES: June 8, 9, 10 2018, Location TBD
ADDRESS: TBA
START/END TIMES: TBA, expect long days work and geeking out, interspersed with great meals, longer practice breaks, and lots of fun!
VENUE: TBA, It will be amazing!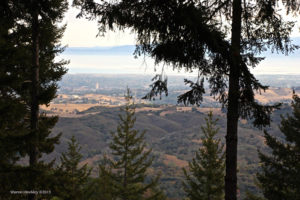 AIRPORTS:
TBA
DRIVING DIRECTIONS: TBA
ARRIVAL & PARKING: TBA
REGISTRATION WHEN YOU ARRIVE: There will be a Registration Geek to check you in when you arrive. They will get you situated, let you know about sleeping arrangements, etc.
SLEEPING ARRANGEMENTS:  On-site sleeping accommodations are on a first-come first-served basis, so CONFIRM YOUR RSVP and SLEEPING ARRANGEMENTS ASAP. 
Don't want to share sleeping quarters with your fellow workshop geeks? Need a little more privacy? Feeling shy about practicing your "homework" within earshot of others? Waited too long to RSVP and don't want to fly across country with an air mattress and sheets of your own? You are more than welcome to Air B&B or hotel it nearby. 
Either way, PLEASE FILL OUT YOUR CONFIRMATION SURVEY via the event survey link we'll send you as the event gets closer. Thank you!
MEALS: I will be providing 2 healthy meals a day for you – a brunch (after our morning session), and a light, family-style dinner in the evening, as well as tea and coffee. I'm an omnivore, and there will be carnivore as well as vegan options for folks.
Need to get off property? Want to visit a local restaurant? I encourage people to head off-site to one of the several restaurants, which can provide a well-earned and needed break or "reset" from our sexplorations, so please consider it. 
If you have specific food requirements or allergies, please do the following: 1. Alert me asap of what your needs are so I can do my best to accommodate them, and 2. Consider packing yourself a cooler or making a run to the local market.
I'll do my best to try to accommodate most dietary and allergy requests, but since I'm a sex educator and not a chef, I'm going to empower YOU to take care of your body's specific requirements. 😉  
THE TONE OF THE WEEKEND/WHAT TO EXPECT: Based on your feedback and requests, this weekend is going to consist of explicit show-n-tell content with live demonstrations of sexual techniques. You'll be encouraged to ask questions and take notes while you watch. And you will be given free time to go off on your own and practice your "homework."  
WHAT TO WEAR: Our weekend will be a combination of lecture and interactive learning, as well as you getting free time to go off and practice what you're learning. Please pack comfortable clothes that you can move in as well as whatever things help you feel sexy, comfy, and in your body. If you've got a favorite blanket or pillow that you'd like to build a "nest" with, go for it!
TOYS AND ACCOUTREMENTS: Professional tools create professional results! You don't have to pack everything you own, but I'd consider bringing your top 2 or 3 "favoritest" bedroom toys if you got 'em. And/or, consider packing 1 or 2 things you'd like to get better at using. 😉 
THE POOL AND SAUNA:  TBA
KITCHEN: Let's all pitch in, shall we? Do your dishes and clean up after yourself. Many hands make light work. 
BATHROOMS/SHOWERS: TBA
WHAT TO PACK: TBA 
FREE TIME: There will be free time for you to reflect, journal, to hike, nap in the sun, enjoy the pool and sauna, practice what you're learning, etc. Please pack accordingly. 
---
LIABILITY RELEASE AND TERMS OF ATTENDANCE
You will be asked to sign this release upon arriving at the event. If you cannot agree to this release, please do not attend the event. 
Please carefully read the following terms and conditions relating to your participation in Sex10x Mastery Deep Dive Retreat (Sex10x Mastery Deep Dive or Deep Dive or S10x or Retreat) which is conducted by Reid Mihalko, doing business as ReidAllAboutIt, LLC. By registering for the S10x, you (the "Attendee") signify your acceptance of and obligation to these terms and conditions. If you have objections to the following Terms and Conditions, you should not register for or attend S10x Mastery Deep Dive.
Attendee Conduct
S10x Mastery Deep Dive reserves the right to ask me and/or my guests to leave any Event and/or hotel/retreat/event premises immediately should I/they be deemed rude, uncooperative, unprofessional, or disruptive. In such case, my tuition/fees for the respective Event or group in general will not be reimbursed under any circumstances, their online Program memberships will be revoked, and they will not receive any of the advertised bonuses or qualify for Reid's satisfaction guarantee or any other written or implied guarantees.
Liability Waiver
While we take every possible measure to ensure Attendee's safety at S10x Mastery Deep Dive, we cannot control everything.
For this reason, Attendee is legally responsible for their safety and behavior and agrees to, and is held legally liable to, the following statements:
I, the willing Attendee of  S10x Mastery Deep Dive, hereby accept all risk to my health and of my injury or death that may result from participating in  S10x and I hereby release Reid Mihalko, ReidAllAboutIt, LLC, and his officers, employees, interns, contractors, sponsors and representatives from any and all liability to me, my personal representatives, estate, heirs, next of kin, and assigns for any and all claims and causes of action for loss of or damage to my property and for any and all illness or injury to my person, including my death, that may result from or occur during my participation at  S10x, whether caused by negligence of Reid, his staff, officers, employees, or representatives, or otherwise. I further agree to indemnify and hold harmless Reid Mihalko, ReidAllAboutIt, LLC, and any third-party company from liability for the injury or death of any person(s) and damage to property that may result from my negligent or intentional act or omission while attending and participating in S10x Mastery Deep Dive. Under no circumstances will Reid or his assigns be held liability for my injury or death or any loss or damage of my personal belongings resulting from my participation in S10x.
Should I require emergency medical treatment as a result of accident or illness arising during my attendance and participation in S10x, I consent to such treatment. I acknowledge and I agree to be financially responsible for any medical or legal bills that may be incurred as a result of emergency medical treatment. I will notify Reid verbally and in writing if I am at any time injured prior to, during, or after Sex10x in my travels or attendance, or if I have medical conditions about which emergency medical personnel should be informed; however, I understand that Reid is not legally obligated to act on that information in any way or to providing any medical service whatsoever to me. I agree that if I have any medical or psychological conditions that may hamper me from fully and healthfully participating in S10x that I will notify the Reid and that the Reid retains the right to ask that I not participate in portions of or the entirety of S10x Mastery Deep Dive.
Liability Disclaimer: No Professional Advice
The information contained in or made available by Reid Mihalko, ReidAllAboutIt, LLC, or any third-party through S10x or Reid's websites or services cannot replace or substitute for the services of trained professionals in any field, including, but not limited to, mental, financial, medical, psychological, or legal fields. Reid does not offer any professional, personal, medical, financial or legal advice and none of the information contained in S10x should be confused as such advice.  Neither Reid, ReidAllAboutIt, LLC, or his assigns, sponsors, speakers, partners, contractors or any of their affiliates will be liable for any direct, indirect, consequential, special, exemplary or other damages to the Attendee or the Attendee's business, including economic loss, that may result from participation in  S10x or from the use of, or the inability to use, the materials, information, or strategies communicated through  S10x or any products or services provided pursuant to S10x, even if advised of the possibility of such damages. Under no circumstances, including but not limited to negligence, will Reid or ReidAllAboutIt, LLC and its officers be liable for any special or consequential damages that result from Attendee's participation in S10x Mastery Deep Dive. To be clear: You, the Attendee, alone are responsible and accountable for your decisions, actions and results in life, and by your participation in S10x, you agree not to attempt to hold us, Reid Mihalko, or ReidAllAboutIt, LLC and its officers, liable for any decisions, actions or results that you make or experience in business or in life due to your participation in this S10x at any time, under any circumstance.
Confidentiality and Non-Compete
Attendee hereby understands that the tools, processes, strategies, materials and information presented in S10x are confidential, copyrighted, and proprietary to Reid Mihalko and agrees not to record, duplicate, distribute, teach or train from S10x materials in any manner whatsoever without the express written permission from Reid Mihalko or ReidAllAboutIt, LLC. Attendees may not use any device to video, photograph, or record any aspect of S10x without Reid Mihalko's permission. Attendees who do not abide by this policy will be asked to destroy any recorded materials and may be asked to leave S10x and will not be eligible for a refund. Any unauthorized use or distribution of the proprietary concepts, materials, and intellectual property by the Attendee or his/her representatives without Reid Mihalko's permission is prohibited and ReidAllAboutIt, LLC will pursue legal action and full damages if these terms are violated in order to protect its rights.
Adult Language, Content, and Demonstrations
During S10x Mastery Deep Dive Retreat, we will discuss several adult topics relating to personal and professional growth and physical intimacy. We will also sometimes use adult or profane language to emphasize a point or connect with or surprise the audience. And, when appropriate, there will be Show-N-Tell Sex Education demonstrations of techniques and principles, some of them explicit in nature. Reid does not allow anyone under the age of eighteen (18) into S10x given the adult topic and content. All participants are allowed to opt out of viewing the demonstrations. We appreciate and encourage everyone taking care of themselves, however, participants who are uncomfortable with such topics or language should not attend S10x Mastery Deep Dive. If they do attend, they will not receive a refund should they request one based on an offense to such language, content, or demonstrations under any circumstances.
Audio/Visual Release
I hereby expressly grant ReidAllAboutIt, LLC and it's officers and to its officers, employees, agents, and assignees, the right to use photographs, video testimonials, video takeaways, and other presentations of me recorded by ReidAllAboutIt, LLC and it's officers during my participation in the events, and to use the photographs, my voice and picture contained within any such video, my silhouette, and other reproductions of physical likeness and class-related work, in connection with or as part of any presentation, program, publication, product, or other professional endeavor in which the same may be used or incorporated, and also in the advertising, and/or publicizing of any such works, in perpetuity. I understand that these images/sounds may be used for commercial, educational or informational purposes. I waive all rights of copyright, ownership, and rights of publicity in or the resulting commercial or educational and informational materials in which I appear. Any facts, figures, testimonials, stories, etc. I give are truthful and are freely given without payment.
Privacy Policy and Terms of Use
By participating in S10x Mastery Deep Dive, Attendees acknowledge and agree that they are subject to the Privacy Policies of ReidAllAboutIt, LLC. The Privacy Policy and Terms of Use for ReidAllAboutIt, LLC are listed at:
http://ReidAboutSex.com/terms-of-use-and-privacy-policy/.
*Cancellation Policy
Once Attendee registers for S10x Mastery Deep Dive Retreat, Reid and his team make extensive arrangements and investments while anticipating their tuition and attendance, and, in the case of their cancellation, we incur significant administration hassles, expenses, and loss of business. Given this fact, we do not accept cancellations or issue refunds beginning 30 days after Attendee has registered for S10x Mastery Deep Dive or 10 days before the start date of the actual event should they register within 30 days of the event, whichever comes first. Attendee seeking to cancel their registration after the period described above will not, under any circumstances, receive a refund. Again, this is due to the extremely limited seating for an event of this nature and with this caliber of celebrity teachers and speakers. If you are unsure of whether or not you can attend the event, please do not register. If for whatever reason you are unable to attend the event after you have registered and after 10 days have passed since registering, we will happily transfer your ticket to someone else or allow you to attend a future event on the same topic at our sole discretion.
Disclaimer
We've taken every effort to ensure we accurately represent this event and its potential to help you improve your relationship and sex life. However, there is no guarantee that you will have specific results. Nothing on this page is a promise or guarantee of results. Your level of success in attaining results is dependent upon a number of factors including your skill, knowledge, ability, dedication, relationship savvy, and romantic situation. Because these factors differ according to individuals, we cannot guarantee your success. You alone are responsible for your actions and results in life and relationships. Any forward-looking statements outlined here are simply our expectations or forecasts for future potential, and thus are not guarantees or promises for actual performance. These statements are simply our opinion. No guarantees are made that you will achieve any results from our ideas or models presented at the event, and we offer no professional legal, medical, or financial advice.
*Reid's "I Won't Waste Your Time" Live Event Satisfaction Guarantee

As stated on our Site and in our marketing materials, we guarantee that Attendees will be 100% satisfied with S10x Mastery Deep Dive Retreat should they attend the entire event. Satisfaction is defined as the Attendee's belief that we have delivered on what we have promised in promoting the event.
If Attendee is not 100% satisfied at the conclusion of attending in-person the entirety of their FIRST live Reid Seminar/Program/Retreat and they notify us in the manner described herein, we will refund 100% of their Registration Fee for that Seminar/Program/Retreat, and we may also reimburse their hotel stay and airfare to the event if there were any. (The only travel reimbursements that are refundable are their hotel night stays at our event Hotel during the run of the event, which the Attendee must have stayed at, and domestic airfare to the event. International airfare will not be reimbursed under any circumstance. All receipts for such expenses must be submitted to ReidAllAboutIt, LLC upon request and any travel reimbursements are at the sole discretion of Reid Mihalko).
Attendees who are not 100% satisfied with their first live Reid Seminar/Program/Retreat must, at the immediate conclusion of the final day of their first live Seminar/Program/Retreat (having attended all days of the first event), verbally notify one of our staff members of their dissatisfaction, ask for a refund, and turn in all of their course materials as well as their personal notes taken from that live Seminar/Program/Retreat, at which time we will arrange for a reimbursement of their Registration Fee.
Seminar/Program/Retreat Attendees who attend additional Reid Seminar/Programs/Retreats as part of the purchase of the package offer, whether as a bonus or otherwise, do not qualify for Reid's "I Won't Waste Your Time" Satisfaction Guarantee explained above and, thus, are only eligible for a refund on their Registration Fee for the first live Seminar/Program/Retreat they attend, if their was one, and only if a refund is requested in the manner described above.
In some cases an Unsatisfied Attendee may be asked to submit a letter explaining their reasons for dissatisfaction as well as their travel receipts if requesting travel reimbursement. Any reimbursements will be made within 90 days of the event. All reimbursements are at the sole discretion of the Reid and all Reid's decisions are final and binding.  Any statements of dissatisfaction or requests for refunds received after 24 hours from the end of the event for attendees at any of Reid's live Seminar/Program/Retreats will not be responded to or qualify for this guarantee.
Note: A guarantee represents a promise about the quality of services delivered; if an Attendee never experienced the services (i.e. never attends the entire S10x event), the guarantee obviously does not apply. Further, the guarantee cannot be substituted or confused with the Cancellation Policy.
For correspondence, contact:
Reid Mihalko
ReidAllAboutIt, LLC
1080 23rd Ave #110
Oakland, CA 94606
917-207-4554
Support@ReidAboutSex.com