Night of Intimacy: Sacred Path of Honoring the Goddess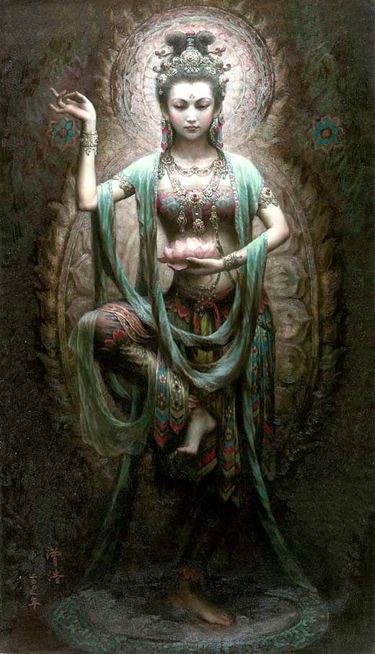 The Sacred Path of Honoring a Goddess with Monique Darling and Me!
Ignite your inner wisdom, aliveness and empowerment
Practice the harmonizing power of receiving
Guys and gals you have been asking for the sacred space, tips, tools and experience of a Dakini circle held for ALL genders. You are invited to one sensual, connective, expanding, shedding layers, learning to give and receive juicy evening event…
This workshop will focus on how one can create sacred space for the Beloved Goddess during a beautiful sacred intimate healing ceremony.
Men: Learn how to step into the role of Divine Masculine to create a safe, sacred & intimate space for the Goddess.
Women: Learn how to prepare yourself to receive intimate, healing and sacred touch from the Divine Masculine.
~ A Dakini is a female embodiment of enlightened energy, the wisdom of the divine feminine force of nature incarnated into human form. We all have this inner Shakti energy, and we can all harness it to become "Sky-Wallkers" — cultivating our sacred sexual energy and then releasing it in abundance to the world!~
Take your practice to the next level, at this incredibly safe and sacred space for hands-on experiences of energy and connection-time with a partner. This 3 hour long exploration includes extremely powerful boundary-setting practices, then exercises with each other to help us bond, practice surrender, and play like children, and finally, guided instruction and Sensual Massage. So that at the end of the day, the women will feel like a goddess: empowered in her sexuality, supported, and ready to manifest all that she dreams and all that she is. Something magical happens when we as women dare to shed our armor, show up in our complete vulnerability and share from our deepest depths.
What Will We Cover?
The Invitation – Opening up
Sacred Accessories
Preparing the Space, and atmosphere
Preparing Self (Giver & Receiver)
Timing
How to Connect
Relaxing to Open
Guided touch and journey into the body
Sacred Spot Massage
Grounding
Follow up
There will be nudity, live demo modeling of yoni massage/sacred spot massage, but there will be no nudity or genital touch of the attendees.
You are encouraged to take these tools home and practice in the privacy of your home.
Love exchange $35 prepaid.

PLEASE RSVP HERE: https://www.eventbrite.com/e/night-of-intimacy-sacred-path-of-honoring-the-goddess-tickets-11224333283

SPACE LIMITED
Join us for all 3 JUICY events:
Monday April 28 7-10PM
Sexual Energetics Workshop (Co-ed) Part 2
https://www.facebook.com/events/436747509793396/

Tues April 29 7-10PM
Night of Intimacy : Sacred Path of Honoring the Goddess
https://www.facebook.com/events/777409355605011/

Wed April 30 8:00pm-1:00am
Play Party Bliss with Monique and Sabrina (sadly, no Reid, fyi)
https://www.facebook.com/events/1440881316158106/1440891656157072/
ABOUT YOUR FACILITATORS:
ABOUT MONIQUE: Monique Darling, San Diego, CA, Authenticity, Vulnerability and Relationship coach is the founder of Juicy Enlightenment which provides workshops and experiential play-shops in the art of Tantra and conscious loving. She has studied and taught with renowned Tantra teachers and extraordinary workshop facilitators since 1990 and is a certified Cuddly Party Facilitator. She has been featured on TLC and The Dr's and has been interviewed by magazines across the USA. Monique is dedicated to empowering others utilizing her vast repertoire of cutting-edge teachings. She specializes is helping others reclaim their power and natural sensuality by transmuting fear and repression into courage, self-love and freedom. She guides from a place of understanding and her natural exuberance is infectious! She is available for private sessions, experiential workshops and Cuddle Parties. JuicyEnlightenment.com
She is devoted to helping YOU uncover your magnificence!!! To empower YOU, who dream of something more, to awaken further and discover it is within you. You have all the answers, let her help you remember the questions.
ABOUT REID: Reid Mihalko of ReidAboutSex.com helps adults create more self-esteem, self-confidence and greater health in their relationships and sex lives, no matter what their self-expression of those happen to be.
From his rated-PG/PG-13 workshops (Cuddle Party, Speed-Flirting) to the rated-R (Iron Slut Sex Educator Showdown) to his explicit, NC-17 rated, Show-N-Tell sex education workshops (where audiences get to watch, take notes, and ask questions), Reid's workshops have been attended by close to 30,000 individuals from myriad walks of life, orientations, relationship styles, countries and religions. Known for his charisma, wit and emphasis on integrity, Reid travels the country teaching, coaching, consulting and collaborating on fulfilling his mission: Create more self-esteem, self-confidence and health for adults in and out of the bedroom.
Reid has been a featured speaker at dozens of conferences on relationships and sexuality and is a sought-after presenter and teacher at colleges and sex positive stores across the country.
Reid has been a writer and producer on a number of films and television projects about sex and relationships, and appears regularly in the media. He has also appeared on the Emmy award-winning talk show Montel, Fox News, VH1's Scott Baio is 45 and Single, Showtime's Penn & Teller's Bulls**t!, Canada's The Sex Files and SexTV, and the short-lived Life & Style, on NPR, Sirius' Maxim Radio and Cosmo Radio, and in Marie Claire, GQ, Details, People, Newsweek and The National Enquirer, as well as media across the globe in thirteen countries and at least seven languages.
Follow Reid twittering as @ReidAboutSex.