If the idea of "doubling your pleasure" gives your tummy the butterflies, have we got the workshop for you…
The menage a trios is a popular fantasy with twice the pleasure potential, but navigating a three-way romance (if only for one night) can be tricky.
Join world renowned sex and relationship educator Reid Mihalko of ReidAboutSex.com for this R-rated, fun-filled, two-hour workshop (with live demonstrations!)…
DATE: Friday, May 21st, 2010
TIME: 7-9 p.m.
Cost: $20 per person, $15 for Sex 2.0 Conference attendees
WHERE: The Sharma Center, Seattle, WA
Due to the center's limited space (40 people tops!), the address is only given out after you RSVP – Please RSVP for all Sharma Center Events at rsvp@sharmacenter.org – Please call on the day of the event 206-898-5876 for availability if you haven't RSVP'd.
Not only will you get a chance to ask questions, but we'll cover:
What are the best techniques to satisfy two lovers at once?
Ways to overcome fears and concerns – Yours AND your partner's!
The most common threesome mistakes (and how to avoid them!)
How to negotiate boundaries and safer sex protocols to make your next menage a trios tré bien!
Interested in M-F-M threesomes, F-M-F threesomes, F-F-F threesomes or M-M-M threesomes?… Whether you've had more threesomes than Jim Morrison or are just beginning to consider three-in-a-bed might be something you'd like to explore, this workshop will give you plenty of tools, tricks, perspectives and laughs to enhance your love life and strengthen your relationships!
Even if you would NEVER be interested in a 3-way, this fun-filled class will give you lots of ways to talk to your loved ones about the things you DO WANT in the bedroom – no matter how tame or outrageous!
Bring your loved ones, bring your friends, and enjoy an educational and entertaining evening on how to successfully navigate one of the most common sexual fantasies: the threesome!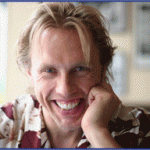 ABOUT REID: Reid Mihalko of ReidAboutSex.com helps people create more self-esteem and greater health in their relationship and sex lives, no matter what their self-expression of those happen to be.
Reid has worked with thousands of individuals from myriad walks of life, orientations, relationship styles, countries and religions. Known for his charisma, wit and emphasis on integrity, Reid travels the country teaching, coaching, consulting and collaborating. He has been a writer and producer on a number of films and television projects about sex and relationships, and appears regularly in the media.
Reid has been a featured speaker at dozens of conferences on relationships and sexuality. He has also appeared on the Emmy award-winning talk show Montel, Fox News, VH1's Scott Baio is 45 and Single, Showtime's Penn & Teller's Bulls**t!, Canada's The Sex Files and SexTV, and the short-lived Life & Style, on NPR, Sirius' Maxim Radio and Cosmo Radio, and in Marie Claire, GQ, Details, People, Newsweek and The National Enquirer, as well as media across the globe in thirteen countries and at least seven languages.